January 31, 2022
A neighbourhood to discover: Verdun
When it comes to choosing a Montreal neighbourhood to live in, there are so many good options. There was a time when Verdun was considered somewhat less than desirable. The neighbourhood has since quietly developed into a great place to live. If you are searching for a place to put down roots, here is some essential information about Verdun.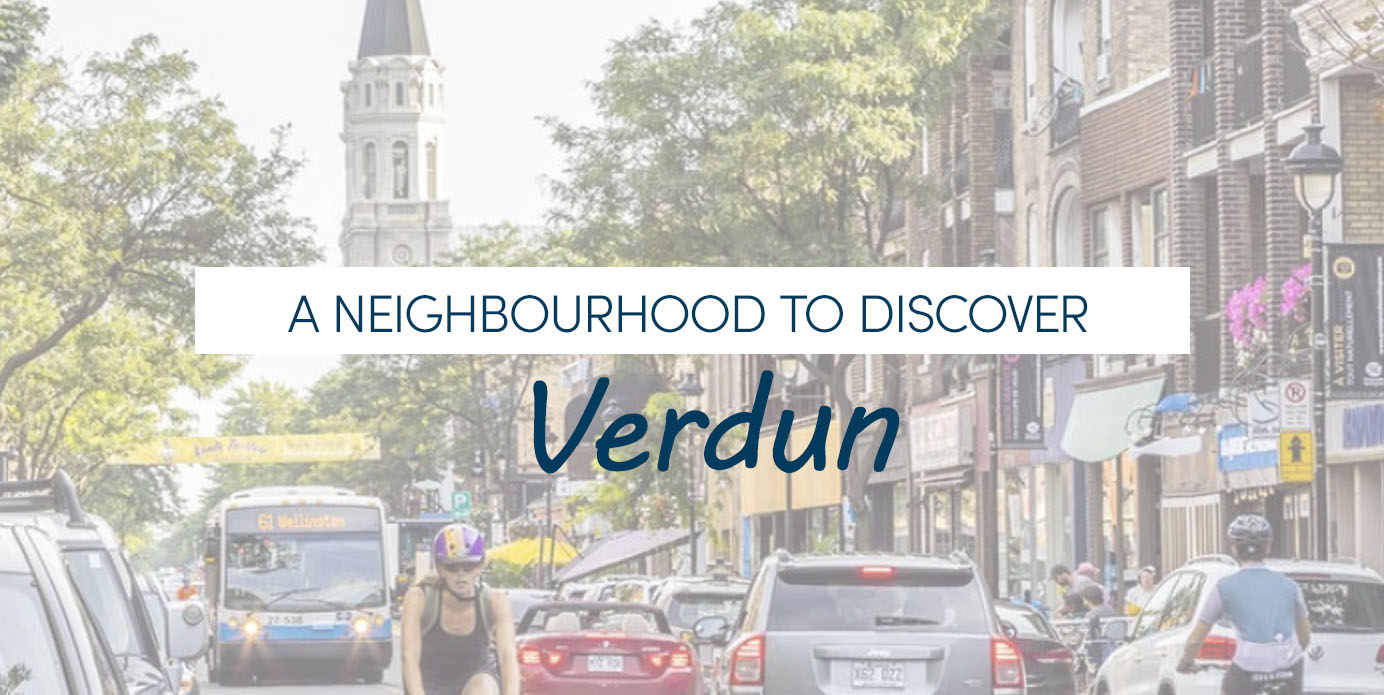 (Source: https://www.mtl.org/fr/experience/decouverte-verdun-quartier-rive-saint-laurent)
Where is the Verdun neighbourhood located?
This borough of the city of Montreal is located along the St. Lawrence River in the southwestern part of the island. It is adjacent to the Samuel-de-Champlain Bridge and Highway 15 and is served by three metro stations. Wellington Street, a major commercial artery, runs through the heart of this neighbourhood.
What attracts people to Verdun?
Verdun is a mainly residential neighbourhood where young families can find all the services they need. There are 8 French and 2 English elementary schools, 2 secondary schools (1 French and 1 English), as well as 3 vocational training centres.
Even so, what many residents find appealing are the relatively low rents, the amount of green space and the proximity to the river and public beach. There are also public swimming pools, bike paths, and a variety of parks where residents can enjoy the outdoors.
The greatest draw of the Verdun neighbourhood is probably Wellington Street, a vibrant commercial street that is home to many different boutiques, cafes and restaurants, not to mention a few bars. Various events are organized on Wellington Street, including both winter and summer festivals.
What are some of the nearby attractions?
In addition to all that Verdun has to offer residents, the neighbourhood is close to multiple tourist attractions such as the Old Port of Montreal, the Lachine Canal, and the Atwater Market. All of them can be reached easily by public transport or by bicycle.
Angrignon Park is just as great in summer as it is in winter. This huge 97-hectare park is the ideal place for residents and visitors to play and relax. In summer, walk or jog along one of the many trails, have a picnic by the lake, enjoy your favourite individual or team sport, and so much more! In winter, it is possible to go cross-country skiing or sledding on the always-popular sliding hill.
On Île-des-Sœurs, right next to Verdun, you have access to restaurants, a Nordic-inspired spa, a golf course, hiking trails, and many other attractions. Ile-des-Sœurs is part of the Verdun borough and can be reached either by car or by STM bus from De l'Église station.
As you can see, the Verdun neighbourhood has everything to please a wide variety of people and families. Not surprisingly, in 2020, TimeOut magazine named Verdun as the 11th coolest neighbourhood in the world!
Verdun/L'Île-des-Sœurs … a few figures
4th quarter 2021
The number of sales in the borough of Verdun/L'Île-des-Sœurs dipped 1 per cent in the fourth quarter to 258 transactions.
There were 273 new properties for sale, a drop of 11 per cent, while active listings decreased by 31 per cent.
By property category:
Sales of condominiums fell by 6 per cent to 193 transactions. The median price continues to climb and reached $520,000, an 11 per cent increase.
Sales of plexes (2 to 5 units) fell by 33 per cent, while the median price rose by 12 per cent to reach $880,000.
As for single-family homes, there were 29 sales during the fourth quarter.
For more statistics, click here
Are you thinking of buying or selling a property in Verdun? See the properties for sale and contact a real estate broker.
See also: