February 26, 2021
A Region to Discover: Abitibi-Témiscamingue
In this territory of more than 65,000 km2, you can easily combine your love for culture, family and outdoor activities, in a backdrop of natural beauty!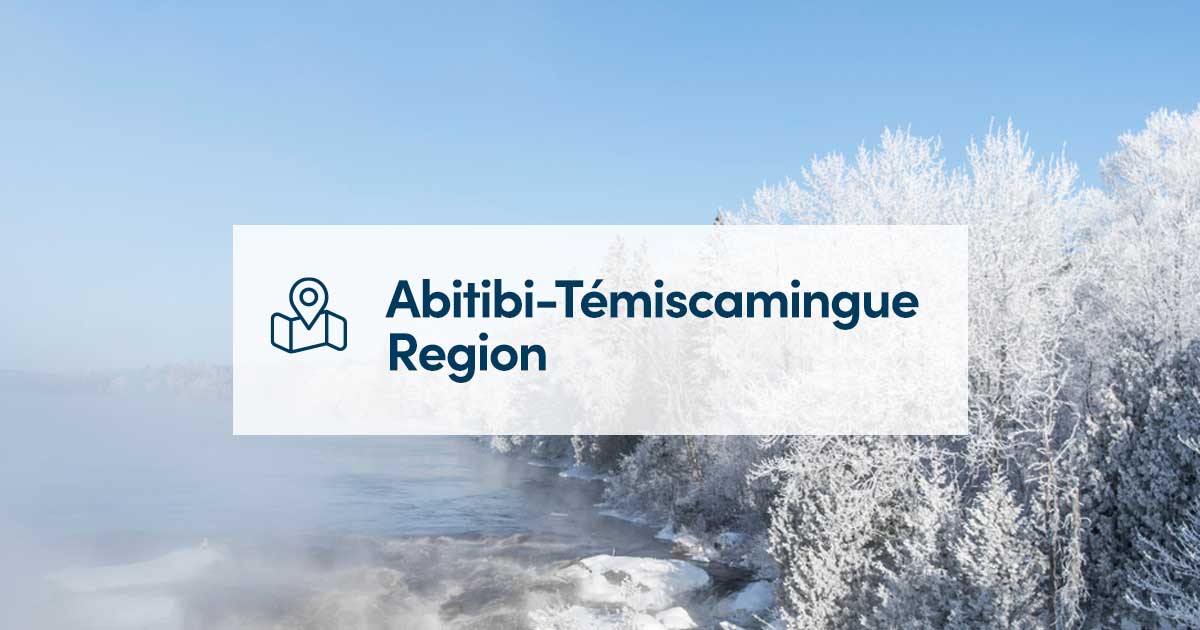 [A Region to Discover is a new way to showcase the different regions of Quebec by presenting economic and real estate data, tourist attractions and more. A different region will be featured every month.]
Overview of the region
According to 2020 data from the Institut de la statistique du Québec, Abitibi-Témiscamingue has a population of nearly 148,000 inhabitants, occupying five regional county municipalities (RCMs). The urban environments of Rouyn-Noranda and Val-d´Or are more distinct from the RCMs of Amos, La Sarre and Témiscamingue, which harmoniously blend city and countryside.
(Source: https://statistique.quebec.ca/fr/vitrine/region/08)
The economy of Abitibi-Témiscamingue continues to grow and its growth surpasses that of Quebec in several ways. Per capita disposable income, which is higher than that of the province as a whole, posted the second strongest growth in 2017.
(Source: https://statistique.quebec.ca/fr/fichier/bulletin-statistique-regional-abitibi-temiscamingue-edition-2019.pdf)
The cultural vitality of Abitibi-Témiscamingue is pleasantly surprising thanks to its wealth of events and festivities that highlight the originality and talent of its artists.
Its school network is considerable. It includes the UQAT (Université du Québec en Abitibi-Témiscamingue), the Cégep de Abitibi-Témiscamingue (Rouyn-Noranda and Val-d´Or) as well as five French-language school boards and one English-language school board.
Living conditions in the region are comparable to those of small- and medium-size cities. In addition, property prices and housing costs are affordable.
Tourist attractions in the region
The 20,000 lakes and numerous natural areas in the region enhance all leisure and outdoor activities, regardless of the season. Living in Abitibi-Témiscamingue means enjoying all of these fabulous places all year round!
Parc national d'Opémican
This new and imposing national park is filled with history and is surrounded by lakes Témiscamingue and Kipawa. Its tall pine trees, over 40 meters high, and its astonishing views, shared between the boreal forest and the deciduous forest, are simply amazing. The activities that can be enjoyed here are just as interesting: camping at the top of the rock face, sleeping under the stars like adventurers, sailing on the river and on Lac Kipawa, camping near Lac Témiscamingue under the tall pines, and more.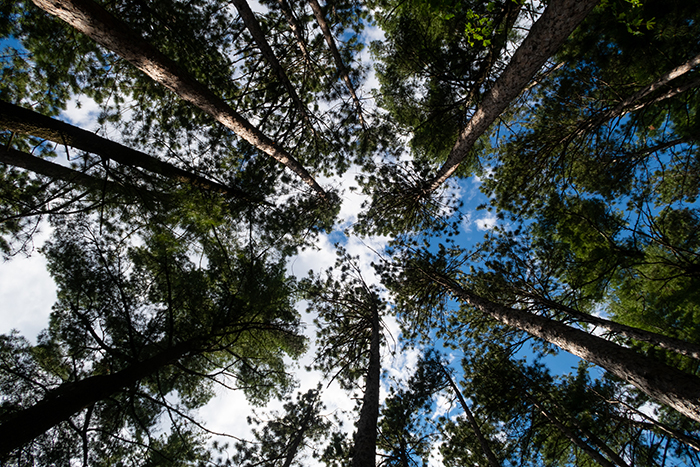 Refuge Pageau
Do you know Chewbaca, the porcupine? Would you like to meet the moose, the bear, and maybe even the wolf? This could be possible at Refuge Pageau, an animal refuge that welcomes injured and orphaned wild animals and then releases them into the wild, if feasible. As for their regular residents, such as a tiny ermine or the Tiby the moose, they are waiting for you along the wooden path that runs through the refuge. The Pageau refuge promises an unforgettable way to discover a remarkable family and its history.
Other attractions
TheAbitibi-Témiscamingue region is full of must-see sites for the whole family:
La Cité de l'or

invites you to dive into the heart of one of the most significant gold mining operations that

contributed to the development of Val-d'Or: an exceptional historic site

.

L'aventure du Parc national d'Aiguebelle is perfect for nature lovers, with a 90-metre suspension bridge that offers breathtaking views, water activities, trails, guided cultural activities, etc.

The Lieu historique national du Fort-Témiscamingue/Obadjiwan offers its visitors the best of two worlds: an enchanted forest and a magnificent beach on the shores of Lac Témiscamingue.

The Ferme du Centaure is an equestrian centre offering a variety of services: horseback riding lessons, horse boarding, day camps, horseback riding camp, etc.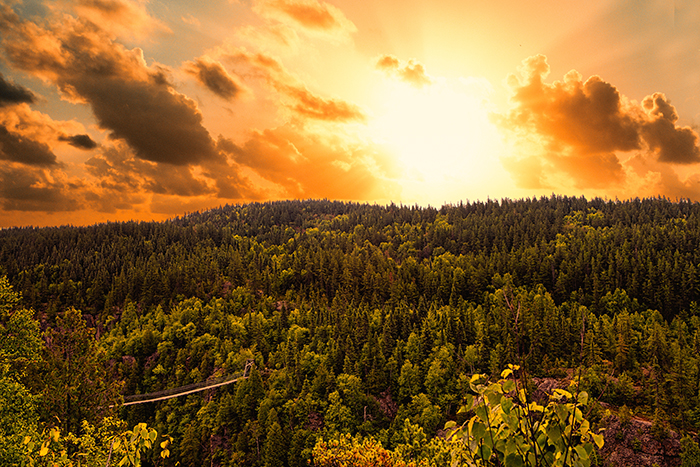 The real estate market in Abitibi-Témiscamingue
Statistics for January 2021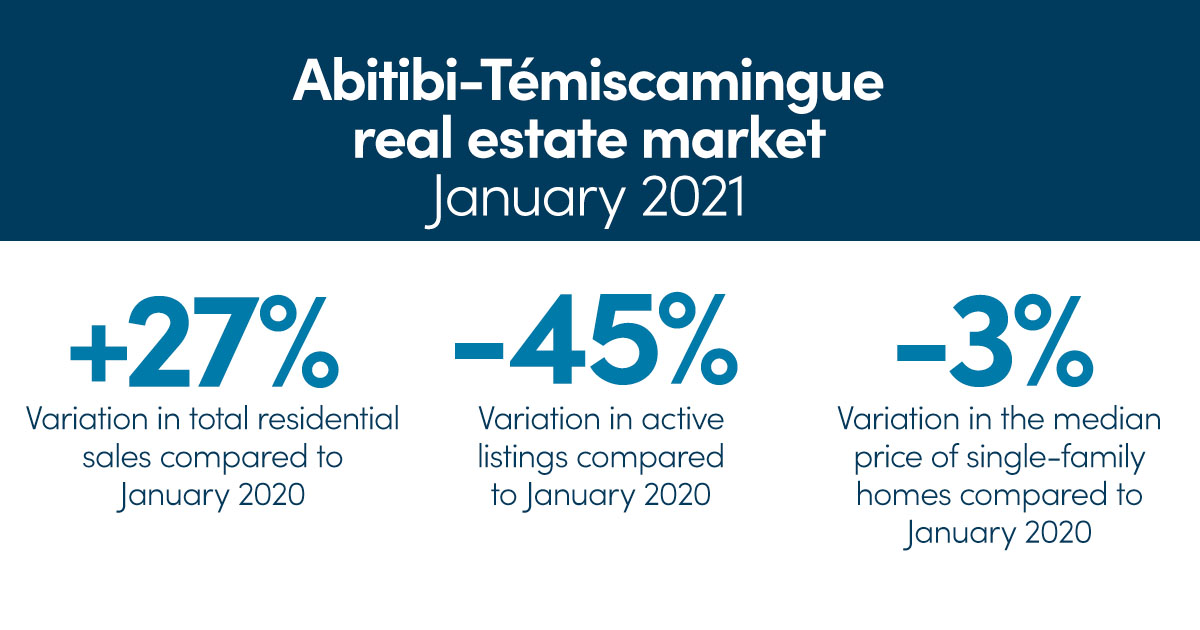 The residential real estate market in the Abitibi-Témiscamingue region registered a 27 per cent increase in sales compared to January of last year. The median price of single-family homes stood at $196,000, a slight decrease of 3 per cent compared to January 2020, when price increases were exceptionally strong.
Finally, the number of active listings decreased by 45 per cent and the number of new listings fell by 33 per cent compared to January of 2020.
Fourth quarter of 2020
The 4th quarter was marked by a 15 per cent jump in single-family homes sales, with a total of 301 transactions.
There were a total of 331 new properties for sale, which represents a 5 per cent drop compared to the fourth quarter of 2019, while active listings fell by 40 per cent.
Finally, the median price of single-family homes reached $230,000, a 10 per cent increase, while the median price of condominiums and plexes did not increase significantly.
For more real estate statistics for the Abitibi-Témiscamingue region, click here.
Are you thinking of buying or selling a property in the region? See the properties for sale and contact a real estate broker.
See also: