March 6, 2017
10 Storage Ideas to Maximize Your Kitchen
Does your kitchen lack space? From fold-away tables and utensil rails to compact appliances and ingenious cupboards, here are 10 tips to maximize your kitchen space.
1. Make use of the available space
In a small kitchen, it's best to maximize storage. Opt for ceiling-height cabinets. Use corner cabinets in every nook and cranny. Don't hesitate to hang utensils on the walls or from the ceiling. Finally, use a folding table or stackable stools.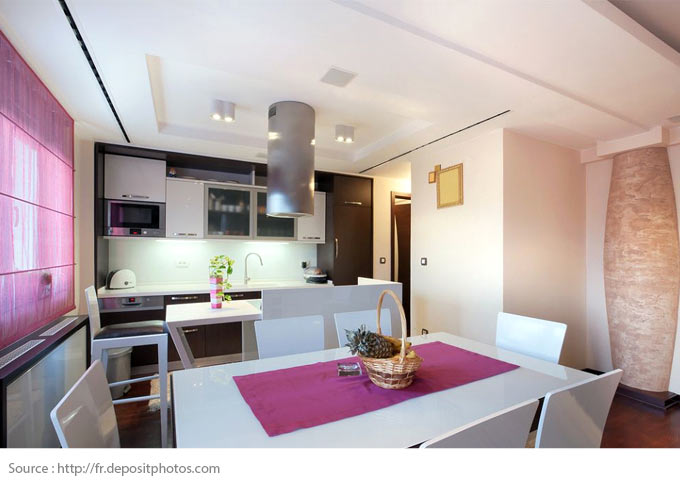 2. Play with angles
Make full use of angles! A good way to avoid wasting space in a small kitchen is to install a corner sink or cabinet. It's now easy to find highly functional models with pull-out shelves and organizers. This will increase your storage space.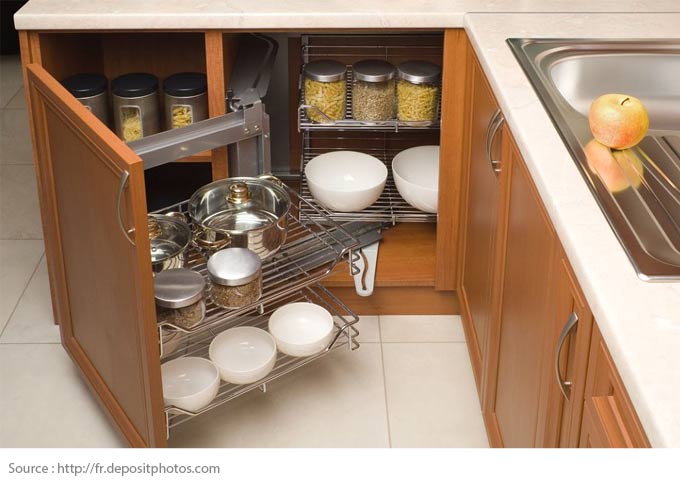 3. Extend the kitchen by using another room
To increase the space in a small kitchen, extend it to another room. Then, the island or work surface will fit in perfectly. Living or dining room divisions can provide interesting storage possibilities. A clever design idea to recuperate some precious storage space and to let the delicious aromas permeate from the kitchen!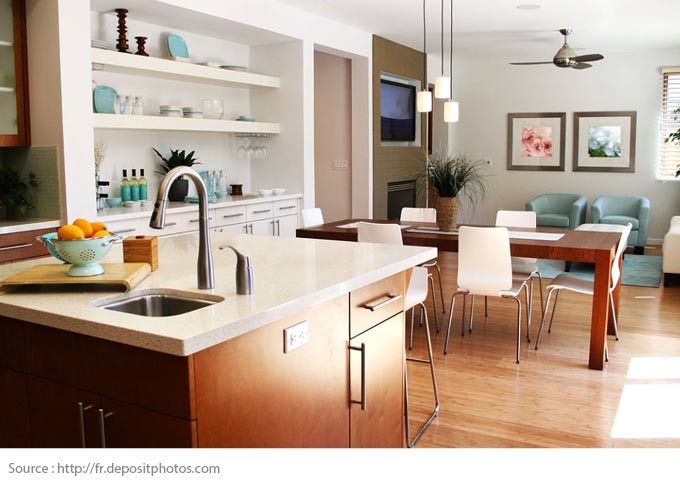 4. Ingenious drawers
Today's designers have created ingenious and practical kitchen drawers. There are drawers with multiple compartments for plates, glasses or pots and pans. There are also drawers that feature a concealed cutting board or table. Of course, you can buy drawer dividers that allow you to save space as well as to find your utensils more easily.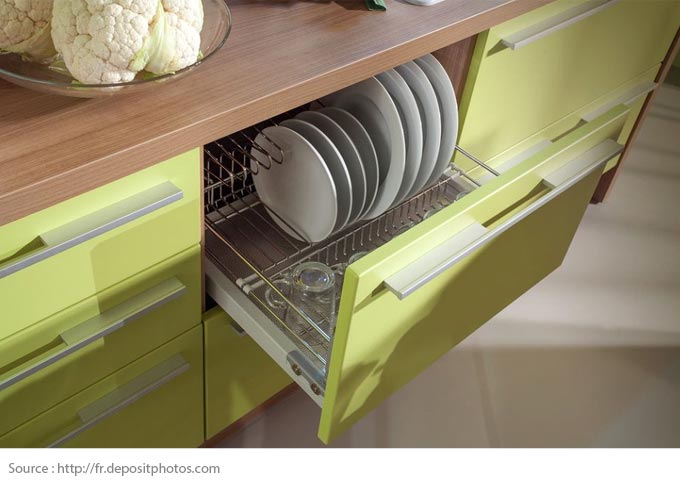 5. Install a pop-up power outlet
Ideal for small spaces, the retractable power unit is recessed into the work surface. Invisible, it only appears when you need it. A solution that is practical, discreet, attractive and that fits perfectly into all types of kitchens.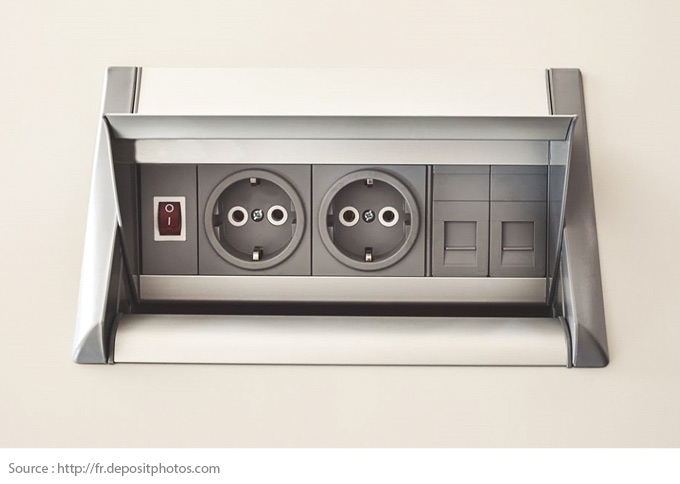 6. Hang your utensils
Feel free to use your walls to hang your utensils. For instance, install a utensil rail on the backsplash. A practical way to easily access spoons, scissors, knives, etc. Another solution: hooks or bottle holders can be attached to the wall, or even on the ceiling, for pots and pans. Finally, a magnetic knife rack can be used to hold knives and other accessories. A real space-saver!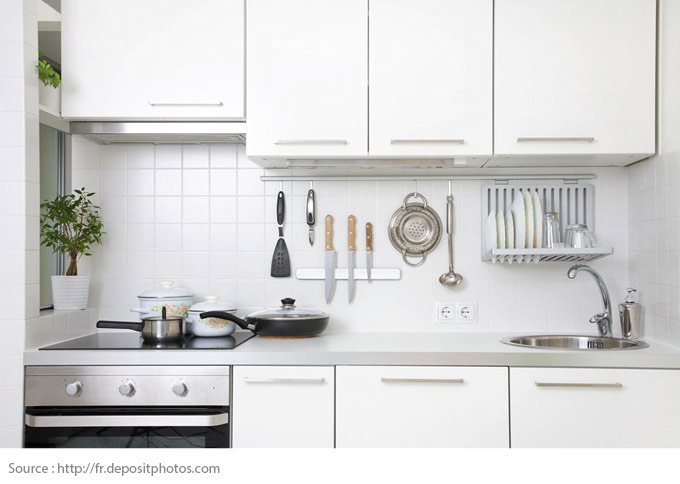 7. Use the backsplash
With the goal of saving space and avoiding clutter in the kitchen, consider hanging a backsplash shelf. A smart way to have more storage on different levels. Use your countertop for everyday appliances like the coffee maker or toaster. However, leave enough room for the cutting board or to put down a pot.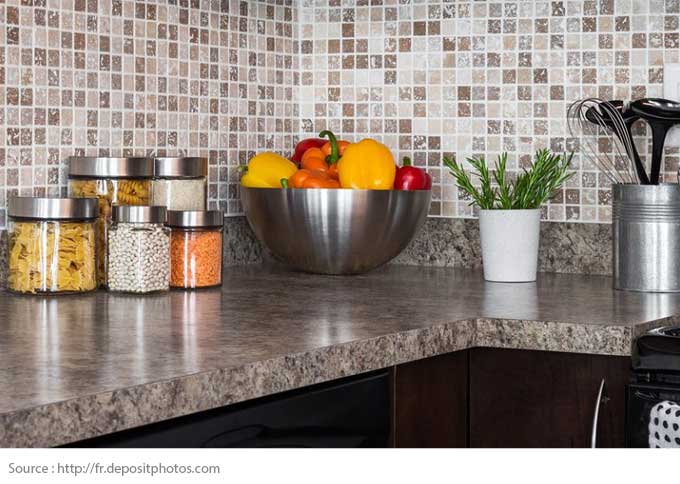 8. Inventive cabinet door openers
Cabinet doors often take up space. One clever idea for a small kitchen is to choose sliding or lift-up doors. They are functional and give a beautiful look to your room. One benefit is that doors can remain open and not get in the way when you are preparing meals.
9. Chose mini appliances
To maximize space in a small kitchen, one trick is to select small appliances. Choose them according to the amount of space you have available in your kitchen. Today, many models of household appliances have been adapted for smaller spaces. While they have the same capacity, they are more compact.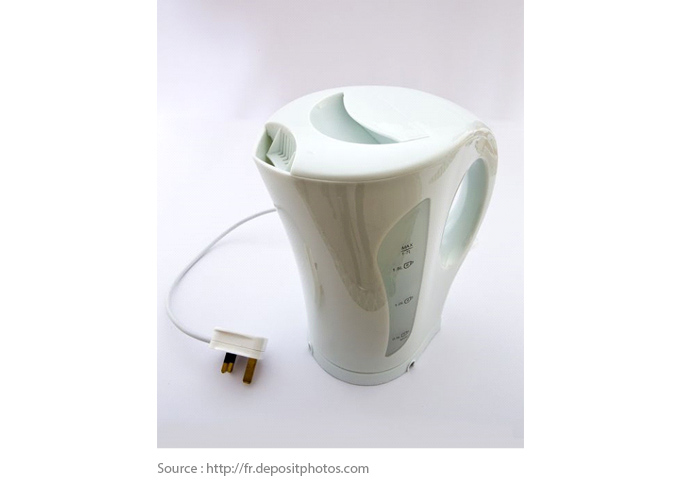 10. Modular furniture
For an efficient use of a small space, one solution is to choose modular and fold-away furniture. You can use a folding table, wheeled kitchen trolley or pull-out cutting board. Use stackable chairs or a retractable range hood over the cooktop.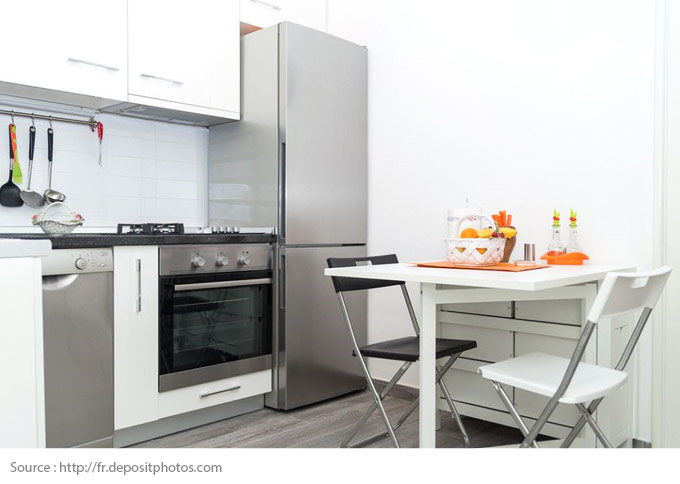 Read more:
The Right Way to Set Up a Kitchen