November 7, 2016
8 Amazing Basement Ideas
With a little creativity, you can convert your basement into a functional and welcoming space. Whether you're pining for a games room, a gym, a home theatre or a wine cellar, you can get inspired by these eight amazing basement ideas!
This basement has been transformed into a warm and welcoming wine cellar. The stone walls and tiled floor provide an authentic look. An aging cabinet and several shelves to showcase your best bottles can also be installed. The barrel, which doubles as a table and a display shelf, also provides a nice touch, while the leather sofas are perfect for relaxing.
Tip: Don't forget to respect the rules for storing wine... Bottles must be kept in an environment where the temperature ranges between 11 and 15 degrees Celsius.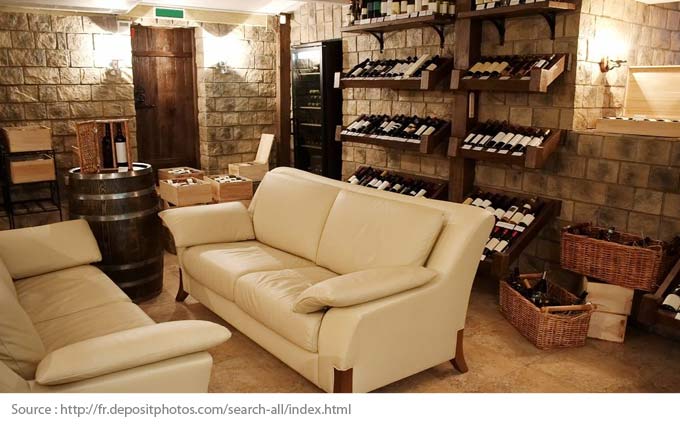 This spacious basement has been transformed into a pool room that can be enjoyed with friends and family. The wood floors add a warm and cozy feeling. Guests can relax on the sofa or the trendy chairs, or simply lean against the table while waiting for their turn. For a real pool room effect, choose suitable lighting and hang a pool cue rack on the wall.
Tip: A subdued decor will help with concentration when playing!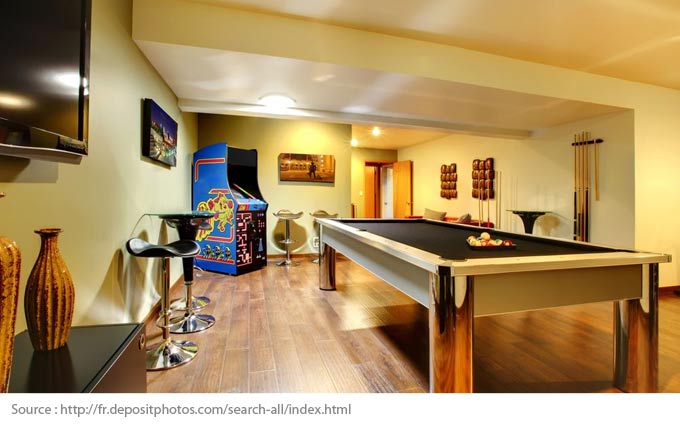 The stone walls and ceiling in this basement spa add to the authenticity of the space, which offers a truly peaceful and private oasis with a jacuzzi, sauna and benches for relaxing. The soft lighting is perfect for creating a calm and tranquil setting.
Tip: A ventilation system that is suitable for this type of set-up is essential.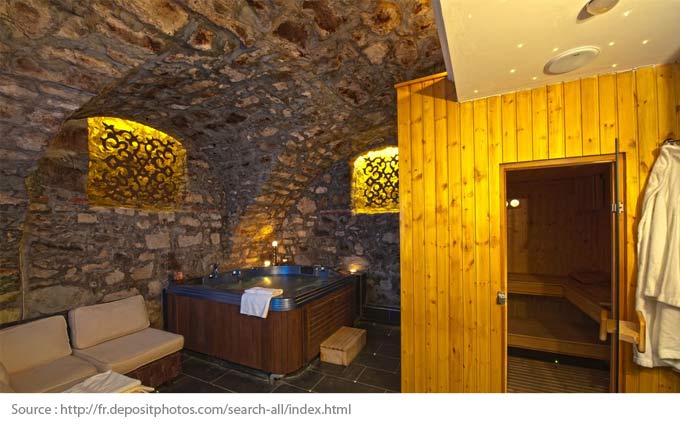 A healthy solution for this basement that has been transformed into a gym! This bright room has been decorated in light colors, which is ideal for boosting your energy level. The two mirrors help to enlarge the space and allow you to observe your movements while working out. The window is essential for ventilation and the high ceilings are great for doing all types of stretches.
Tip: Start by choosing the equipment that will provide you with the results you want!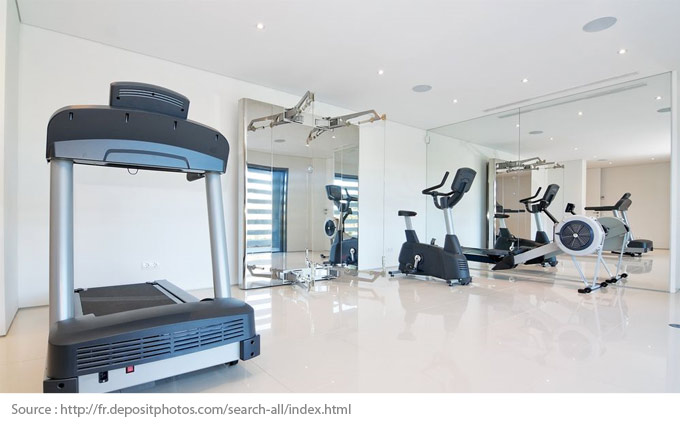 If you have a room that is well separated from the rest of the house, why not set up a music room? Use materials that absorb sound, such as carpeting, and take into account the combination of materials that will optimize the acoustics. We like the red walls, which tie into the red instruments, as well as the different photos. The room is well-lit with inlaid lighting.
Tip: Take the musician's instruments into account when adjusting the acoustics.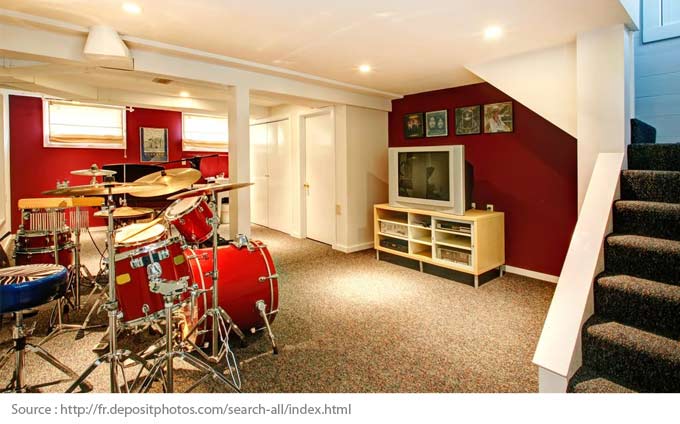 This home theatre integrates perfectly into the home's basement. The basic rule regarding the distance from the seats to the screen has been respected and the acoustics are managed through the ceiling and walls, which control resonance. The carpet matches perfectly with the walls. Dark yet stylish, this room contains just the essentials. The mahogany wood is a beautiful touch.
Tip: Focus on your lighting for an authentic theatre experience.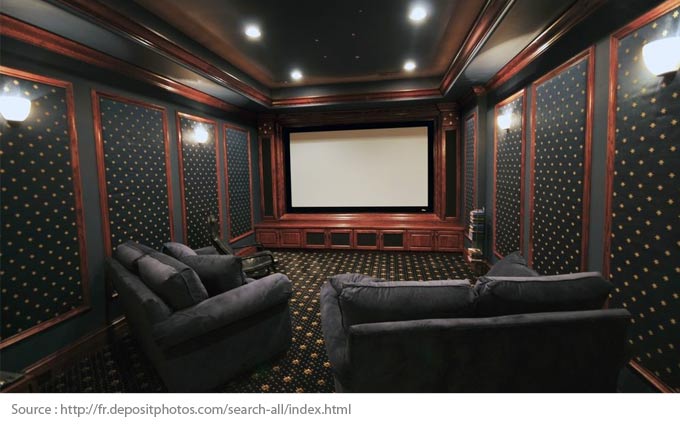 A basement bedroom is a great way to give your teenager a bit of privacy or host friends and family visiting from out of town. The stylish grey wall and parquet floor provide a warm, cozy feeling. This trendy and stylish look also includes nice splashes of bright colours. We like the fact that the dresser has been placed on a pedestal, accentuating height differences. The accessories provide an original touch as well.
Tip: The look of a room can be enhanced with indirect lighting.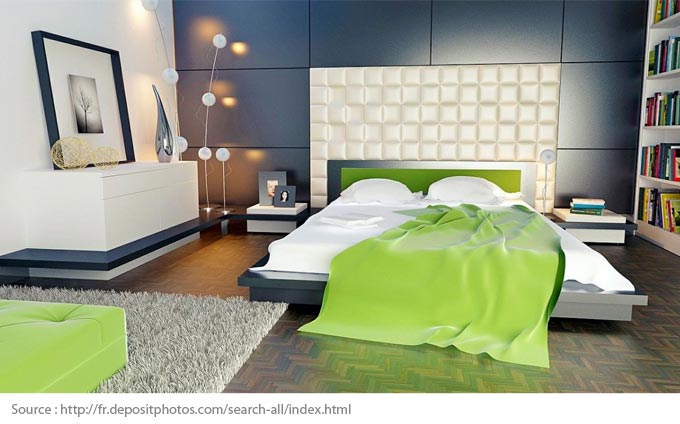 This basement office is sure to be a quiet and peaceful space, perfect for working. In this particular basement, kitchen cabinets have been recycled to provide ample storage. The room has distinct zones that are tied together nicely. Because there are no windows to provide natural light, they have opted for a variety of different light sources. A carpet has been placed under the chair in order to avoid ruining the floor.
Tip: It's easier to concentrate if your office is kept neat and tidy!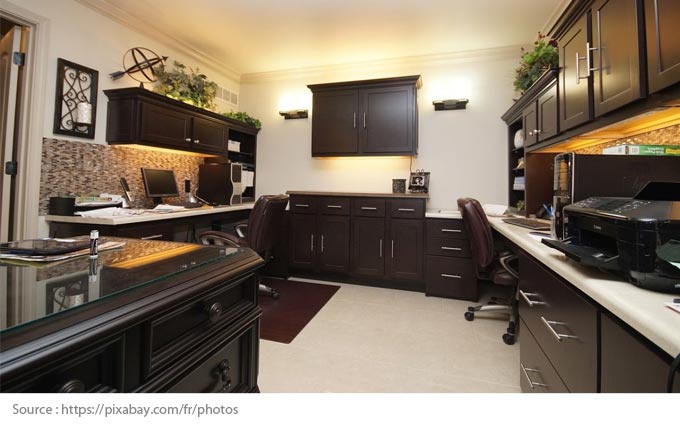 The basement is a perfect space to let your dreams come to life. Simply follow a few basic rules and ask a professional for advice!