July 17, 2017
8 Great Ideas for Underneath a Staircase
How about… a cozy corner
If you're dreaming of setting up a cozy little corner in your home, look no further than under the staircase! This example, which is painted the same colour as the walls, blends well into the décor. A mattress and some cushions provide added comfort. This solution allows you to create a small, private corner in your home. The different sized shelves allow to add books and other accessories. The height also allows you to sit without bumping your head.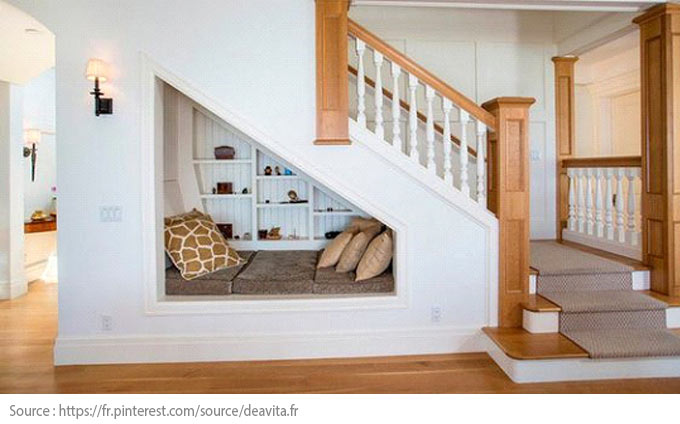 How about… a wine cellar
The wine cellar in this contemporary home is cleverly located under the stairs. This is a practical and aesthetic solution for enjoying the pleasures of wine tasting. Made almost entirely of glass, it is easy to see the bottles and take them out. This wine cellar is stylish and elegant, and optimizes the unused space under the stairs. If the cellar is completely closed, you can keep your wine bottles at a desired temperature. We also love the black accents.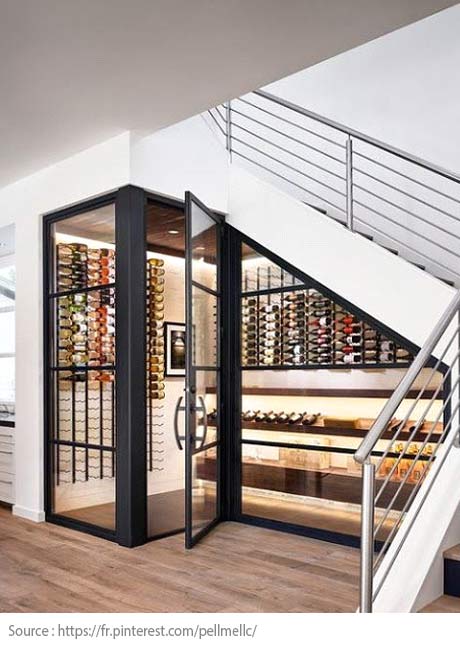 How about… a swing
An original idea for your unused space! In this modern home, a small play area was created by installing a swing. It even doubles as a decorative item and it brings added personality to this small corner. It is suspended from the steps with rope. The staircase retains its initial function of providing access to the lower floor, but it also makes for a creative nook that kids can enjoy.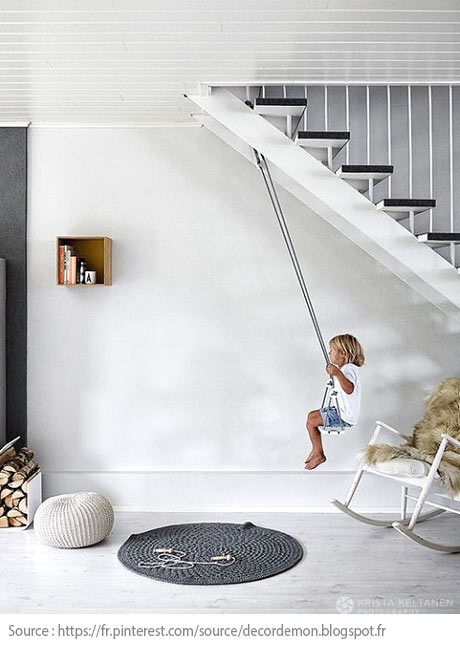 How about… a bookcase
Why not use the space under your stairs to store all your books? It's a great solution for optimizing every square inch of the house. Here, we created a tailor-made bookcase that looks like it's made up of small boxes that fit together. It's a nice contrast to the white background, and offers a visually appealing and practical storage solution. We like how the geometric lines add character to the room.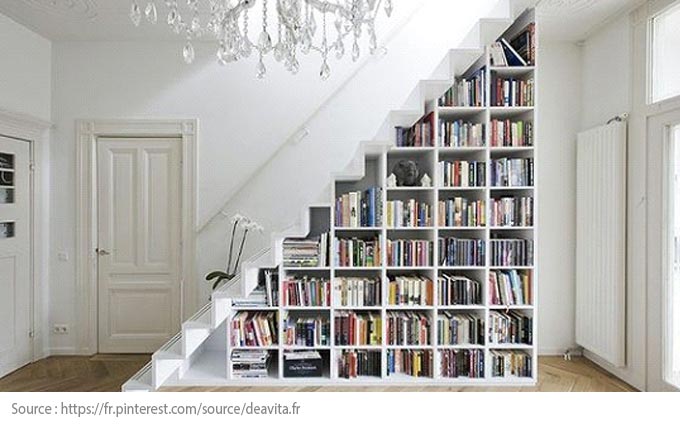 How about… a dog house
A dog house under the staircase is an original and clever idea. This one is made of wood and uses the same colour of wood as the stairs. Integrated into the wall, it gives the dog a peaceful place to rest without being in the way. The opening is big enough for a person to get inside and clean it out. Toss in a dog bed and it's the perfect spot for your pooch to rest.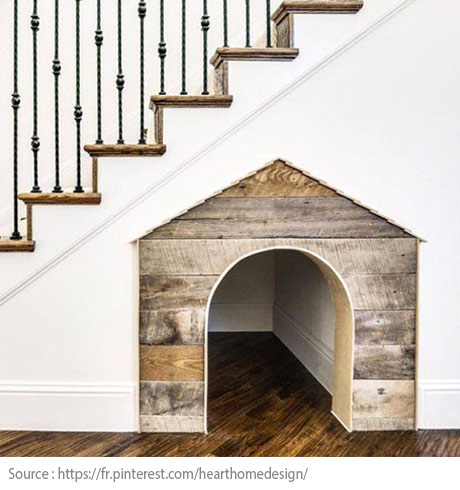 How about… bike storage
If you don't know where to store your bikes, why not hang them under the stairs? Here, they stand out as decorative elements and help fill in the room with an original and stylish flair. As in a garage, bikes can be hung with specialized hooks. This is a very clever solution if you don't have a shed in which to store your bikes. We also like how the wall was left white to highlight the other items in the room.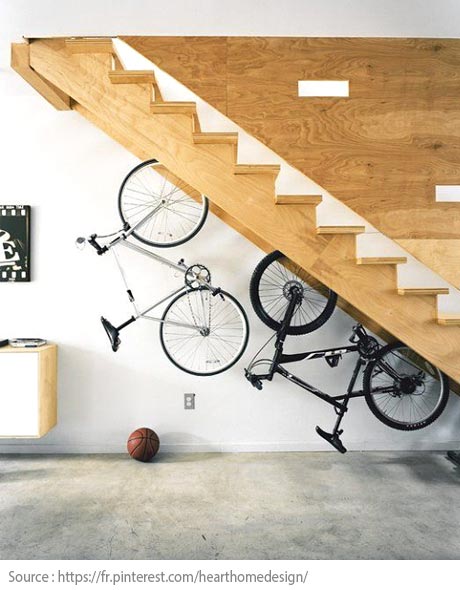 How about… a built-in log holder
It's not always obvious where to store firewood. The owners of this house built a dedicated space for this exact purpose, in the shape of a small house. Built into the wall, the stacked logs are interesting to look at, and practical at the same time. We love how it fits in perfectly with the setting by adding other touches of wood throughout the room.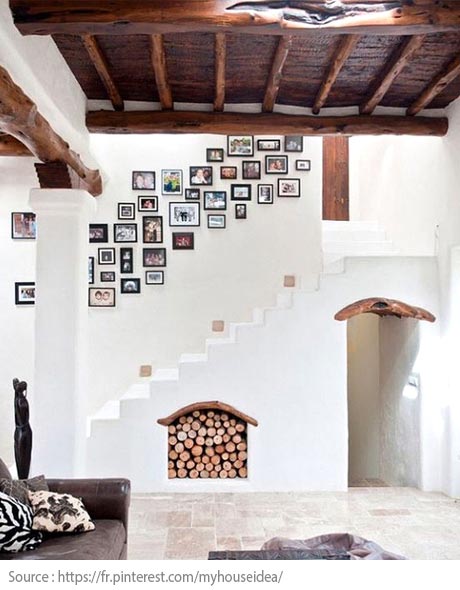 How about… a terrarium
If you have a large enough space, here's a solutions for brining nature into your home. Tropical in appearance, this terrarium is a truly beautiful and original decorative item. It gives the room character and a rarely seen exotic touch.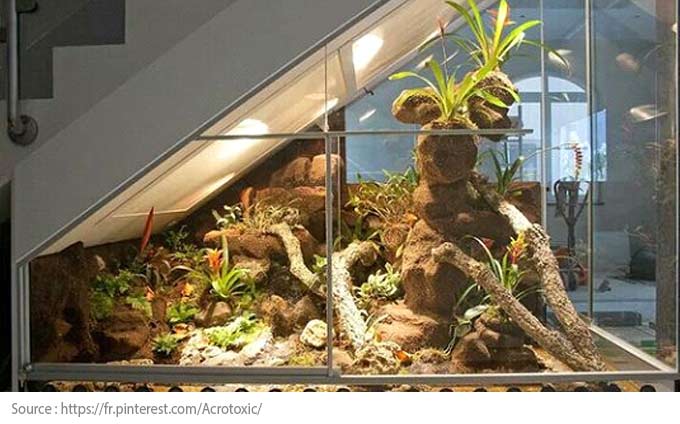 The empty space under a staircase offers many possibilities, don't hesitate to create your own personalized ideas!
See also:
How to Optimize Your Studio Apartment