July 21, 2021
Setting up your backyard BBQ area
Take a deep breath. Do you smell something delicious? That would be the chicken skewers, beef steaks, lobsters, veggies and fruits grilling on the barbecue. That's right, the time for outdoor cooking is here.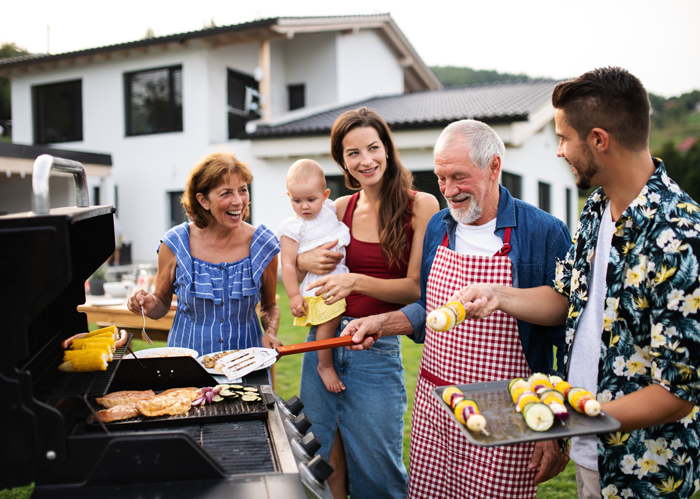 You've probably already set up your outdoor dining and chill out areas and your fire pit. But what about a spot with all you need for a grill-up? In recent years, outdoor kitchens have been a backyard must.
Here are some tips for setting up a BBQ area and outdoor kitchen to make summer all the more enjoyable.
Permit
If you're only setting up a BBQ in your yard, you're unlikely to need a city permit to do so. That said, if you are installing or building a complete outdoor kitchen with a barbecue, countertops and fridge, contact your city's planning department for their regulations. Take that as a bit of friendly advice!
Safety first
Let's start with some summer barbecue safety rules.
Set up your barbecue:
Outdoors to prevent carbon monoxide poisoning

On level, solid ground

Away from traffic and the kids' play area
Ensure the barbecue is not too close to anything, especially any combustible object or material (walls, doors, trees, etc.). Make sure the cylinder is properly connected before each use.
For more information on maintaining and safely using the BBQ, visit the web page Prévenir les risques d'incendie lorsque vous utilisez le barbecue (French only).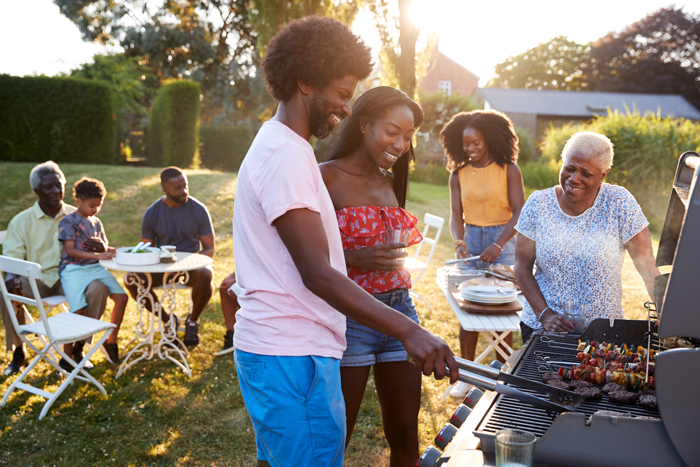 Customizing your BBQ area
Outdoor cooking has been all the rage for quite a few years now. But be careful! It's easy to get carried away with the possibilities. First, you need to answer a few questions:
What space do you have available?
Measure the area, make a basic plan and see what would fit in best with the rest of your yard before getting started.
Your options may be endless, but your budget is not. Crunch the numbers!
What materials would you like?
A stone, brick or stainless steel BBQ area? Remember, this kitchen will be outside all year long—in the cold and snow as well as during heatwaves and heavy rain. Think durability!
If you don't like outdoor dining, there's no need to set up an eating area. Does the season start early and end late in the fall for you? If so, a patio heater might be good idea. Do you like to be outside rain or shine? Consider a permanent roof.
What are your needs? Your real needs!
Would you like a fridge, pizza oven, sink, smoker, countertops or just a spot to set up your barbecue?
A complete outdoor kitchen is a room in itself. Prioritize safety and functionality as you would for a room indoors.
---
Are you passionate about real estate? Subscribe to the Centris.ca newsletter now.
See also:
The ABCs of buying a patio heater
Rebuilding your wooden deck in five steps
Getting Your Yard Ready for Summer