July 3, 2017
Luxury Home Sales Soaring in Québec
The Québec Federation of Real Estate Boards (QFREB) recently published a text in its Window on the Market publication, in which it analyzes the province's real estate market for properties in the higher price ranges.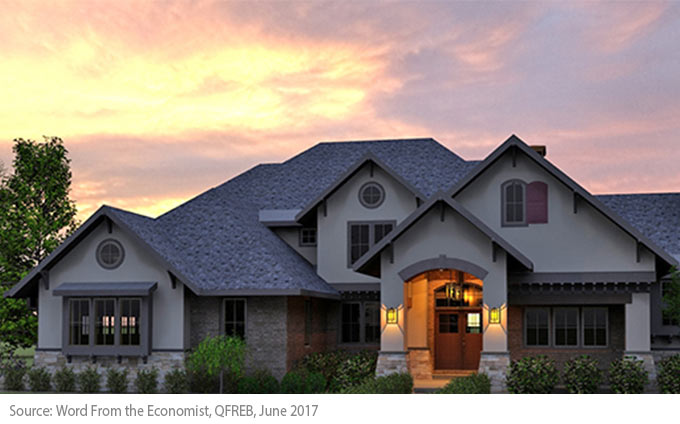 According to the QFREB, Québec's residential real estate market as a whole has been surprisingly strong since last fall, in a context where mortgage tightening measures introduced in October were designed to once again curb the enthusiasm of first-time buyers. However, home purchases by households that are not buying their first property has clearly more than compensated for this.
Sales of single-family homes at $500,000 or more are growing at a good pace
The real estate brokers' Centris® system indicates that 4,429 single-family home sales were concluded at $500,000 or more in Québec during the 12-month period from June 2016 to May 2017. This is a 20 per cent increase compared to the equivalent period one year earlier. Sales in this price range increased significantly in the areas of Gatineau (+40 per cent), Sherbrooke (+26 per cent) and Montréal (+22 per cent).
Areas with a significant number of resort properties are also doing well: sales of single-family homes at $500,000 or more are up in the agglomerations of Saint-Sauveur (+16 per cent), Mont-Tremblant (+58 per cent), Granby (+65 per cent), Sainte-Adèle (+94 per cent), Magog (24 sales compared to 17) and Sainte-Agathe-des-Monts (24 sales compared to 21). In fact, activity in this price range has increased everywhere in the province over the past year, except in the Québec City area, where sales in the $500,000+ price range fell by 18 per cent.
One in twelve homes in Québec sells for more than $500,000
For the province as a whole, sales at $500,000 or more accounted for 8 per cent of all single-family home transactions in the last 12 months, which represents approximately one in twelve homes. This proportion is of course much higher in the Montréal area, where it reached 15 per cent, which is about one in seven homes.
Proportion of single-family home sales at $500,000 or more and at $1,000,000 or more - June 2016 to May 2017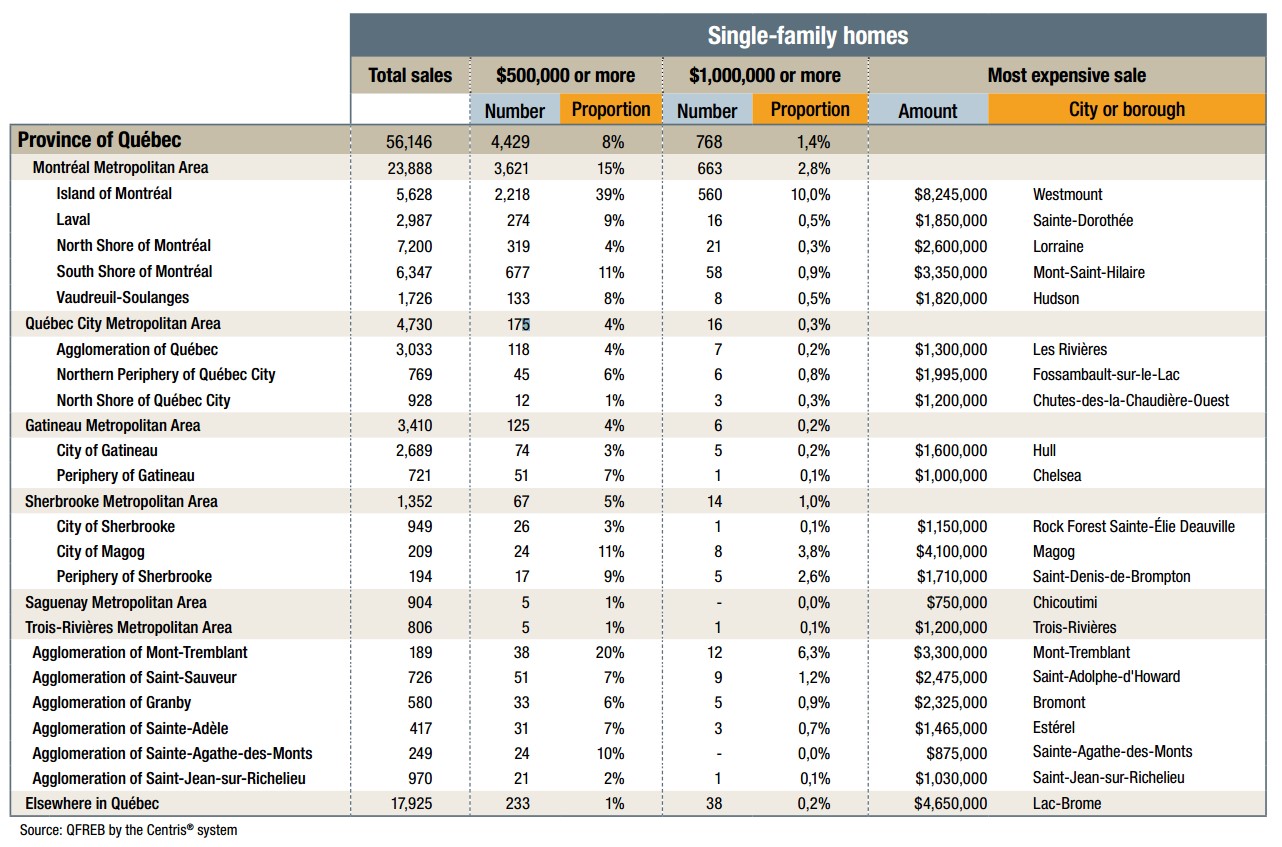 Sales of single-family homes at $1,000,000 or more are also gaining ground
There were 768 transactions in the $1,000,000+ price range in Québec from June 2016 to May 2017, which represents only 1.4 per cent of the province's single-family home sales. However, it also represents a 26 per cent increase in sales in this price range as compared to the same period one year earlier. This growth was not only attributable to the Island of Montréal (560 sales, +24 per cent), as the QFREB also notes marked increases on Montréal's South Shore (58 sales, +61 per cent), in Mont-Tremblant (21 compared to 13) and in the rest of the province (56 sales, +60 per cent).
Get the full details by reading the complete Word From the Economist, published by the QFREB.
See also:
Condominium Resale Prices: Let's Talk Square Feet
Renting Your Condo: What You Should Know