March 11, 2021
A Multifunctional Garage... Absolutely!
The first step is to close your eyes and imagine your dream garage or shed. Without any limitations. Then, delve deeper into this ideal place to assess all the possibilities.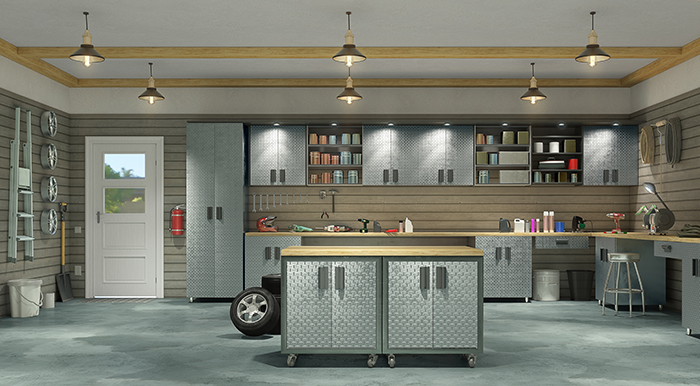 Creating a plan with specific measurements is optimal. You can even download one for free from one of the major home improvement banners.
The right questions to ask yourself
Determining your needs is essential. As surprising as it may seem, in the case of a garage, the size of your vehicle could help you gain a bit of space or, at the very least, enable you to see how much space you have left over to organize your storage areas efficiently.
What are you going to store in this space? Summer or winter tires depending on the season? Storing your tires at your car dealership could be advantageous depending on the size of your garage and the amount of things that need to be stored there.
The tools you own, such as landscaping and gardening equipment, vary from person to person. Moreover, if you're a do-it-yourselfer or handy around the house, you may want to consider an organized workspace where you can easily find and access your nails, screws, hooks, tools, etc. A cluttered and disorganized workbench is certainly not efficient.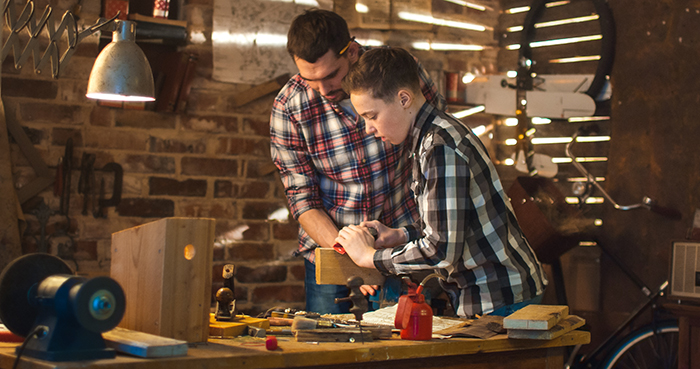 As you can see, this type of needs analysis is essential. Then, depending on what ends up in your garage or shed, you'll be ready to select the right storage accessories!

How many people will use it? A garage or shed is often used as a storage space for sports accessories for the whole family. To this extent, dividing the space into zones could be a good idea. Zones by type of activity or zones exclusive to each person? That's the question! But to draw up a plan, it's best to have a starting idea of what will be most suitable for your family. Keep in mind that the idea is to keep this space tidy for as long as possible.
OK, let's get practical
If you plan to paint your floor to freshen it up, epoxy paint applies very well on cement, is durable and is easy to clean. Polyurethane and alkyd-urethane paints are also very effective. A paint expert will be able to advise you based on the type of floor you have, frequency of use, etc. As for the walls, if it's a small space, choose to paint them white. Even if they gets dirty, they will provide additional brightness and make it easier to locate your items.
Delineating the parking space right from the start makes it easier to arrange new accessories or storage bins. So, to help simplify and plan the layout, place a coloured adhesive strip on the floor in order to frame the area that will be reserved for your car.
Storage accessories... There are a variety of options to accommodate the different plans and are usually very functional. Perforated panels are classic and useful, they are easy to install and are often already present in a garage. Adding a few new hooks to them will be enough to optimize their performance. Magnetic holders are also an interesting option. And if a perforated panel isn't already in place, a sturdy steel kit that includes a panel, installation hardware, and a variety of hooks and brackets, can be purchased at hardware stores.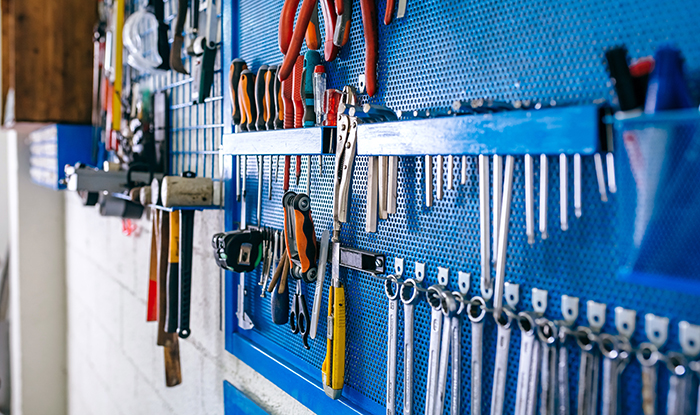 A workbench with shelves underneath allows you to place baskets of different sizes and colours, helping to make the garage a bit less grey! Hardware stores provide a large variety of shoe racks, bottle racks, shelves, utility hooks for bicycles, ladders, folding chairs, etc. And you can always be creative in using these items in ways that are different from their original function. Hanging shoe racks, for example, can be used to store many other things! Any good garage or shed should have wall-mounted brackets for brooms, rakes, baseball bats and other tools or sports equipment.
Cabinets on wheels, storage bins of all sizes, various drawer units, mobile tool boxes, shelves of different sizes... The options are virtually endless. Be sure to adopt the motto: A place for everything and everything in its place!
See also:
Choosing a Renovation Professional