April 27, 2017
Spring Cleaning: Have You Made a Plan?
If you're discouraged just thinking about spring cleaning, know that there are several tips and tricks to make your job easier.
A little organization goes a long way
The first piece of advice is to organize your spring cleaning. Start by making a list of all the tasks you want to accomplish and divide them into the days on which you want to perform them. You can also delegate tasks to other people in your house – both young and old should participate!
Out with your winter stuff, in with your summer things
Now's the time to put away your winter clothes and take out your summer wardrobe. If you have kids, sort through their items, as there's no point wasting time storing clothes that will be too small in a few months ... Those that are still in good condition can be donated to charities. Repeat this exercise for the clothes you take out for the summer.
Quilts and carpets: here's the exit!
Some people prefer keeping their quilt on their bed throughout the year. Whatever your habits, remember that duvet = dry cleaner. Most duvets and comforters, especially those made of down and feathers, are not machine washable. They obviously still need to be cleaned, along with your carpets, which means that they must be brought to the cleaners. Some dry cleaners will even store your duvets, comforters and carpets until the cold season returns. If your duvets and quilts are new or almost new you can wait for the return of the sun's rays to hang them on the outdoor clothesline so they can "air out" a bit.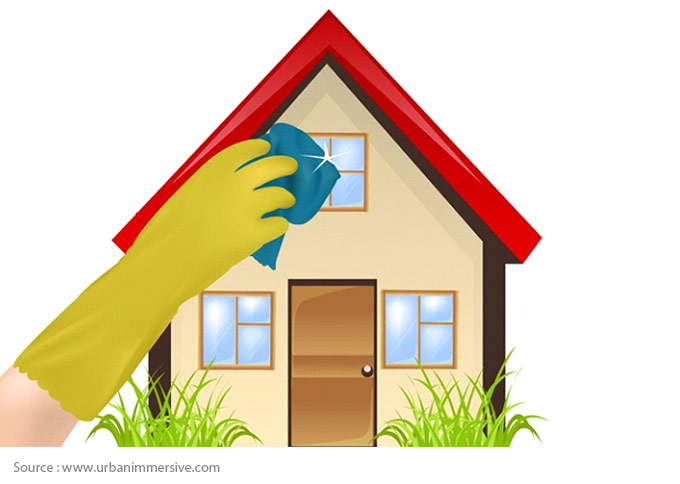 Cleaning the kitchen and bathroom
The longest and most dreaded rooms to clean are always the kitchen and bathroom, but they bring you the greatest feeling of satisfaction when finished! Start with the cabinets; everything must be cleaned, inside and out. Take this opportunity to check the food hiding at the back of your pantry, as well as your old medications, and throw away anything that has an expired best-before date. Keep in mind that medicine should not be disposed of in the trash or in the toilet, as they can contaminate the soil or waterways. Most pharmacies will take back expired medication.
Walls and ceilings: wash all of them...
Of course, walls and ceilings cannot be painted every time spring rolls around... If you do not intend to repaint your home's interior, it is recommended that you at least clean the walls and ceilings. The kitchen is the hardest room to clean as grease gradually accumulates and sticks to the walls, under the cabinets, on cupboard doors, etc., trapping dust at the same time. A solution of hot water and baking soda, a sponge and a cloth to dry are your best weapons for cleaning the kitchen.
For the walls and ceilings in the other rooms of your home, simply remove the dust with a dry cloth and use a broom for high places. Save the deep cleaning for corners, light switches and around your home's door handles and cabinet handles.
Spring cleaning is an essential task. Good luck and happy spring!
See also:
Cleaning Your Home With Natural Products
Tips for a Successful Garage Sale