November 1, 2022
These kitchen floors will make you want to switch up yours now!
The kitchen is one of the busiest rooms in your home but your kitchen floor might sometimes fade quietly into the background. Why not try something that will really pop? We hope these creative kitchen flooring ideas will inspire you to change up yours today

.
All White kitchen floors
While it might be hard to keep pristine, there simply isn't much that can compare to the elegance of an all white kitchen complete with painted white floors.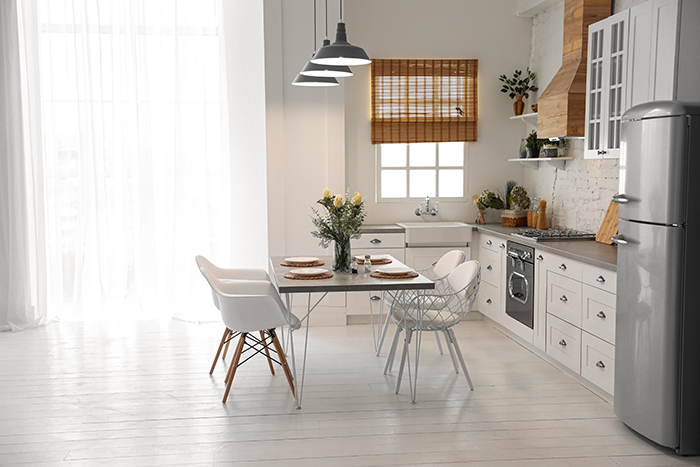 Scalloped tile kitchen floors
Scalloped tiles are unexpectedly shaped kitchen floor tiles in the most delightful way. As far as material, these are usually made from porcelain or ceramic because of their durability and overall resistance to moisture. If scalloped isn't your preference, there are many other types of shapes and patterns for tiles available that would look great in the right kitchen.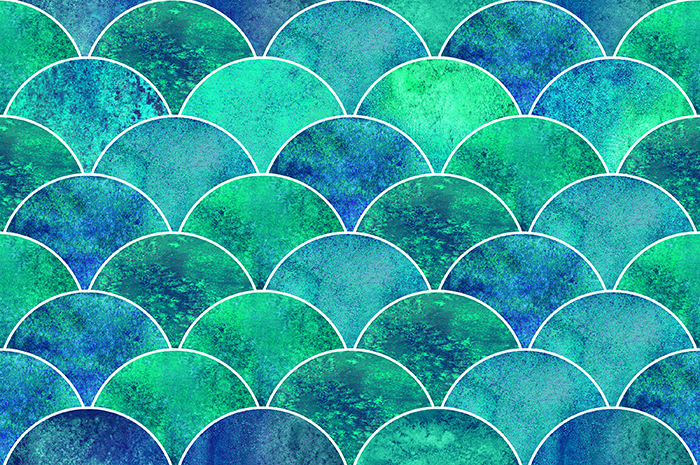 Kitchen floor mats
Kitchen floor mats are not only a quick and easy way to add an extra layer of protection to your kitchen floors, but they also add comfort to everyday tasks in the kitchen. Whether you are putting away groceries, washing dishes, preparing food or wiping counters, a little extra fabric under your feet can really make a difference! Not to mention, they are stylish and look great!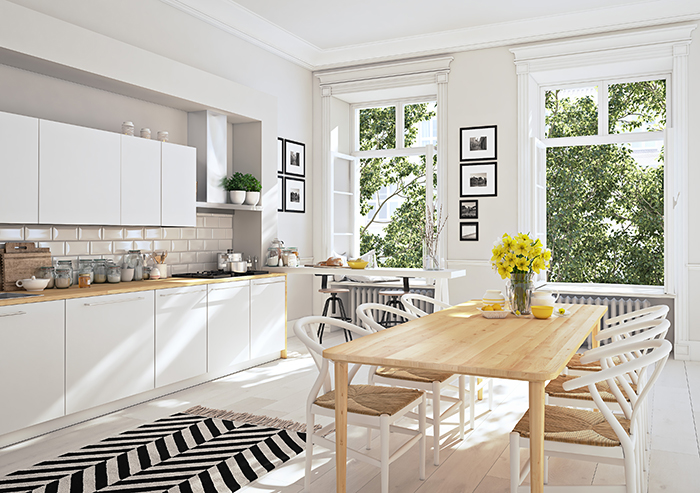 Dark hardwood kitchen floors with white cabinets
If all white is not for you, another gorgeous kitchen floor idea is to use a dark stain on your hardwood floors for juxtaposition against all white kitchen cabinets.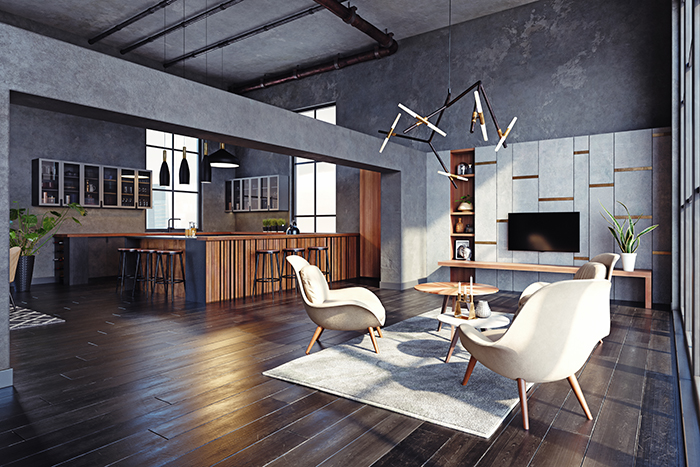 Chevron pattern kitchen floors
Kitchen flooring in a chevron pattern is an unusual and striking choice for a kitchen. You can also use marble tile.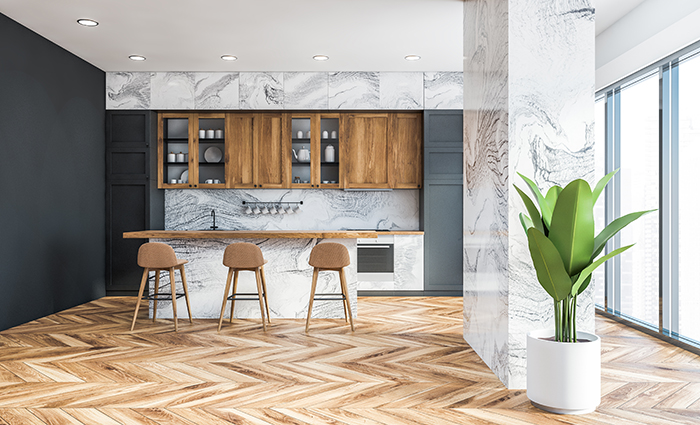 Vinyl kitchen floors
Vinyl is a great choice for kitchens because it is waterproof, affordable and comes in a variety of colours and patterns. Vinyl kitchen flooring is easy to install and resists wear and tear in higher traffic areas.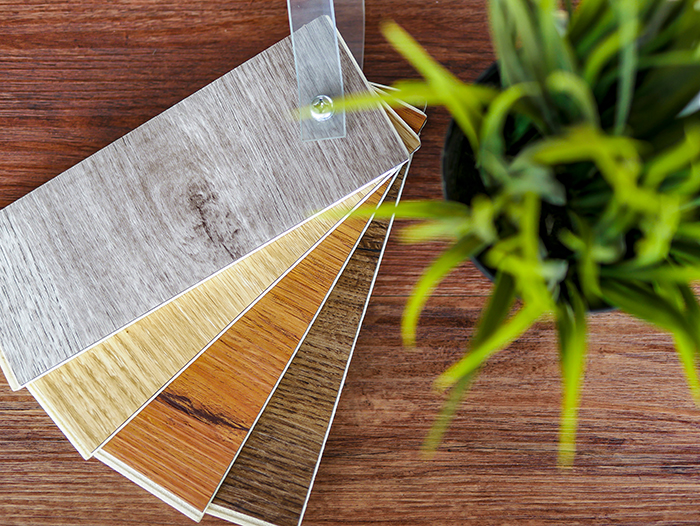 Exposed brick kitchen floors
Brick isn't just for walls! For a more rustic look, try using brick for your kitchen floor to add warmth and texture. The brick can be left unsealed or coated with transparent, no-sheen masonry sealer to make it easier to clean. If you are unsure about using brick or what types of brick to use, consult with a professional contractor.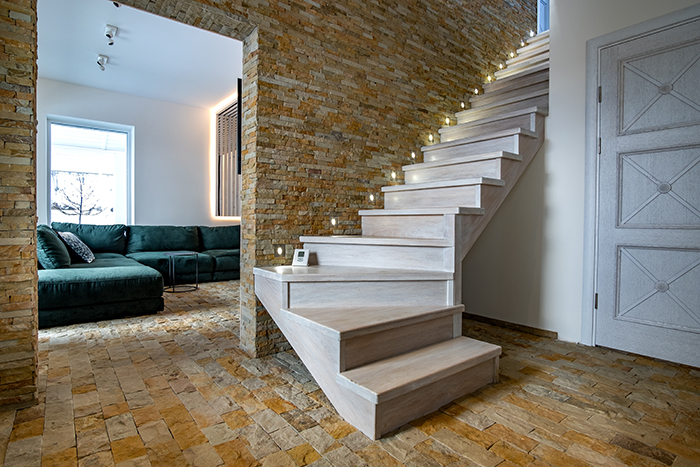 Checkerboard kitchen floors
Black and white checkerboard tiles are a classic and versatile choice for many design styles. The pattern originates from 1920s décor, but it can be found in many modern homes providing a classic or eclectic charm. Different types of tiles can be used to achieve this effect; marble, porcelain, ceramic, vinyl or linoleum all provide choices for any room or budget.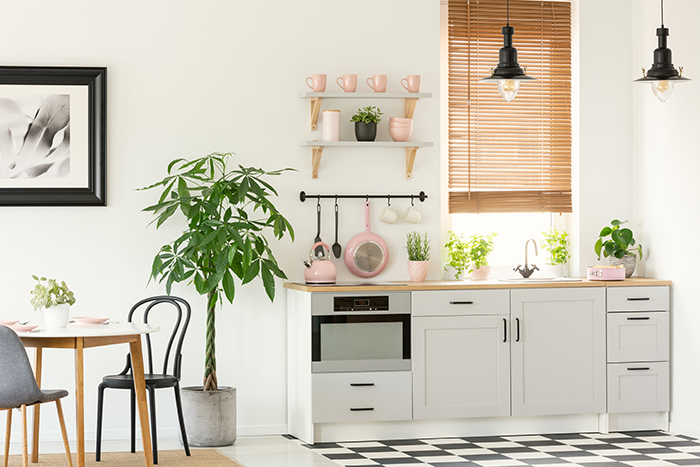 Shades of gray kitchen floors
Using shades of gray in a kitchen can be unexpected but it works well with elegant or minimalist design styles.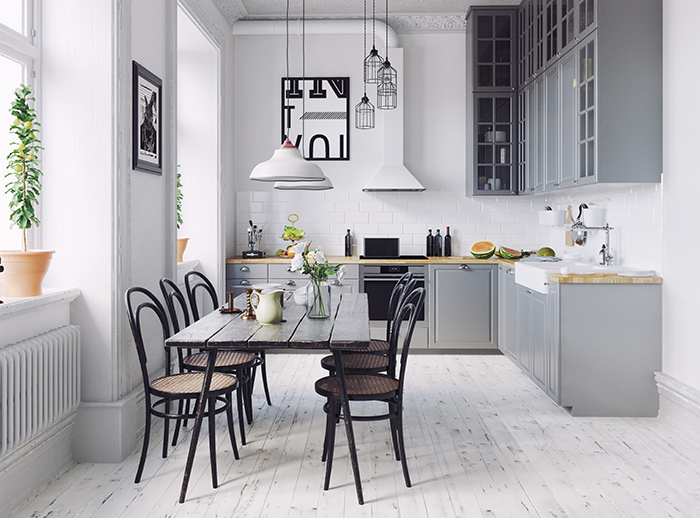 Bamboo kitchen floors
A sustainable alternative to hardwood flooring, bamboo comes in a variety of finishes and grain options to suit any interior style. We love the bold neapolitan pattern with high contrast between strands of bamboo. This type of flooring can offer up to three times the hardness of traditional red oak flooring, making it excellent for high traffic kitchens.