September 13, 2022
View new properties in just a few clicks
With all the activity in the real estate market, buying a property has practically become an Olympic sport! To avoid missing out on even one opportunity, you need to be very active. Lucky for you, there is a quick and easy way to view new properties listed on Centris.ca.
Watch this quick tutorial on how to view new properties in just a few clicks:
Have you created your Centris.ca account?
With a Centris.ca account, you can access to the following features:
Follow these steps to create your account easily!
Save your searches.
Select the criteria that are important to you. On the results page, click "Save" at the top right.
Name your search and you're done! It will be saved and updated automatically.
To view or edit your saved searches, click on "My Account," then find "My searches" in the drop-down menu.

Viewing the latest properties is easy
Once you have applied and saved your filters for future showings, click the "Sort by" button on the results page. Select the "Recent publications" option to see the newest listings first.
Tip: Look for the "New listing" banner—it will indicate if a listing was posted within the past 48 hours.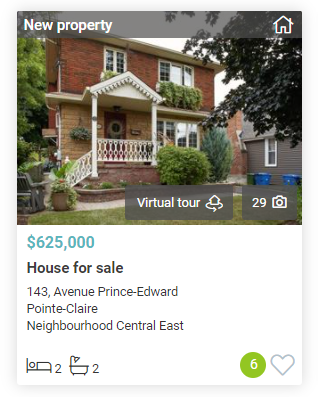 Don't miss a single opportunity to quickly visit the property of your dreams.
---
Are you passionate about real estate? Subscribe to the Centris.ca newsletter now.
See also:
Log into your Centris.ca account to make searching easier
How to sort your search results by price and publication date
Share your favourites with your broker!