August 15, 2022
A Neighbourhood to Discover Hochelaga-Maisonneuve
Although once inhabited by working-class families, Hochelaga-Maisonneuve - often called HOMA - has reinvented itself and diversified over the years. Since the 2000s, it has become an accessible residential neighbourhood for young families, despite the presence of factories and industries.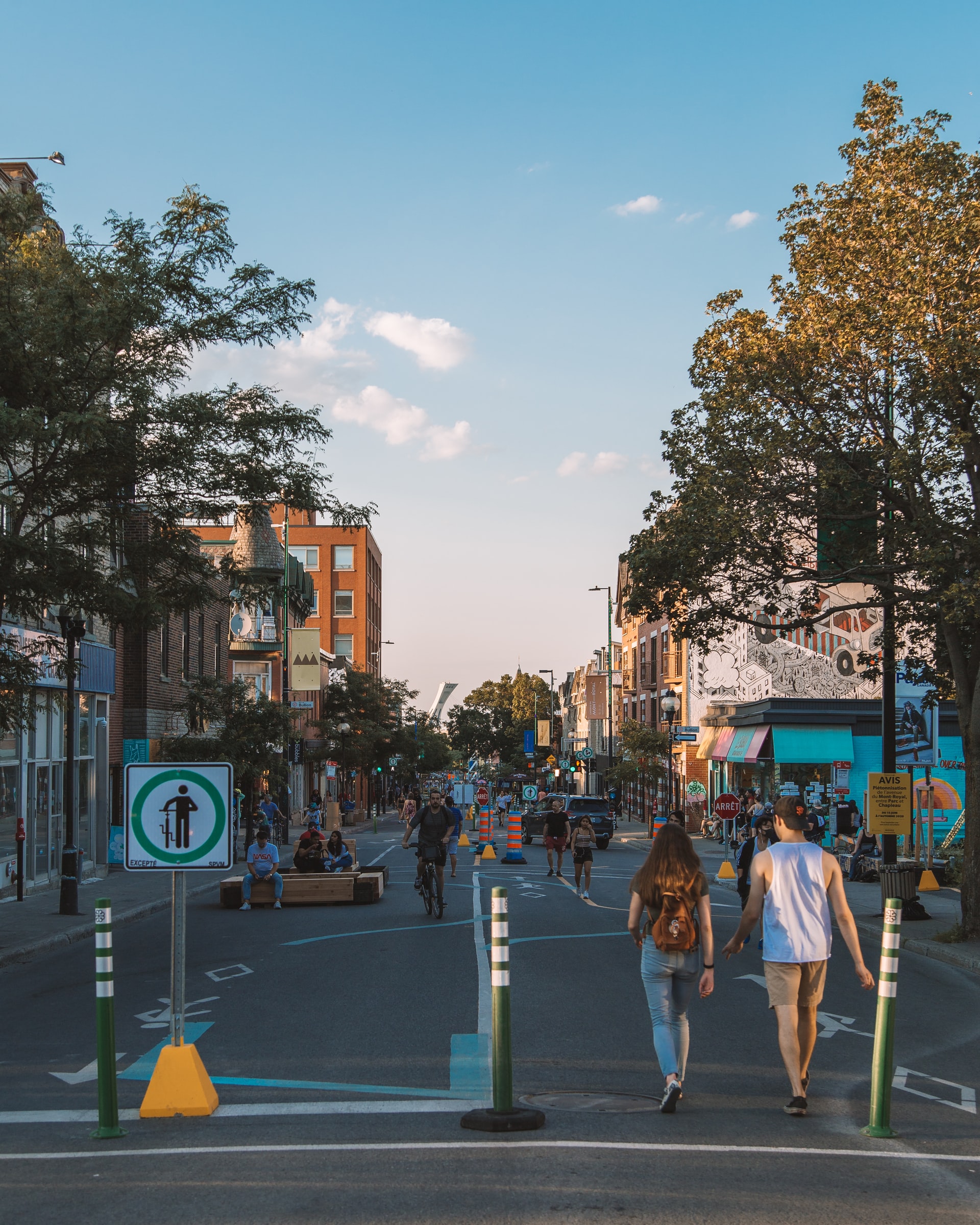 Like a small village, Hochelaga-Maisonneuve offers a neighbourhood life full of energy. The relaxed atmosphere, the friendly ambiance and the feeling of community are important, thus encouraging mutual aid and citizen mobilization.
With more than 130,000 residents, HOMA is home to nearly 8 per cent of Montreal's population[1] who have fallen under the spell of the borough, which stretches from d'Iberville Street to the Longue-Pointe district.

2. A Wide Variety of Attractions
Within walking distance is the fabulous Maisonneuve Park, where you can picnic after stopping at the Maisonneuve Market for a variety of food items. Eco-friendly stores, organic products, and trendy cafés: the neighbourhood is full of environmentally friendly businesses that promote a healthy lifestyle.
Want to socialize? The neighbourhood is full of green spaces, flowery streets, and green alleys where you can spend a pleasant moment. The Maison de la culture Maisonneuve also organizes various activities centred on cinema, music and dance that are offered to all[2].
Of course, the neighbourhood is also home to the famous Olympic Park, the Montreal Botanical Garden, the Insectarium, the Biodome, the Rio Tinto Alcan Planetarium, the Saputo Stadium, as well as the Château Dufresne. Masson Street and the Promenades Hochelaga-Maisonneuve offer hundreds of businesses to discover.

3. A Neighbourhood Close to Downtown
Located less than 15 minutes from downtown Montreal by public transit, the neighbourhood is very accessible and favourably situated in the metropolis. There are numerous bus lines, as well as the Viau, Pie IX, Langelier, Cadillac and Préfontaine metro stops.
HOMA is also home to many services, including health care, grocery stores, daycare centres, elementary and high schools, citizen support organizations and several libraries[3].

4. A Young Population
A borough in constant motion, Hochelaga-Maisonneuve is relatively younger than other Montreal neighbourhoods, with a median age of 35.5 years compared to 39 years for the rest of the Island[4].
Although it is very popular with young families with an annual income of less than $40,000, the neighbourhood is also home to residents living mostly alone, as well as single-parent families[5].

5. A Major Real Estate Development
Mainly bordered by small single-family homes and multiplexes, Hochelaga-Maisonneuve is also home to various condo projects, without detracting from the borough's charm. In fact, a major real estate project is expected to be completed by 2035, creating more than 15,000 new housing units in the Mercier and Hochelaga-Maisonneuve sectors[6].
All in all, HOMA is a great place to live, and the cost of housing is much lower than in many other boroughs in the city. You would like to settle down there? Contact a real estate broker specializing in this area to unearth a rare gem. They will also be able to direct you to the various home ownership programs on the Island of Montreal. For more information, visit the Ville de Montréal - arrondissement Mercier-Hochelaga-Maisonneuve's website.