August 22, 2023
How to make an offer on a home
Signing an offer to purchase is a key step on the path to making one of the most important transactions of your life, buying a home. This process, which is regulated under the Real Estate Brokerage Act, notifies the seller of your intent to purchase their property under specific conditions.

[1]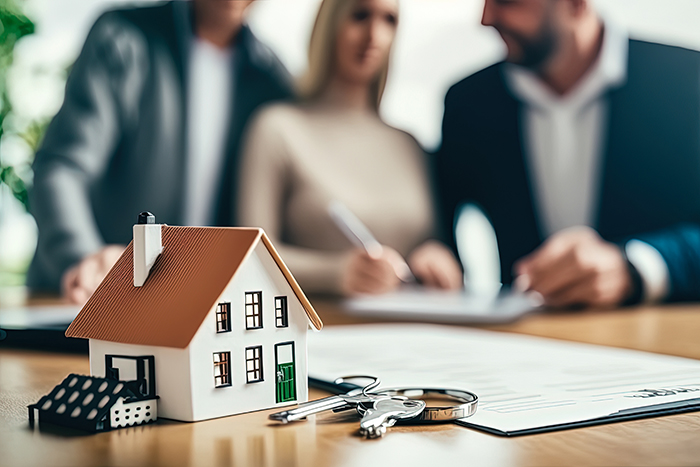 Since the promise to purchase form becomes a formal and binding commitment as soon as both parties sign, here are a few things that will help you make an offer to purchase a home with everything you need.
5 things to keep in mind when signing a promise to purchase
The promise to purchase form has several clauses that your real estate broker will explain in detail when you sign. The main ones are:[2]
1. Identification of the parties
Does the seller really own the house? In addition to asking the seller to show you identification, you can search the Registre foncier du Québec en ligne answer that question.[3] Make sure you also get every owner to agree, if there's more than one.
2. Summary description of the immovable
Ensure that the address, lot number and lot size are clearly indicated. Your real estate broker can also carry out the required verifications in the land register.
3. Price, deposit and method of payment
The promise to purchase form should state the financing conditions as well as the sale price. The form must indicate whether the seller expects a deposit, the amount, and what will happen if the contract is cancelled. It should also note if the sale price includes taxes or not.[4]
4. Selling conditions
The promise to purchase must contain all the essential conditions of the sale. It can even provide for cancellation if one of the conditions isn't met. Be sure to state which documents you'd like to see and what needs to be done before closing on the purchase of the house, like:[5]
Declarations by the seller of the immovable

Declaration of co-ownership

Any leases in effect

Items included and excluded from the transaction
5. Time limits
A "firm" time limit means the seller has to respond to the offer within the allotted time. Once this period is up, the promise to purchase expires. We recommend planning for one to three months between signing the promise to purchase and moving to give your financial institution and the notary time to fill out all legal documents.[6]
Ultimately, submitting a promise to purchase is an act of good faith. It means each party agrees to respect the conditions and time limits in an honest and fair manner to ensure the real estate transaction goes smoothly.
---
Are you passionate about real estate? Subscribe to the Centris.ca newsletter now.
See also:
Use a counter-proposal to negotiate the sale of your house
15 questions to ask when visiting a house
All about the promise to purchase
---