April 30, 2021
A Neighbourhood to Discover: Ville-Marie 
The Ville-Marie neighbourhood of Montreal, located south of Mount Royal, truly constitutes the economic, social and cultural heart of downtown. Discover its charm, its features and its main attractions.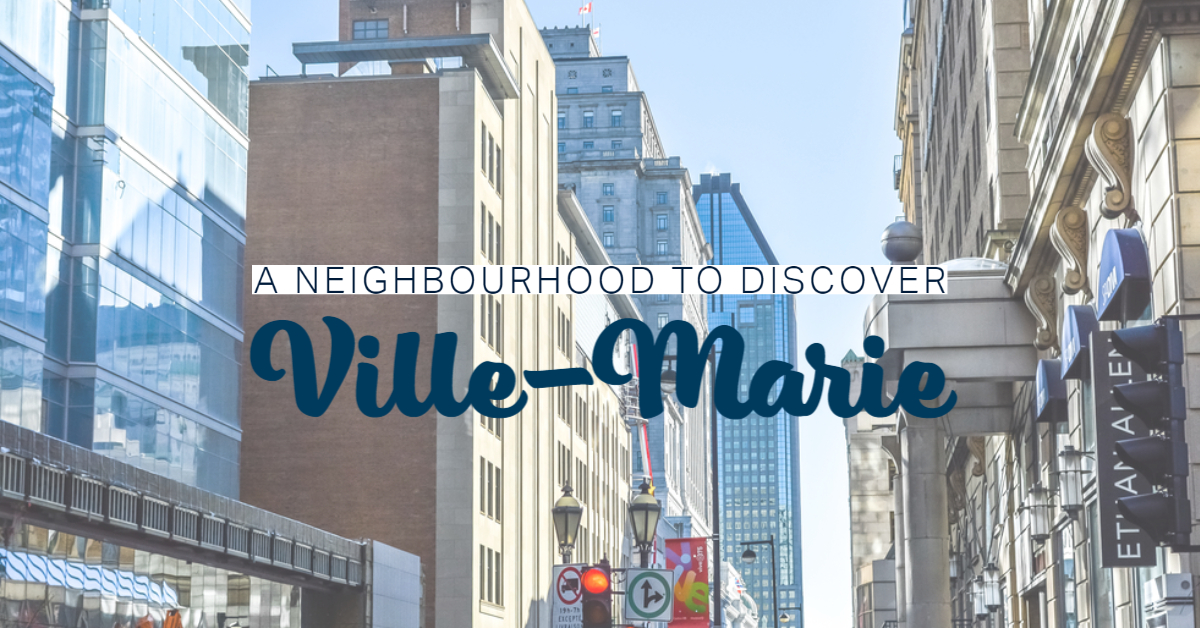 Lively during the day and night

The Ville-Marie neighbourhood is located on the west side of Montreal and is crossed by the main commercial artery of Sainte-Catherine Street. Lively at all times of the day, it offers a wide range of social and cultural activities for all tastes, in all areas that make up the neighbourhood:

Le "quartier des spectacles", which provides access to theatres, trendy restaurants, cafes, bistros, cool bars, cinemas and concert halls.
The museum district, chic and refined, which revolves around the Montreal Museum of Fine Arts (a cultural institution known around the world for the quality of its exhibitions and events), as well as Sherbrooke, de la Montagne and Crescent streets. It is a meeting place for design, decor and high-end fashion enthusiasts. You can also visit art galleries, international designer boutiques and renowned jewelry stores. You will also find excellent restaurants.
Chinatown, with its gift shops, restaurants and several Asian grocery stores will make you "travel" without having to take a plane.
The international district, with its resolutely urban layout, which houses the headquarters of many international organizations.
A neighbourhood between history and modernity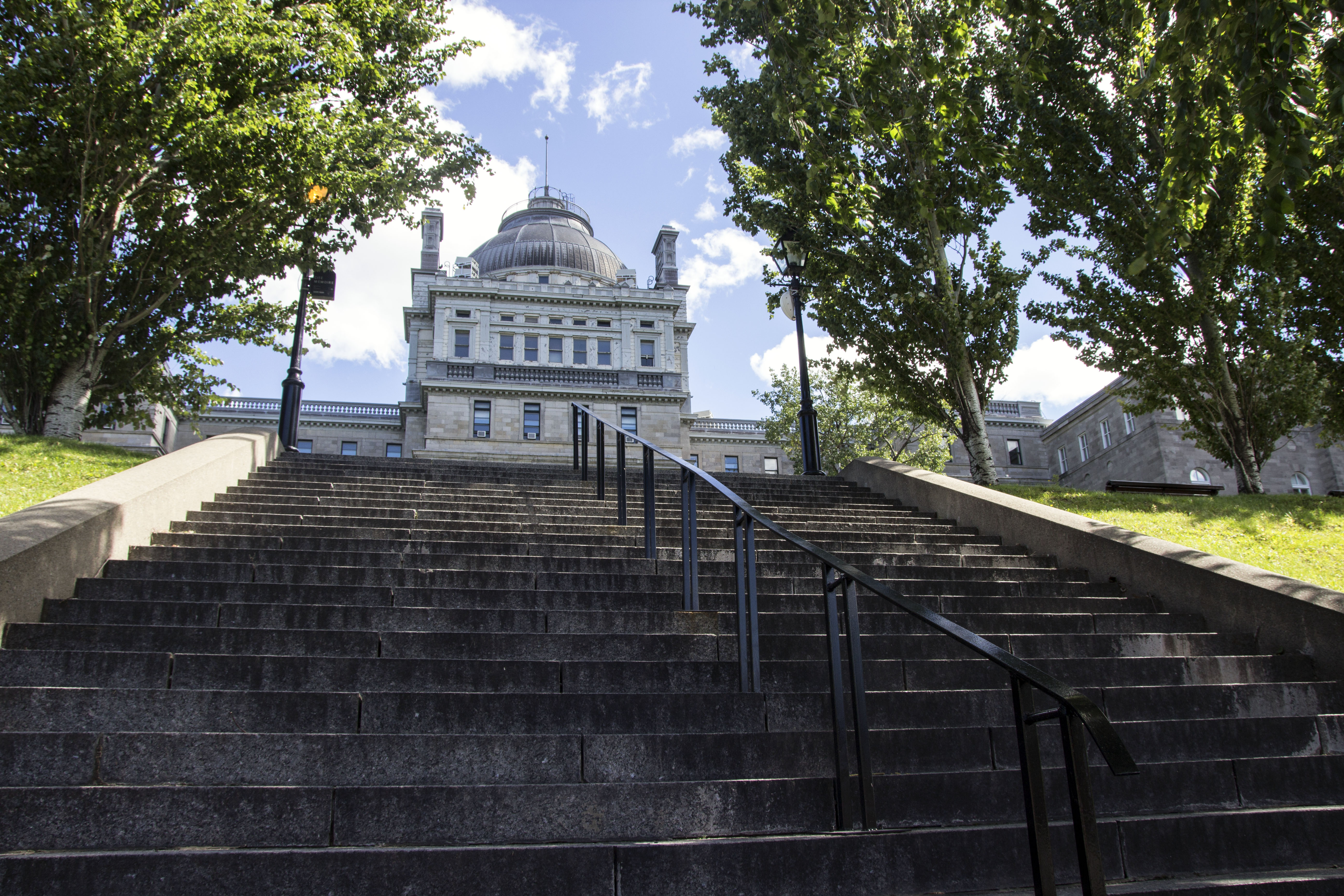 Ville-Marie is just as interesting in terms of its architecture. There are many hotels, well-preserved Victorian homes, but also skyscrapers and commercial buildings. The Notre-Dame-de-la-Guadeloupe church, located near the base of the Jacques-Cartier Bridge, is worth a visit. Don't miss a trip to the 45th floor of Place Ville-Marie for a 360-degree view of a large part of Montreal. It's sublime at night when all the lights are sparkling!
The area is also a popular residential hub for students due to the proximity of two major universities: McGill and Concordia. It's ideal for studying during the day and going out at night.
A neighbourhood of majestic parks
After strolling through the lively streets of the neighbourhood, take a break in one of its beautiful parks (notably Parc des Faubourgs, Parc Joyaux-Vikings and Parc Pierre-Bourgault). During the summer months, you can admire the aesthetic compositions of various plants and flowers. When you're ready to complete your urban journey, the underground network (RESO) of the Montreal metro can take you to Old Montreal in just a few minutes. This part of the city has retained all of its charm with its Old Port, Place Jacques-Cartier and streets lined with good restaurants and shops. You can also get there by bike via the bike path and even on foot if you're a good walker.

Real estate market statistics for the Ville-Marie neighbourhood
The year 2020 (cumulative total of the 4 quarters of 2020)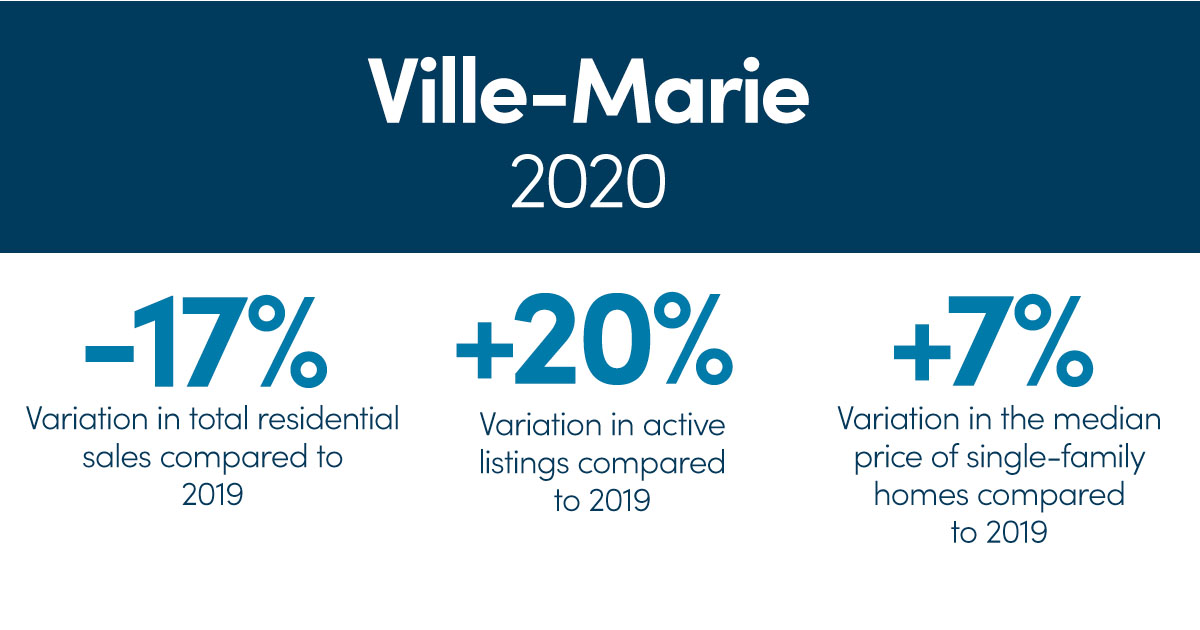 With a total of 1,560 transactions, the number of sales in the Ville-Marie neighbourhood fell by 17 per cent in 2020 compared to 2019.
There were a total of 3,522 new properties for sale, which represents a 17 per cent increase compared to 2019, while active listings jumped by 20 per cent.
By property category
The number of single-family home transactions decreased by 8 per cent in 2020, with a total of 67 sales. The median price of single-family homes reached $1,149,000, an increase of 7 per cent compared to 2019.
The number of condominium transactions fell by 19 per cent with a total of 1,401 sales. Active listings rose by 22 per cent. The median price also continued to climb and stood at $447,500 in 2020, an increase of 8 per cent compared to 2019.
Finally, sales of plexes (2 to 5 dwellings) increased by 3 per cent compared to 2019, with a total of 92 transactions. The median price of plexes in 2020 was $806,500, an increase of 15 per cent compared to the previous year.
For more statistics on the Ville-Marie neighbourhood, click here.
Are you thinking of buying or selling a property in the region? See the properties for sale and contact a real estate broker .
See also: