May 31, 2018
Bidding Wars on the Rise in Québec
Québec's residential real estate market has had a good start to the year. In a context where the number of resale transactions is up and the supply of properties for sale is down, it is not uncommon to see upward pressure on prices, particularly when sellers have the upper hand in negotiations.
This situation is often accompanied by more frequent situations of bidding wars. Although multiple offers on the same property are not officially registered, we can easily identify transactions that were concluded at a higher price than the asking price.
The table below shows the proportion of sales that were concluded above the asking price (all property categories combined) for each of the province's metropolitan areas. This data was compiled by the Québec Federation of Real Estate Boards (QFREB).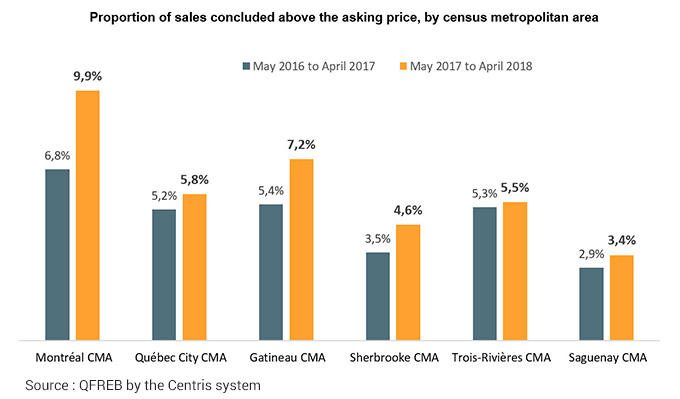 As we can see, sales concluded above the asking price have increased in all of the province's CMAs over the past year. Not surprisingly, the areas with the lowest number of months of inventory are those in which this phenomenon was most widespread, namely in Montréal and Gatineau.
How much above the asking price did people pay?
It is interesting to get an idea of prices paid compared to asking prices. The QFREB calculated this amount in dollars and as a percentage of the asking price for each CMA.

A spotlight on Montréal
The situation in Montréal deserves our attention. Montréal is the only CMA in the province that is firmly in a seller's market. As a result, sales above the asking price were most prevalent in this CMA. Montréal was also the CMA where this phenomenon increased the most over the past year.
For single-family homes, several municipalities in the West Island stood out , such as Pointe-Claire (31 per cent), Kirkland (26 per cent), Beaconsfield (25 per cent), Dollard-des-Ormeaux (21 per cent) and Dorval (20 per cent), which registered the highest proportions of sales above the asking price. However, first prize goes to the area of Rosemont/La Petite-Patrie, where nearly one in three single-family homes sold above the asking price in the past 12 months.
Will this situation continue? The QFREB will closely monitor the situation of sales above the asking price in Québec over the next few months. Despite an excellent start to the year and optimistic forecasts for 2018, it is unlikely that this phenomenon will increase significantly in the short term.
For full details, read the Word From the Economist.
See also:
Record Number of Vacation Properties Sold in 2017
Home Buying: 6 Things That Are Often Overlooked