June 11, 2019
Quebec's Real Estate Market was Very Active in May
A total of 10,367 transactions were concluded by real estate brokers across the province in May, as sales in Quebec increased by 7 per cent compared to May of last year

.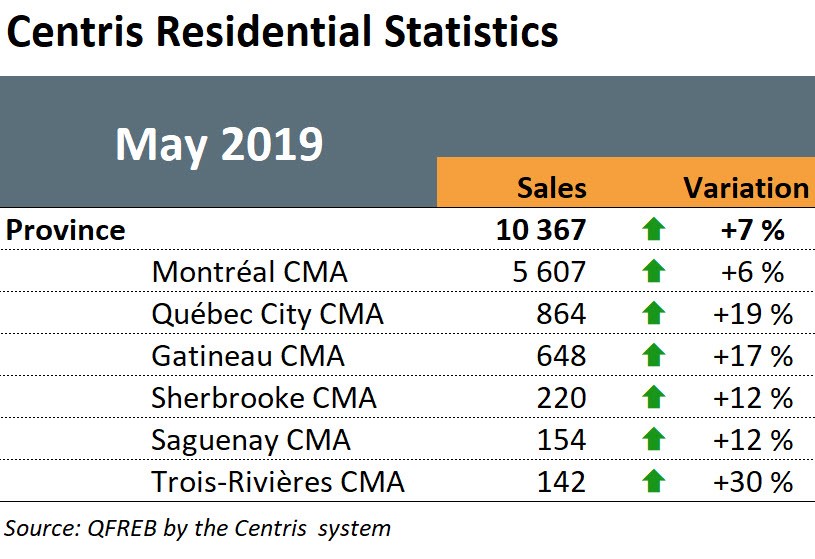 All three property categories registered an increase in sales in May, but condominiums and plexes (2 to 5 dwellings) dominated with respective increases of 9 per cent and 13 per cent. Sales of single-family homes grew by 6 per cent.
Geographically, all of the province's census metropolitan areas (CMAs) posted positive sales results. The largest increase in sales was in the Trois-Rivières CMA (+30 per cent), followed by Quebec City (+19 per cent), Gatineau (+17 per cent), Sherbrooke and Saguenay (+12 per cent) and Montreal (+6 per cent).
The median price of single-family homes sold across Quebec in May stood at$268,000, a 4 per cent increase compared to May of last year. The median price of condominiums stood at $239,000, which is similar to the median price of last May.
Here is the median price of single-family homes in the province's six CMAs in May, as well as their variation as compared to May of last year:
Montreal: $340,000 (+5%)

Gatineau: $274,800 (0%)

Quebec City: $269,000 (+4%)

Sherbrooke: $222,000 (+1%)

Saguenay: $190,000 (0%)

Trois-Rivières: $168,000 (+8%)
See also :
2019 Real Estate Market: Heading for a New Sales Record
What to Consider When Buying a Home