April 20, 2021
Residental Real Estate Market Barometer – First Quarter of 2021
According to the Quebec Professional Association of Real Estate Brokers (QPAREB), "The first quarter is a continuation of what was seen at the end of 2020, in a still challenging health situation.
The demand for residential properties has not waned, as we can see by the new Q1 sales record and the fact that the inventory of single-family homes for sale has been reduced by more than half," said Charles Brant, director of market analysis at the QPAREB. "Unlike 2020, this sharp increase in transactions is mainly attributable to the sale of plexes and condominiums across the province, in record-fast selling times as well."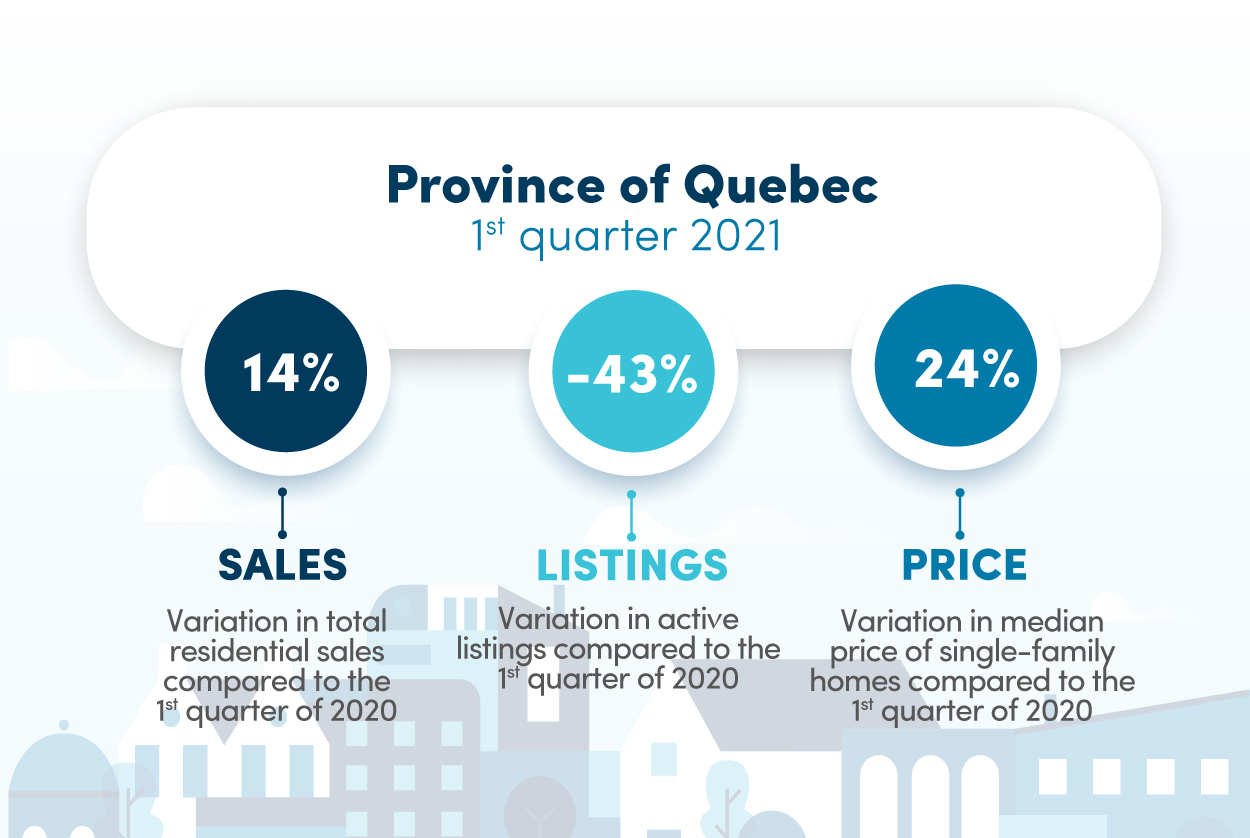 First-quarter sales
Residential sales in Quebec increased by 14 per cent compared to the first quarter of last year. This was the largest first quarter sales increase since the Centris system began compiling data in the year 2000.
By property category, sales of single-family homes rose by 6 per cent across Quebec in the first quarter of the year, while sales of plexes and condominiums registered more robust increases of 53 per cent and 26 per cent, respectively.
Among the province's metropolitan areas, Saguenay (+29 per cent), Sherbrooke (+26 per cent) and Gatineau (+14 per cent) stood out with significant increases in sales.

Prices
The median price of single-family homes in Quebec stood at $340,000, a 24 per cent jump compared to the first quarter of last year and the largest increase ever recorded.
The median price of condominiums also increased significantly by 22 per cent, to reach $305,000.
As for plexes with two to five dwellings, their median price decreased by 2 per cent in the first quarter to settle at $415,000.
Active listings
Active listings in Quebec dropped significantly by 43 per cent compared to the first quarter of last year. This general decline in the inventory of properties for sale is leading to a further tightening of market conditions in the vast majority of areas in the province.
Market conditions and selling times
Selling times across the province were shorter compared to the same period one year earlier. For all property categories combined, it took an average of 66 days for a property to sell, which is 24 days less than in 2020.
For more detailed statistics on each of Quebec's regions, read the QPAREB Barometer.
See also: