June 28, 2022
5 bathroom vanity ideas you'll love
You are most likely to see it every morning and every night, but when was the last time you considered renovating your bathroom vanity? Whether it is time for a change of style, adding storage, or replacing items like counters or sinks, start by allowing your imagination to run free with new possibilities. As you rethink the design of this important area of your home, we know these bathroom vanity ideas will surely spark your creativity.

1. Floating bathroom vanity
A floating bathroom vanity is a clean, streamlined addition to a minimalist bathroom. These wall-mounted vanities float above the ground leaving space for flooring to extend to the wall. Some include cabinets, while others are more like a floating counter. A floating vanity is secured directly to the wall with no visible structural support undergirding it, giving the impression that it is "floating" in the room. This extra space created underneath the sink can make the area easier to clean and also make the room appear more spacious.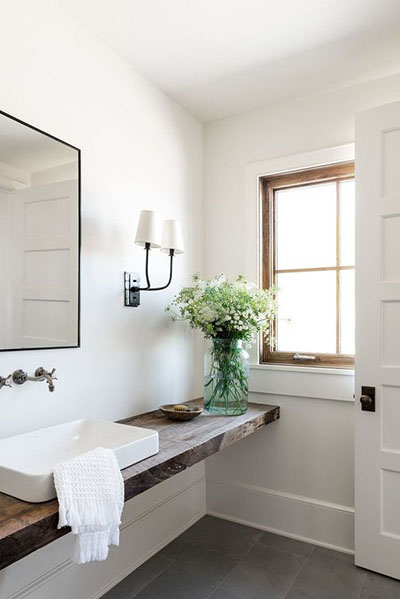 2. Double sink bathroom vanity
A standard double vanity has two sinks, but this one-piece double sink bathroom vanity features one long, rectangular basin that collects water from two faucets. The shape and scale of this sink adds structure to this large bathroom, especially paired with the extra large vanity mirror.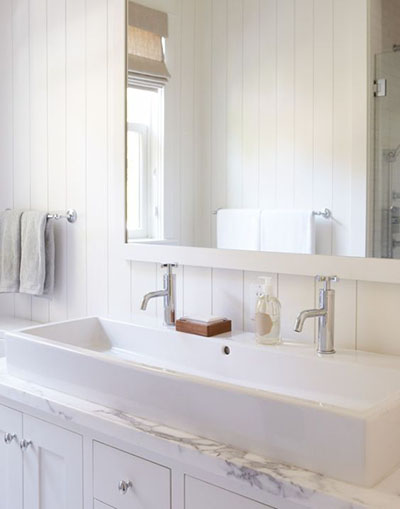 3. Small bathroom vanity
Because of space constraints, small bathrooms often feature pedestal sinks or mounted basins. However, a small bathroom vanity can provide much needed storage space and add distinctive character to the room. This custom bathroom vanity with sink takes up little more space in this bathroom than a wall-mounted alternative but provides two drawers and a shelf.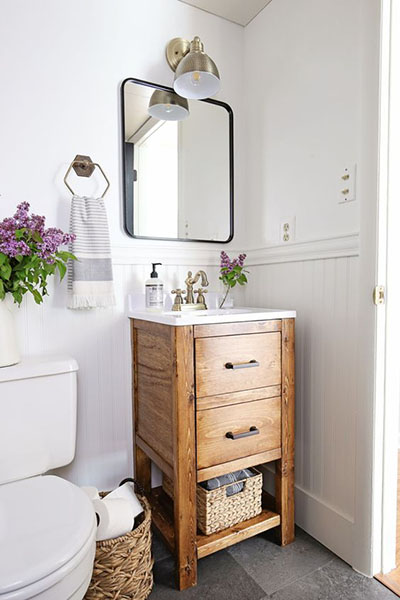 4. New bathroom vanity fixtures
Whether it's because of budget or space constraints, sometimes there is only room to change the smallest details of a space. If you're looking for a small way to renovate your bathroom vanity, changing the fixtures is definitely something you should consider. For example, this all white bathroom vanity is contrasted against black fixtures for a look that is both classic and stylish.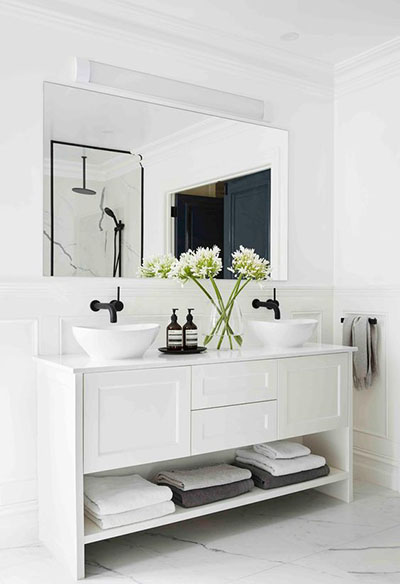 5. Creative lighting and mirror solutions
Regardless of the type of vanity you choose, good lighting and a clear mirror are essential aspects to any bathroom. Therefore, changing the shape, style or size of your bathroom vanity mirrors or retrofitting new bathroom vanity lights can make a huge difference in the look and feel of your bathroom. For example, to avoid casting shadows on the face, consider replacing overhead lighting with face-level sconces that flank the mirror to illuminate the face properly for applying makeup, shaving or drying hair. Or, use lighting to create an ambient mood. In this example, a back lighted mirror provides the perfect glow to soften this angular bathroom with geometric tiles.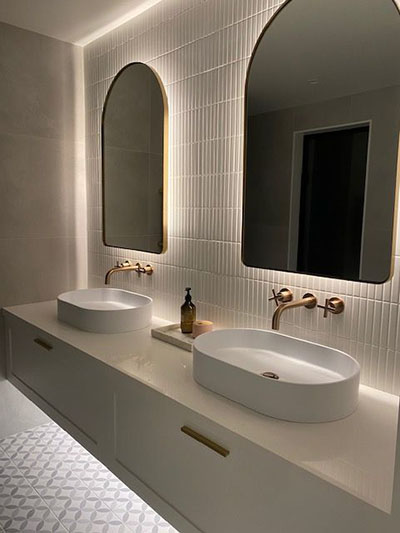 These five ideas prove that your bathroom vanity is a great place to start renovating your bathroom. If you're looking for even more inspiration, check out our other modern bathroom decorating ideas.
---
Are you passionate about real estate? Subscribe to the Centris.ca newsletter now.
See also:
Bathroom decoration: Revamp ideas at low cost
Plumbing: It's better to prevent than unclog!