December 26, 2015
It's time to declutter the library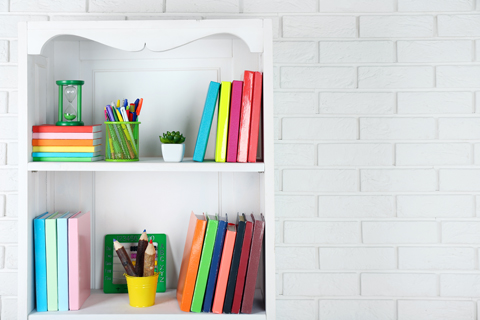 Moving into a new home is the perfect opportunity to declutter and simplify your living environment – which can be very therapeutic. However, just the thought of decluttering a home can make us feel overwhelmed and discouraged, as we often don't know where to begin.
This can seem like a daunting task when all the rooms of your home need to be tackled. That's why we recommend breaking this project down into smaller chunks so that you reduce your stress level prior to moving. So now that you've sorted through your dishes, it's time to tackle your books!
Day 2
– the library: many people keep the books they've read in boxes, as their bookshelves or libraries are already full. Here's a little trick that will help you determine the number of books and trinkets you should bring with you to your new home.
With painter's tape, mark a square that is the same size as the space you will have for your books and trinkets in your new home. For example, if you have only four shelves that measure 30 cm each, replicate this space on your floor and place your favorite books in this area. Anything that cannot be contained in this space should be donated.
You can now cross the kitchen and library off your list! But it's important to keep your momentum going – plan to tackle the furniture or knick-knacks that have been gathering dust for years in your basement or shed. Also, don't miss our next article on how to make some money by decluttering!