October 27, 2021
Are you getting the most out of Centris.ca search filters?
Searching online is part of everyday life. But when it comes to finding a property, we can't all be skillful Internet sleuths. That said, with some clever use of the filters on Centris.ca, you could fine-tune your searching skills and find your dream property.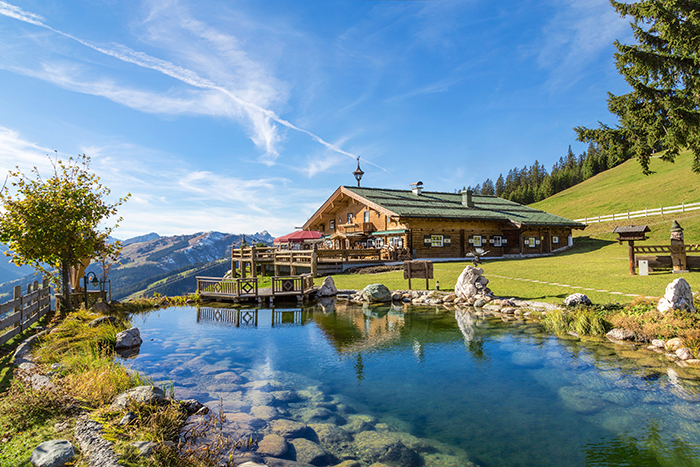 What are filters for? How do you use them? Follow our tips in the steps below to find your ideal property more easily.
Go to the Centris.ca home page.
In the search bar, enter the city or region of your preference. To the right of the bar is the "Filters" icon. Click on it.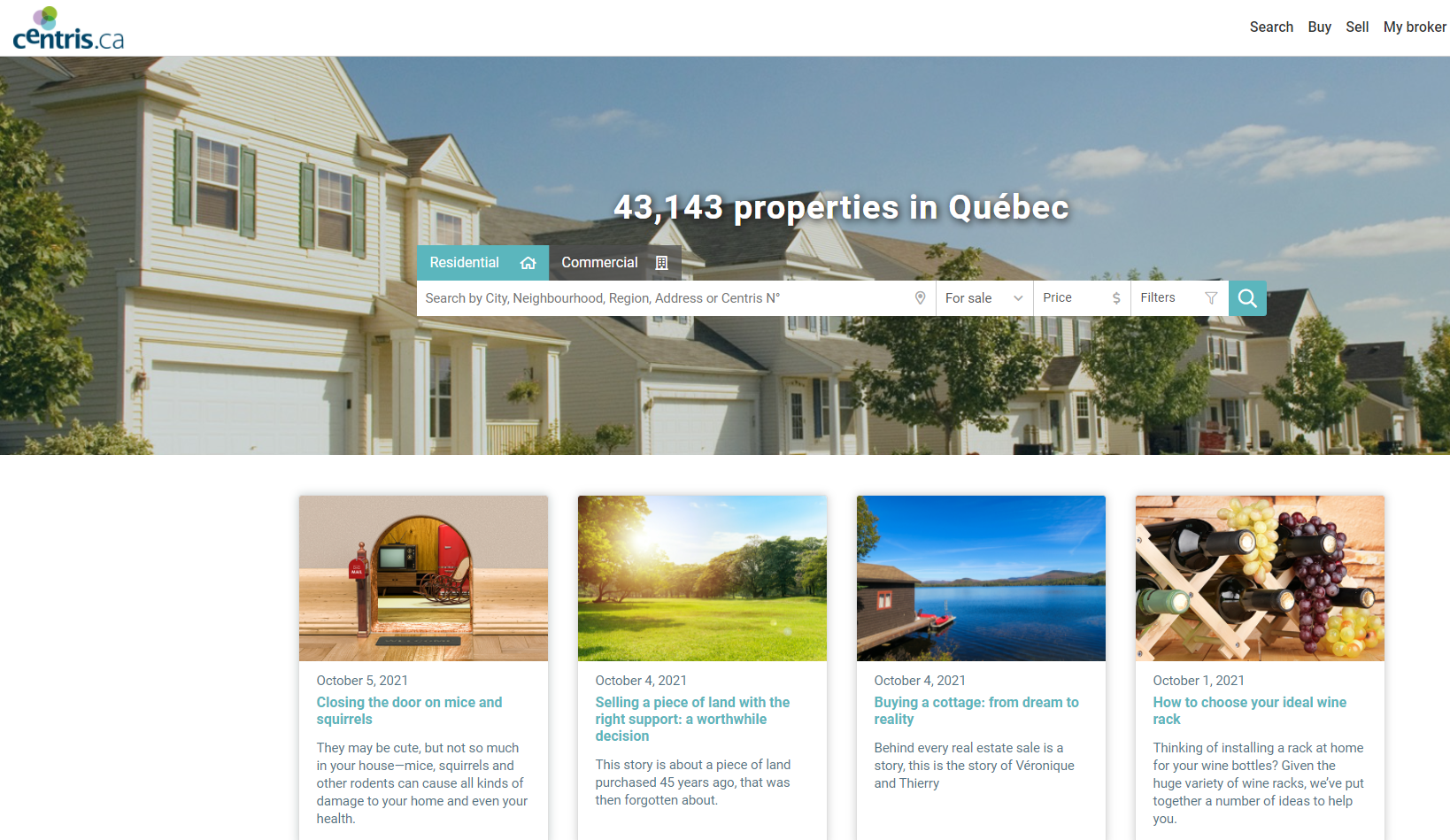 The main filter categories on Centris.ca are Property type, Features, Building and Plex and Other criteria.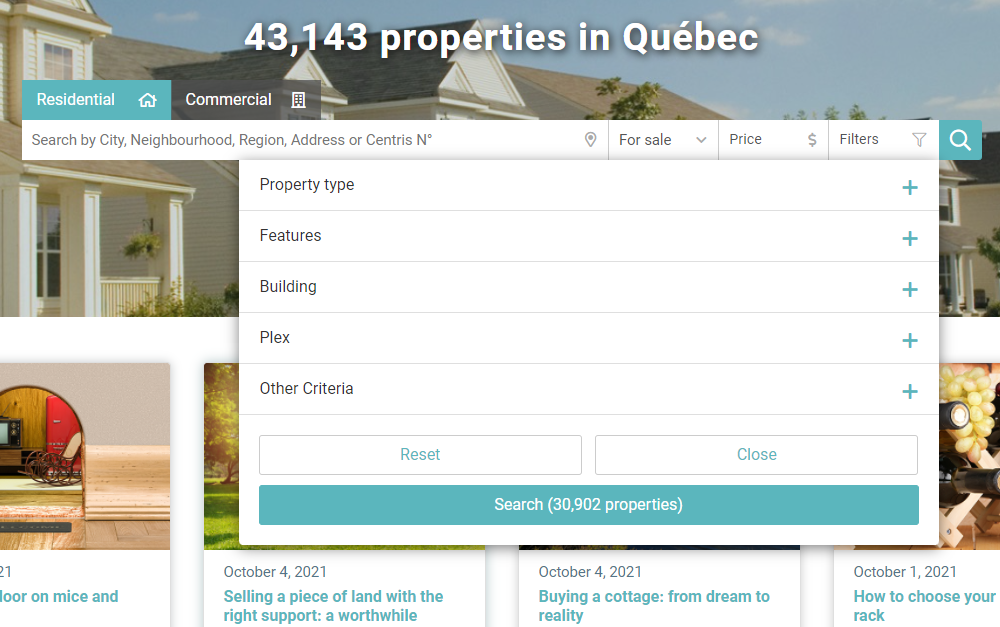 Click on the + beside "Property type" to see our options. From a single-family home to a hobby farm or cottage, check the type of property you're looking for to find yours.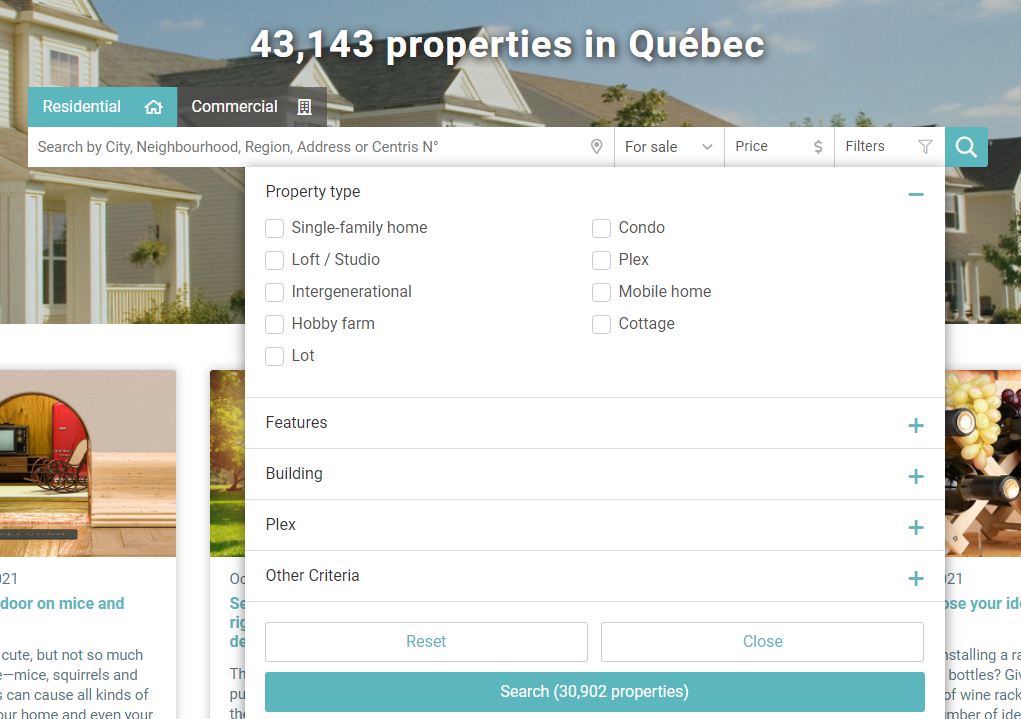 To refine your search, click on the + beside "Features." You can select the number of bedrooms and bathrooms you want and whether you prefer a waterfront property or one with a pool.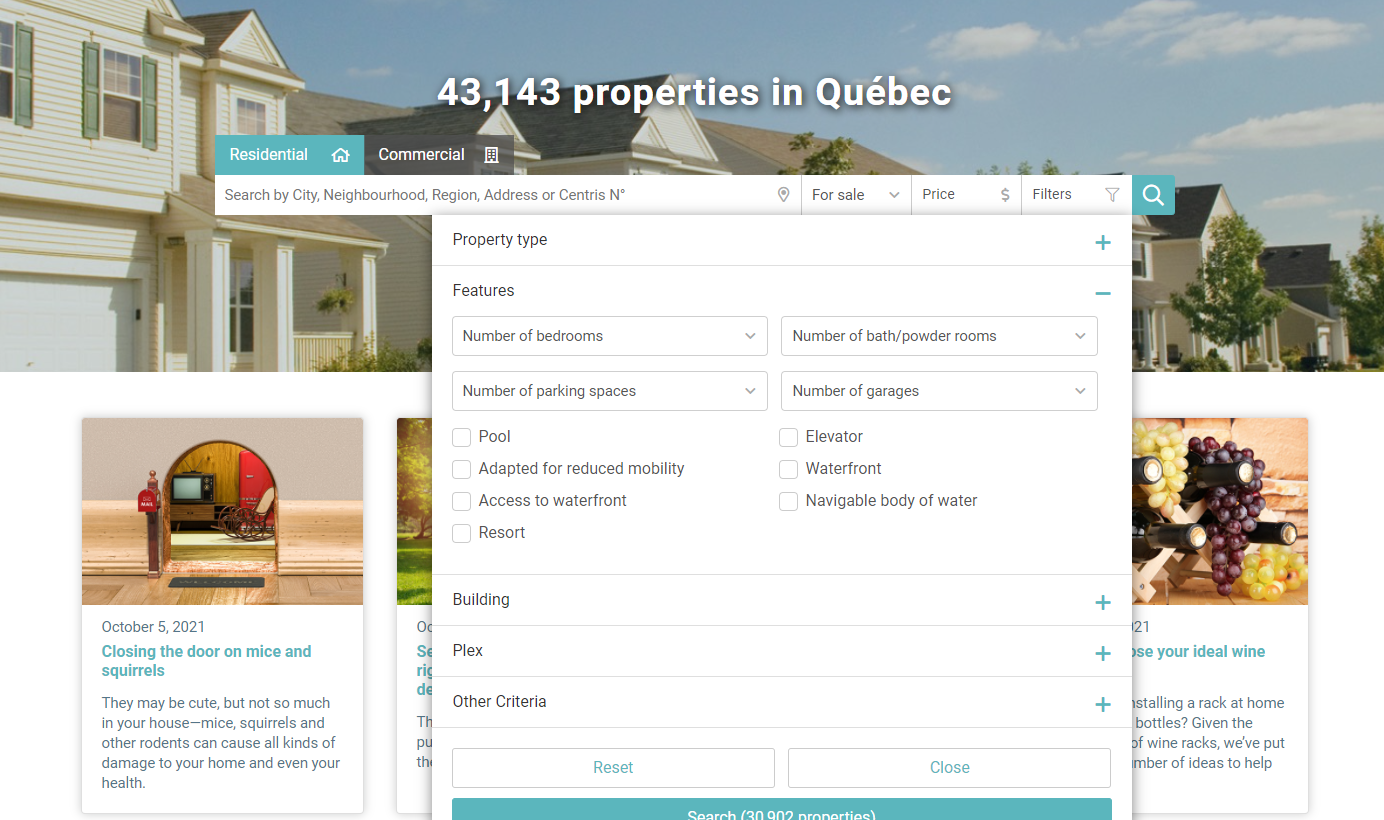 To further refine your search, click on the + to the right of "Building." This lets you specify the type of building you're looking for, such as a bungalow, semi-detached, new construction or century home. The choice is yours!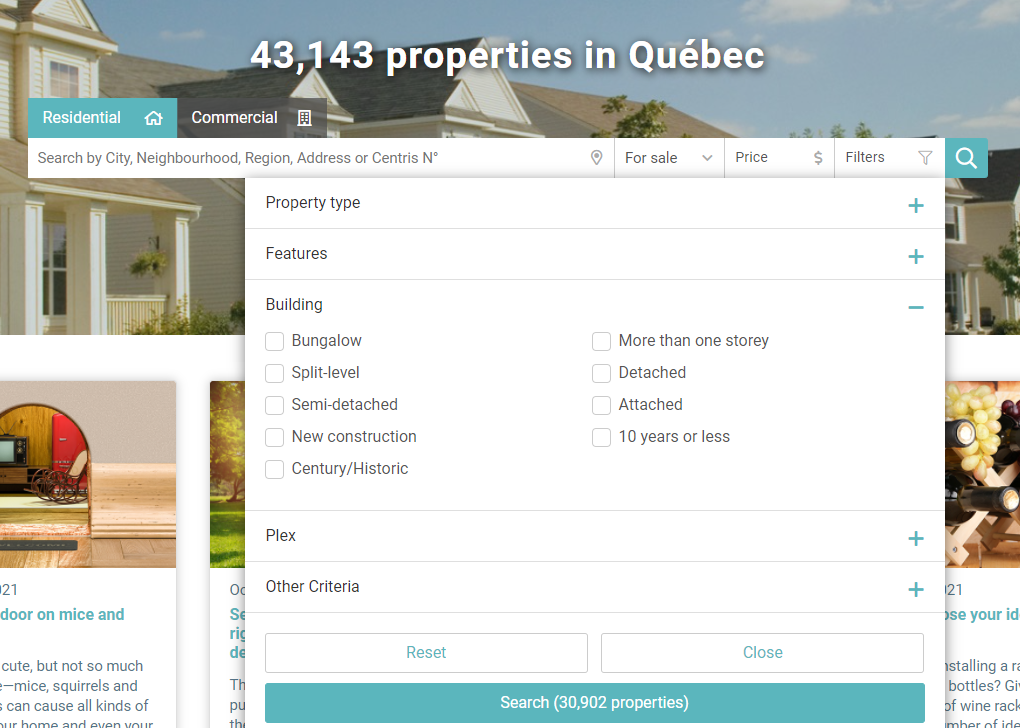 If you are looking for a duplex, triplex or other type of plex, click the + button to the right of "Plex" to select one or more options.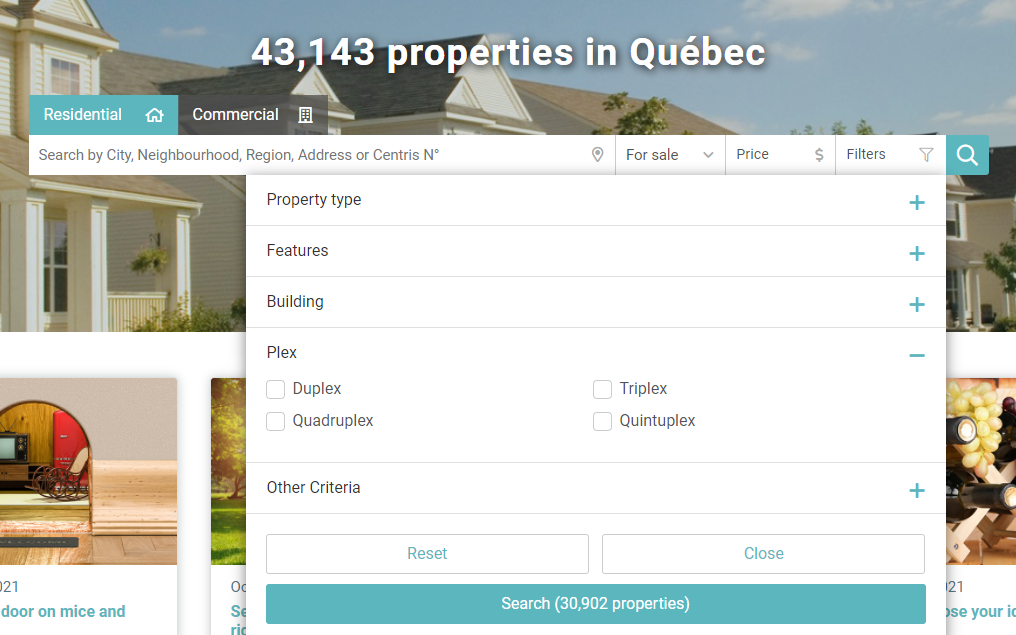 Don't forget to click the + button to the right of the "Other Criteria"! This is useful when you want to specify the land area or buy a foreclosed property.
Finally, click on the turquoise bar to see the properties that match your criteria.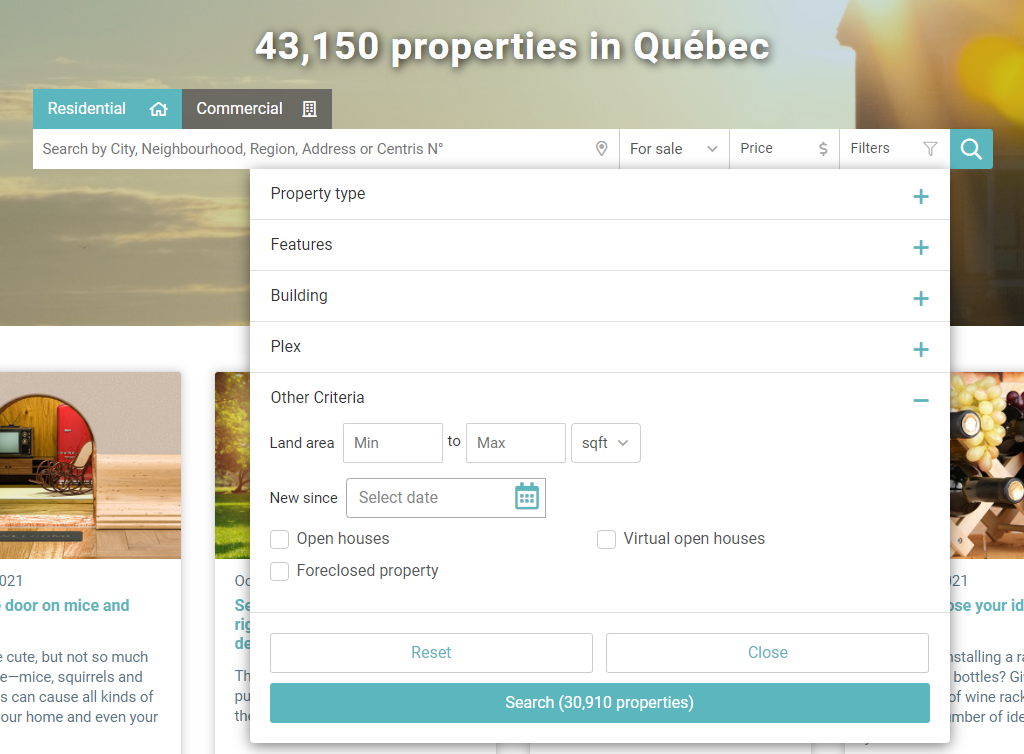 With the "Filters" feature on Centris.ca, it's easy to find your future property or the right cottage for your lifestyle. Click on this article to find out how the cottage and resort criteria can be a huge help in finding your dream cottage.
Happy searching!
---
Are you passionate about real estate? Subscribe to the Centris.ca newsletter now.
See also:
View new properties in just a few clicks
Share your favourites with your broker!