July 31, 2017
Barn Doors: Eco-Friendly and Elegant
Re-purposing old items and giving them a new life is a creative, cost-effective and environmentally friendly approach to decorating. A barn door allows you to close off a room or separate two rooms, and makes a real statement in any style home.
You can choose to paint the barn door or keep its natural colour, and it is both aesthetic and practical if it has its metal bar. It's hard not to fall in love with these charming doors!
A barn door to partition the bathroom
If you have an opportunity to get your hands on an old barn door, one option is to use it as a partition. In this case, the homeowners chose a sliding system that is affixed to the wall. With its authentic and rustic look, this door adds a lot of charm to the room. It is also functional, as it closes for increased privacy.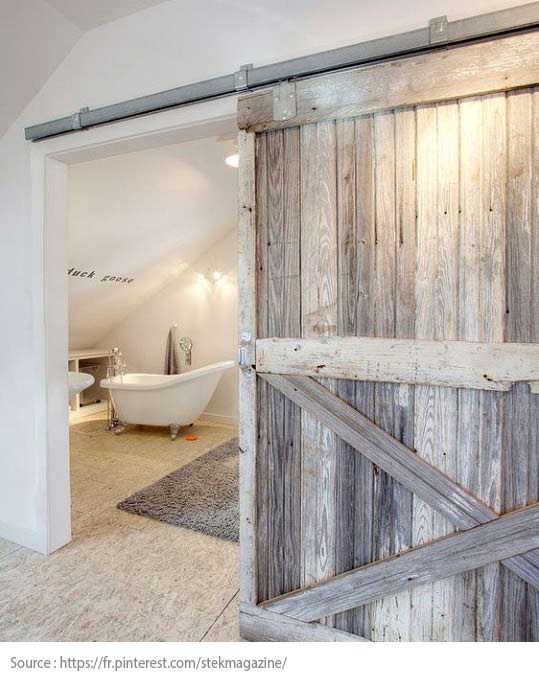 A barn door for the pantry
If you enjoy rummaging through flea markets, look for a door that will add character to your home's interior. Here, in a rather industrial style, the sliding door allows you to hide the contents of your pantry. With its worn look, it also serves as a decorative element in this kitchen.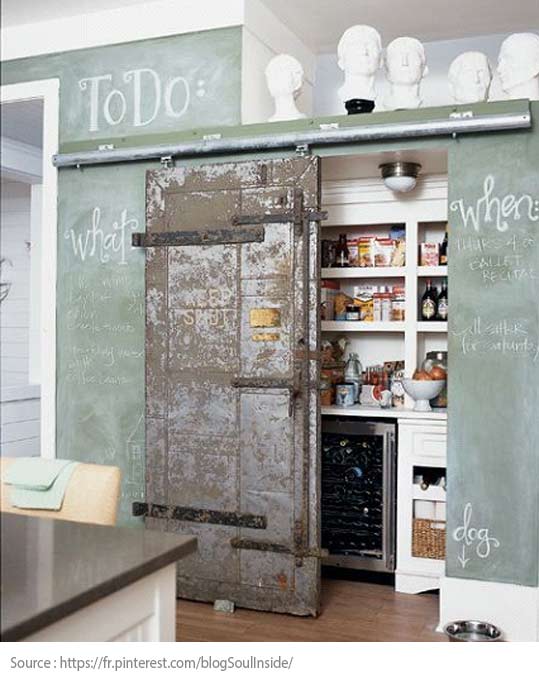 A barn door that opens onto the living room
Whatever the style of your home's interior, a barn door can be easily installed. This door has a double function of separating and closing the space thanks to the two sliding leaves. In this modern home, these doors add a traditional charm. Also note the trompe-l'oeil; the top of the door is not a metal piece but, rather, it is wood that is painted grey.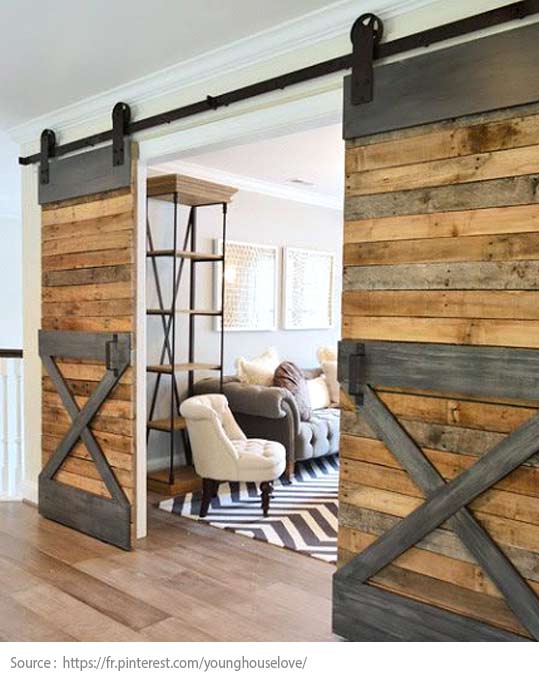 A barn door for the laundry room
A sliding door is the perfect way to give a little extra punch to your laundry area. Here, it saves space in an area that never seems to be large enough. Painted in a natural shade, it offers a touch of country in this modern home. A trick: to create a beautiful effect, you can use the door and the rail simply as a decorative feature.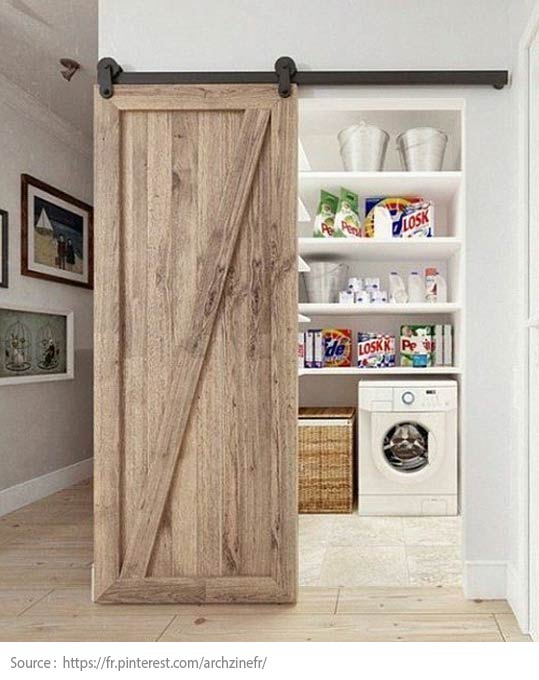 A barn door between the bedroom and the bathroom
If you're trying to achieve a rustic style, a barn door is the perfect item. Here, in the same colour tones of the room, it acts a separating wall while offering a little privacy to the bathroom. It has a beautiful width and helps save space thanks to its sliding system.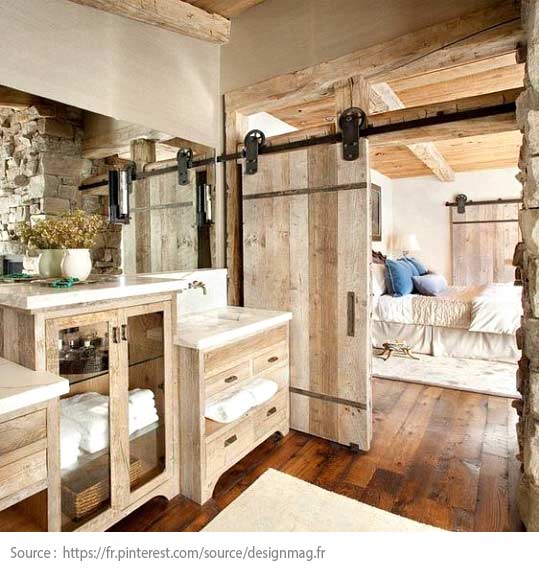 A barn door between two rooms
In this home, recycling is key! The barn door confirms the trend of using furniture from another time. In this cheerful and colourful home, the door blends perfectly into the decor, matching the floor. The bright colours have a powerful effect over the entire decor. The black railing on the wall acts as a nice contrast.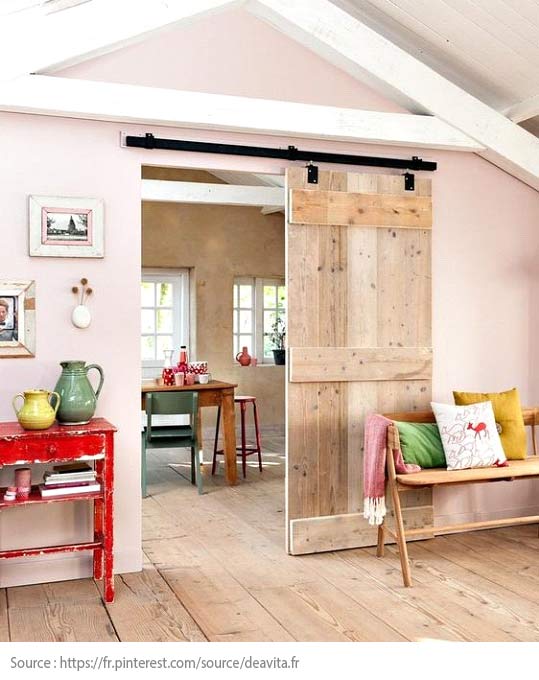 A barn door to break the rhythm
To give your room an element of surprise, as well as character, transform an old barn door into a sliding door. Here, painted red, it contrasts nicely with the room. By separating the two rooms, it helps to break the rhythm of this farmhouse and provides more intimate settings.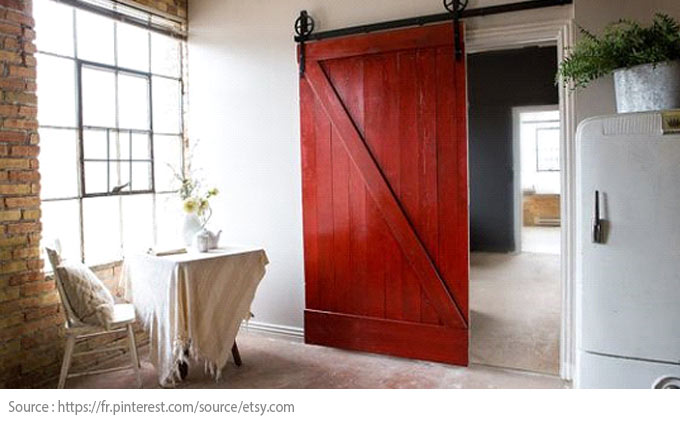 A barn door as a partition
When you want to bring an authentic touch to your interior, a barn door is perfect! Here, it functions as a decorative separation to add character to the home. It looks great in this modern house with its door and ironwork in faded tones.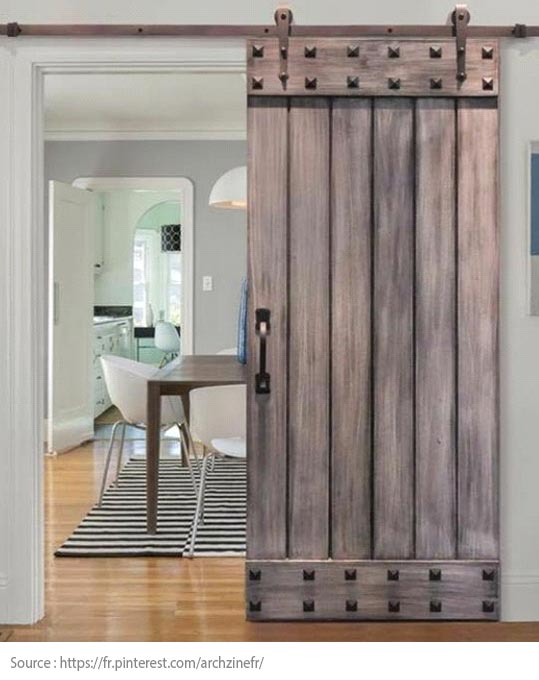 A barn door to conceal an office
Do you think that a barn door is too imposing in a small space? Well, think again! Here, it is a real space saver thanks to its sliding system. Painted in colours that match the room, it acts as a closet door to hide the office space. An idea as clever as it is aesthetic.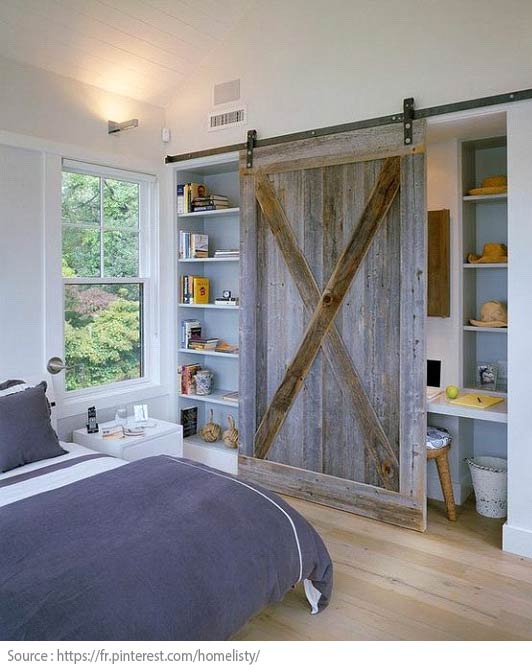 A barn door to divide the entrance
If you are lucky enough to have a large entrance, why not add some personality to the space with a barn door? Here, this door creates contrast and its purpose is two-fold: separating two areas and closing off the home's entrance. Its white colour with the aged appearance looks natural and cohesive.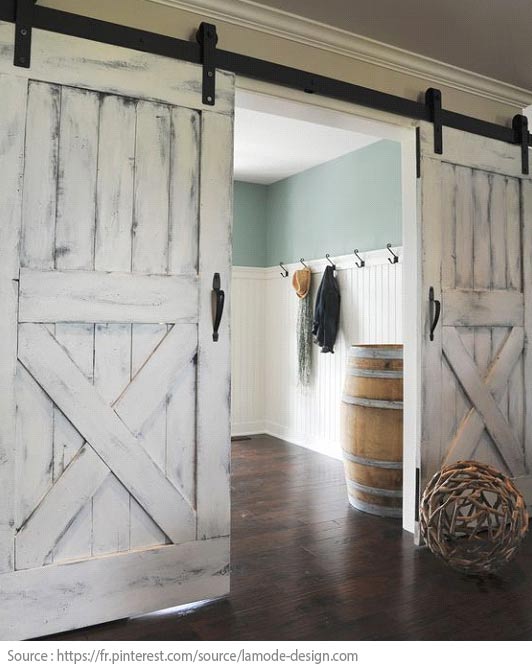 A barn door can be added in any room of the house, either to serve a functional purpose or to simply act as an aesthetic decorative element that really stands out.
See also:
Changing Your Space: 5 Magical Tips!
10 Examples of Innovative Living Rooms!