May 31, 2021
A Neighbourhood to Discover: La Prairie   
If you're unfamiliar with the city of La Prairie, located in the Montérégie (on the South Shore of Montreal), we invite you to discover all of its attractions and charms. This municipality of 26,500 inhabitants is 10 minutes from Montreal and is in full development!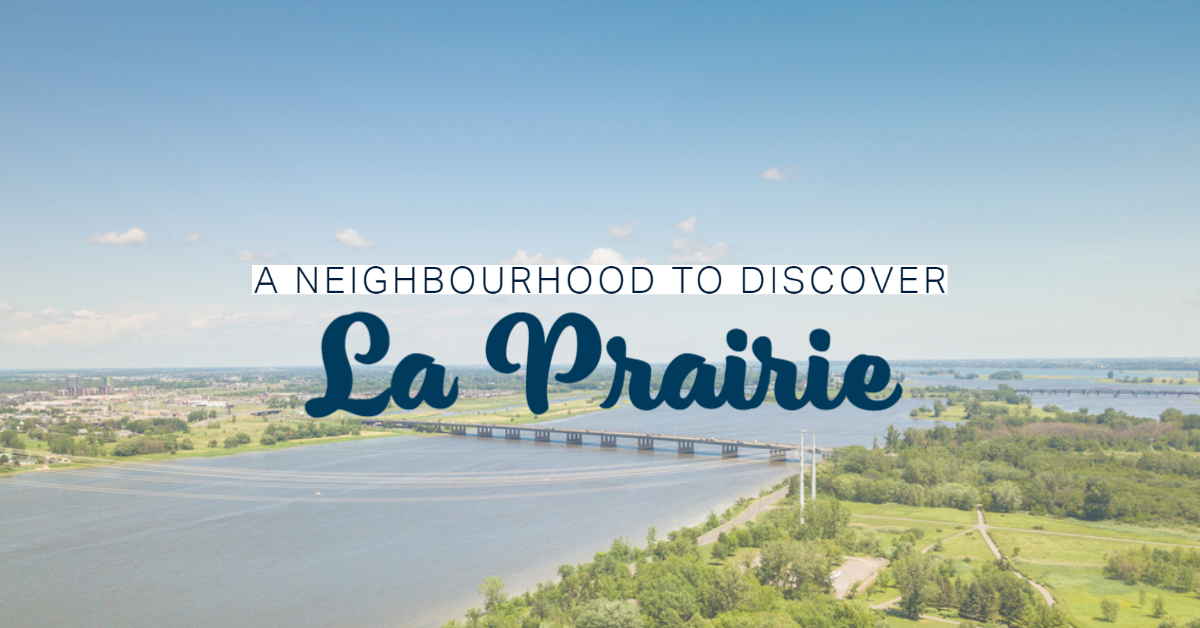 A rich historical past
The existence of this municipality dates back as far as 1667 and Vieux-La Prairie, which is a recognized heritage site and simply spectacular. The borough of La Prairie also has several archaeological sites (including Aboriginal sites) that attract a large number of visitors.
Outdoor activities for all tastes
If you're a fan of outdoor sports, you'll be delighted to explore La Prairie's 42 parks, including Parc de la Place-de-la-Famille and Parc Émilie-Gamelin, as well as the large Parc de conservation du Marais de la rivière Saint-Jacques, a protected area with a diverse range of flora and fauna. Its access to the St. Lawrence River is another advantage that is appreciated by its residents. In addition to the Club de golf l'Express and its network of bike paths, there are numerous trails – including an 11 km multipurpose trail – for hiking, snowshoeing and cross-country skiing. The city also has several playgrounds and a dog park.
Cultural and social life
Visiting La Prairie also means discovering its great restaurants and cafes, its outdoor farmers market (the largest in the region), as well as a variety of family and cultural activities organized throughout the year. The La Prairie area still has a lot of farmland. Thus, during the summer months, citizens enjoy being able to go visit farmers' markets to purchase a wide variety of fresh produce grown locally.
Responsible management
The city of La Prairie promotes sustainable economic development and maintains a competitive level of taxation. The average cost, for equal services, is about 25 per cent lower compared to several other similar municipalities in Quebec. Its geographic location is truly ideal. Quartier Dix/30 offers many useful resources and is located nearby. Residents benefit from quick access to highways 15 and 30, as well as Route 132. In just 10 minutes, they can reach Montreal or Laval.
La Prairie is a pleasant place to live that suits all tastes and budgets. Over the past decade, several housing projects have been completed and more are planned for the near future. There are condominiums, single-family homes of all sizes, as well as multi-unit buildings. This suburban city is truly focused on the quality of life of its community.
Real estate market statistics for La Prairie
La Prairie has seen its population grow in recent years, particularly in 2020, when many families left the city of Montreal to settle in the suburbs. The city of La Prairie is particularly appreciated for its green spaces, its liveliness and its many attractions that offer a pleasant living environment.
The year 2020 (cumulative total of the 4 quarters of 2020)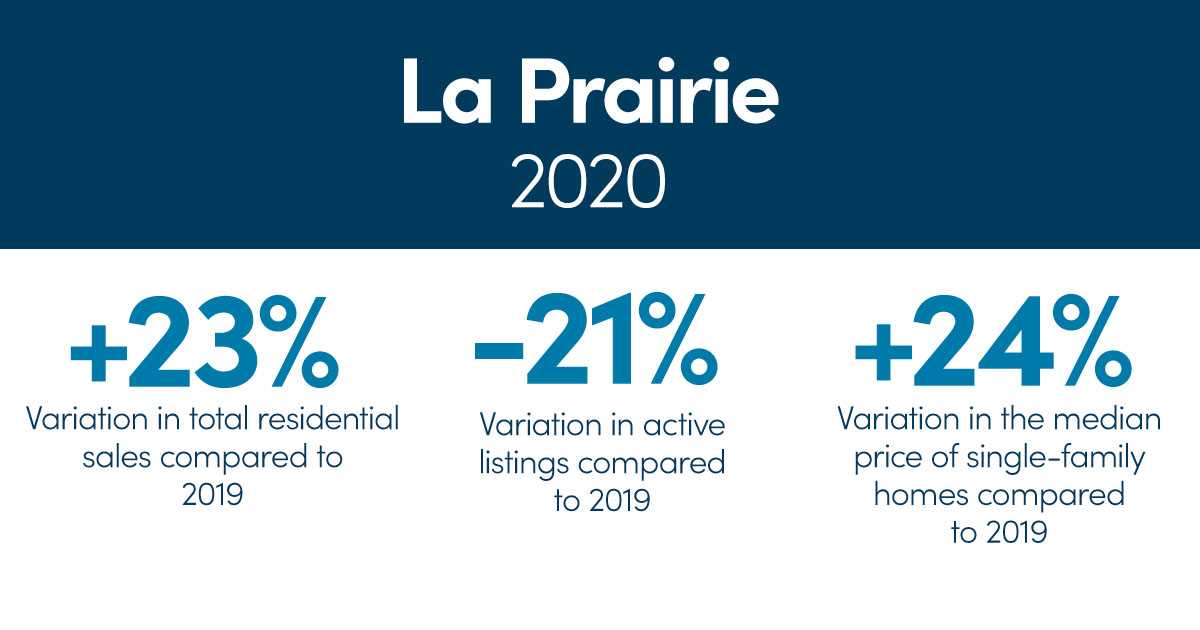 According to data compiled by the Quebec Professional Association of Real Estate Brokers (QPAREB), the number of sales in La Prairie increased by 23 per cent in 2020 compared to 2019, with a total of 458 transactions.
There were a total of 503 new properties for sale, which represents a 24 per cent increase compared to 2019, while the number of active listings fell by 21 per cent.
By property category:
In 2020, the number of single-family home sales increased by 19 per cent compared to 2019, with a total of 230 transactions. The median price of single-family homes jumped by 24 per cent to reach $525,000. As for condominiums, sales rose by 22 per cent (199 transactions) in 2020 and their median price continued to climb, reaching $266,000, an increase of 23 per cent.
For more statistics on this region, click here .
Are you thinking of buying or selling a property in the area? See the properties for sale and contact a real estate broker.
See also: