January 29, 2021
A Region to Discover: Estrie
Often mistaken for the tourist and historical region of Cantons-de-l'Est, Estrie is an administrative region located along the border with the United States, flanked by the regions of Montérégie and Centre-du-Québec. The awe-inspiring Appalachian mountain range dominates the region, offering a daily spectacle that changes with the seasons, leaving visitors and residents alike speechless in the face of this natural beauty.
The main areas of economic activity in Estrie include agriculture and dairy production, the mining and textile manufacturing industry, the processing of rubber, wood and paper, advanced microelectronics, precision tooling, information technology, the biomedical field and the environmental bio-industry.
[A Region to Discover is a new way to showcase the different regions of Quebec by presenting economic and real estate data, tourist attractions and more. A different region will be featured every month.]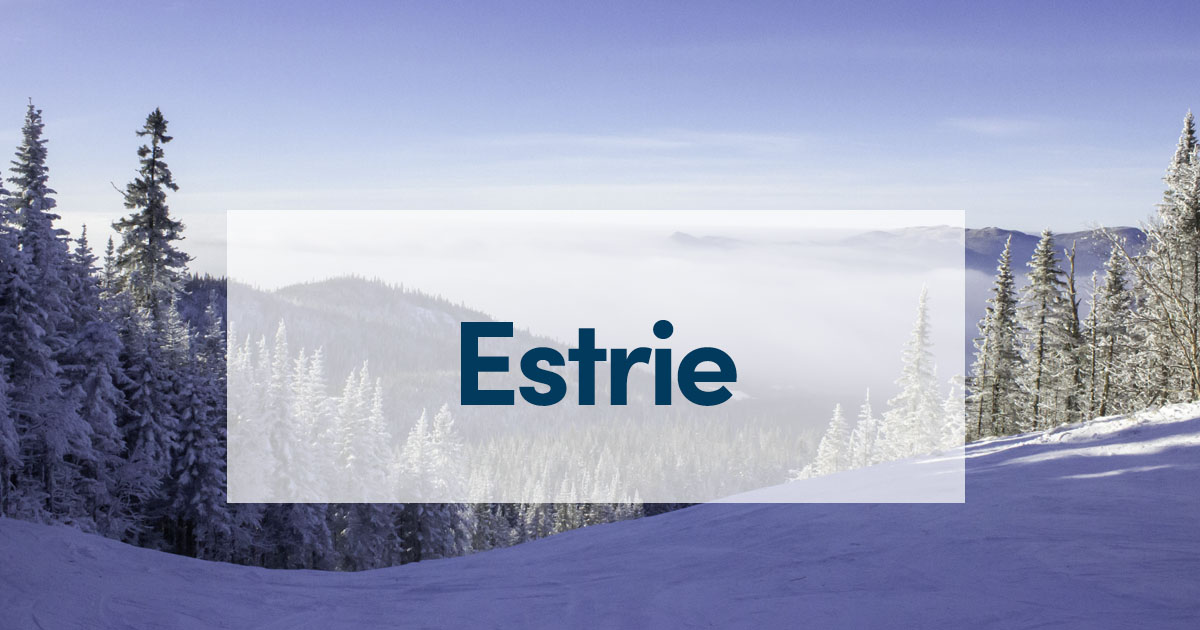 Tourist attractions in the region
The Estrie region is presented here as three tourist routes and different itineraries in order to discover the hidden treasures of the area, which will appeal to people both young and old.
Chemin des Cantons
Also known in English as the Townships Trail, this route showcases art, culture and heritage through 38 stops spread over 430 kilometres. The most beautiful landscapes of Anglo-American heritage are featured. Starting at the Ulverton wool mill, you will pass through Bury, Sherbrooke, Coaticook, Stanstead, Magog, Mansonville and many other beautiful places, ending at the chocolate museum in Bromont.
Wine route in Brome-Missisquoi
As its name suggests, this route presents gourmet experiences by criss-crossing the most beautiful roads in the region while discovering 22 vineyards and gourmet sites, which represent 60% of wine production in Quebec. By car or by bike, this route offers various alternative routes to extend your enjoyment and discovery of the region. Restaurants, hotels, B&Bs, vineyards, livestock farms such as Canards du Lac Brome, museums and cheese factories warmly welcome visitors.
Route des Sommets
Outdoor enthusiasts will be delighted by this 193-kilometre tourist trail, offering magnificent panoramas of imposing mountains and majestic lakes, not to mention quaint villages. Everything has been designed to make the most of this experience, thanks to a signposted route. The route begins in the village of Saint-Adrien, near the Parc régional du Mont-Ham, a magnificent location with 18 kilometres of intermediate and difficult trails and an outdoor fitness trail. The Parc national de Frontenac is also on this route, with 40 kilometres of trails accessible to hikers of all abilities. The circuit ends near Parc national du Mont-Mégantic, nestled in the foothills of the Appalachians and known for its Réserve internationale de ciel étoilé.
The real estate market in Estrie
Statistics for December 2020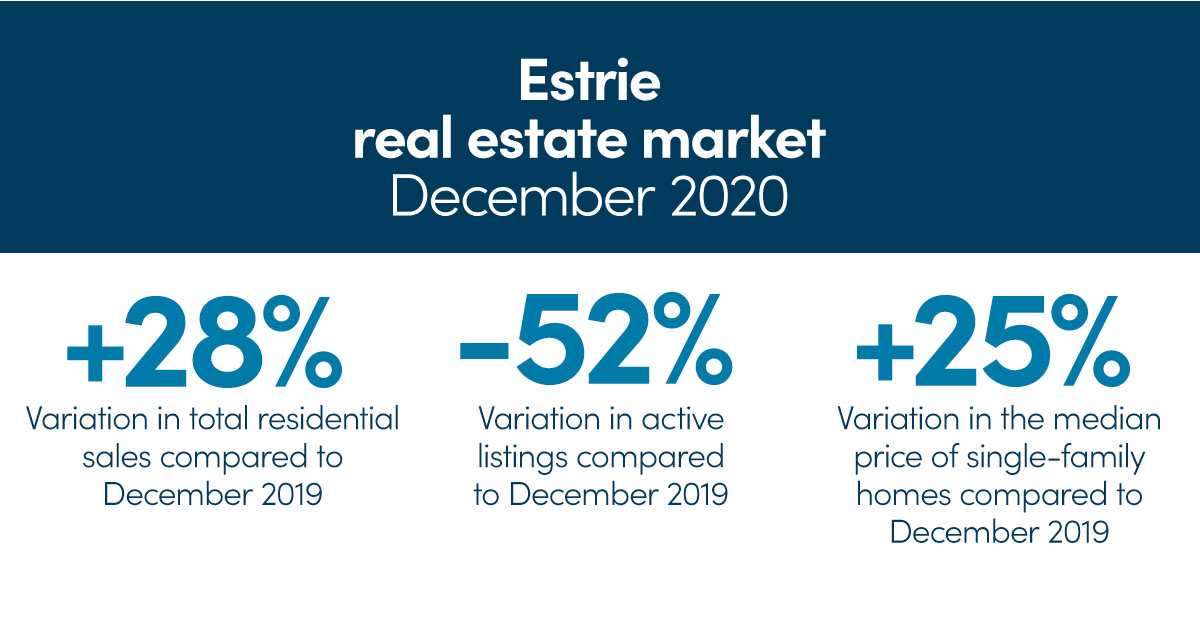 The real estate market in the Estrie region registered a 28 per cent increase in residential sales in December 2020 compared to December of 2019.
The median price of single-family homes also increased during this period, rising 25 per cent to reach $249,200.
Finally, the number of active listings fell by 52 per cent, while new listings increased by 8 per cent compared to December of 2019.
Cumulative results over the past 4 quarters
Looking at the cumulative total for the last 4 quarters, sales in the region increased by 19 per cent, with a total of 3,687 transactions concluded.
The number of new properties for sale decreased by 12 per cent to 4,238, while active listings fell by 26 per cent.
Finally, in terms of prices, the median price of single-family homes reached $222,000, an increase of 11 per cent.
For more real estate statistics for the Estrie region, click here.
Are you thinking of buying or selling a property in the Estrie region? See the properties for sale and contact a real estate broker .
See also: