November 9, 2023
Things to consider when building your own home
Self-building your own home is a great way to construct a
new home
at a lower cost. Between financing, organization, licensing and regulations, self-building can be a long and sometimes arduous process, but it often pays off for those who stick with it!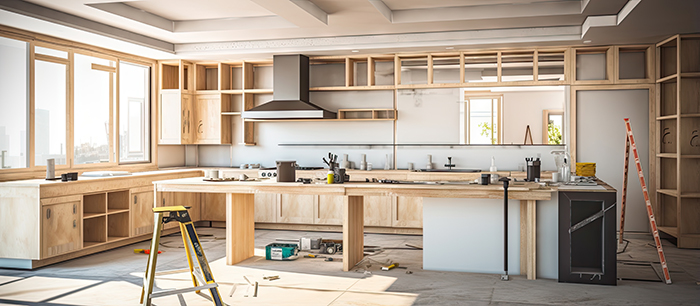 What does self-build mean?
Self-build is when you build part or all of your own home. It can take about 20 hours of management per week and can be spread over a six-month period.[1]
To comply with regulations or make up for a lack of experience, you may assign certain tasks to professionals. In that case, the value of the subcontracted work should not exceed 50% of the construction cost.
Steps involved in self-building a house
In addition to buying land and choosing what type of home you want, you will need to:[2]
Work out a budget

Get a mortgage

Figure out the cost of the work

Get estimates for building materials and professional services

Have the land surveyed

Conduct soil and water quality tests, as required

Apply for a building permit from the city

Purchase liability insurance

Get a certificate of location
Financial aspects
1. Financing
Since a bank can finance up to 80% of the project—including the land—the down payment must be at least 20%.[3] The loan will be disbursed gradually depending on how the work is progressing. In addition, 15% may be withheld as protection against the legal mortgage.
2. Cost
A self-build home in Quebec costs 30% less on average than a turnkey property.[4] Prices vary depending on the size of the project, its location, and building materials.
The budget is generally divided as follows:
30% to 35% for the foundations

30% for the structure

10% for the walls and ceilings

25% to 30% for plumbing, electrical wiring, doors and windows, and utility connection costs
Interestingly, you could benefit from a partial tax refund of up to 36% on GST (up to $6,300) and 50% on QST (up to $9,975).[5]
Permits and regulations
Self-builds in Quebec are governed by the Commission de la construction du Québec. You will therefore need to make sure that site conditions comply with the Act respecting labour relations, vocational training and labour management in the residential construction industry.[6]
Since it is illegal to work on your own electrical installations or installations designed to use or distribute gas, you will need to hire a licensed contractor via the Régie du bâtiment du Québec.[7]Are your family and friends offering to help you? They will have to stick to installing floors, cabinets and doing some painting, for example.
Remember, building your own home doesn't mean you have to do everything yourself. There are many professionals who can help turn your dreams into reality.
---
Are you passionate about real estate? Subscribe to the Centris.ca newsletter now.
See also:
Available renovation subsidies
Home Improvement: how do you prioritize renovations?
12 factors to consider before buying land to build a house