February 4, 2016
All you need is the popcorn!
A well thought out home theatre
With the arrival of smart TVs, specialized furniture and compact and efficient sound systems, a home theatre room is no longer an impossible dream. However, this requires a big investment in time and money for an optimal viewing experience. It is also important to know some basic rules before beginning the process.
Location
Choosing the right location for your home theatre is not only the first step but also the most important. A rectangular room is better and hopefully long enough so that viewers are placed far enough back for the best viewing and audio experience. The room should also be quite dark, ideally in the basement, with minimal natural light to create a cozy atmosphere and accentuate the screen. If you do not have a basement, chose the room with the least amount of natural light.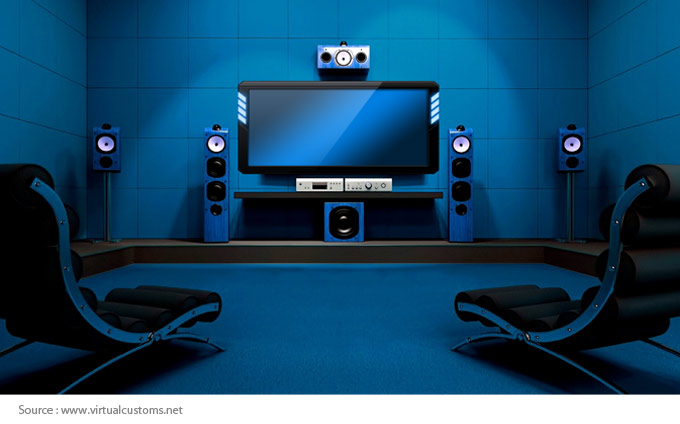 Room Layout
To calculate the viewing distance, multiply the diagonal measurement of the screen by two and then divide the result by 12. For example, the optimal distance between a 42" television and the seating is 7 feet (2.13 m).
A good home theatre system should include at least five speakers: the first one is located in the center either above or below the screen, two other speakers are placed on each side of the screen at the same height as the center speaker, and the last two in the back of the room, behind and slightly above the viewers.
Keep in mind that the best flooring is one that absorbs sound. Carpet is therefore the best choice.
Equipment and Technology
Choosing the right home theatre system depends on you and the available space in your home. A 5.1 channel system is best suited for small rooms. However, if your room is spacious enough, choose a 7.1 system for realistic cinema sound. Today, there are very good home theater all-in-one systems that will satisfy even the most demanding viewer.
That being said, it is important to talk to specialists for help in creating a home theatre that meets your expectations.
Happy viewing!