August 25, 2021
Choosing the right fridge
Pretty much every household today has a refrigerator. A hundred years ago, fridges were only for the rich. Everyone else had to store their food in different ways. But food preservation techniques have changed, and nowadays few of us could get by easily without a refrigerator.

Here are a few tips for choosing the right appliance to help you in your kitchen... and your life!
Consider your habits and needs
Your needs will be different depending on if you are single or live with a partner, or have a small or large family. The same goes for whether you live somewhere with easy access to grocery stores. And if you hate shopping, you might buy more during each trip to avoid returning often.
In short, the first thing to consider is your habits and needs. How many people will use the refrigerator? How often do you purchase food? Your shopping patterns will be different depending on how you answer these questions. So, start by figuring out your needs.
Here are a few important points before making your choice:
Size: you need to make sure it fits in the available space.

Capacity: what are your needs and habits?

Configuration: fridge at the top and freezer at the bottom, or vice versa?

Energy consumption: an energy-efficient model means responsible energy consumption.

Noise: a quiet fridge is always preferable.

Options: an ice machine, a smart appliance—what options are you looking for?
Capacity: a major issue
Before you go to the store, ask yourself: do you want a fridge that's bigger than the freezer? Are you someone who cooks large quantities of food and freezes smaller portions for later use? If so, consider buying a fridge that has almost as much volume for freezing as refrigeration. Choose the volume distribution depending on your needs and habits.
One or two doors? What should be on top?
Who would have thought buying a refrigerator involved so many questions! One or two doors? Fridge at the top and freezer at the bottom, or vice versa? Ice dispenser, or no? Going to a store and exploring the different combinations in person is a good way to figure out your preferences.
Energy
As with all appliances, it's better to choose a device that consumes less energy. If you're thinking you should buy a larger fridge just in case, consider this: a fridge is an appliance that works 24-7, all year round. Buying an Energy Star certified refrigerator is good for your wallet and the environment.
To help you make the right choice, read the article on buying a refrigerator from Protégez-vous (French only).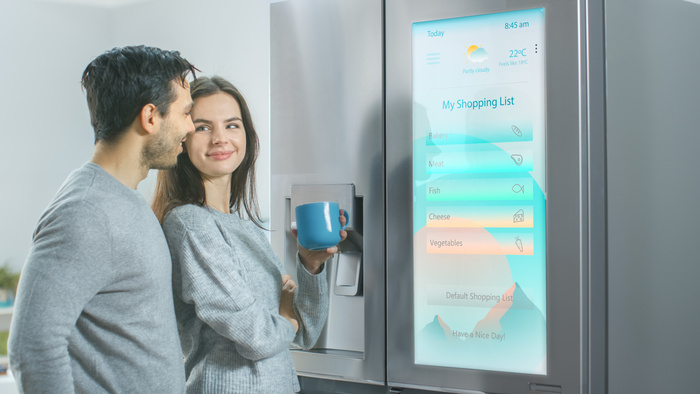 A smart fridge?
Increasingly, we're seeing a strong trend for smart appliances. Once again, ask yourself: Do I really need my fridge to be "smart?"
To help you decide, read this article: Smart Home Devices to Simplify Everyday Life. It discusses different smart appliances and offers some tips to help you make an informed choice.
---
Are you passionate about real estate? Subscribe to the Centris.ca newsletter now.
See also:
Smart Home Devices to Simplify Everyday Life
Repair or Replace a Broken Appliance?