September 17, 2021
Choosing the right range
The smell of a freshly baked pie cooling on the counter fills the house while a tasty dish simmers in the oven. Cooking is one of life's pleasures—even more so with fall upon us! Here are a few tips for choosing the ideal appliance that will let you prepare your most extravagant meals along with your weekly fare.

Consider your habits and needs
Your needs will be different depending on whether you are single or live with a partner, or have a small or large family. Ask yourself these questions: Do you cook a lot? Do you have people over every Christmas with a 40-pound turkey on the menu? Do you often make desserts? How often do you invite friends over for dinner?
Your answers should give you an idea of your cooking habits and needs and what type of range is right for you.
Here are a few important points before making your choice:
Size: you need to make sure it fits in the available space.

Capacity: what are your needs and habits?

Cooking surface: glass-ceramic, coils, induction or gas?

Energy consumption: is energy-efficiency important to you?

Optional features: self-cleaning, smart technology, griddle, double oven, simmer element or warming drawer are all worth considering.
The capacity or ability to cook a turkey
Once you've established your needs, one question remains: what size do you want? Oven capacity is the available internal volume of the appliance, usually shown in cubic feet (cu ft). Note: capacity depends on several factors, including the number of racks and their layout. While it might not be the best idea to bring a turkey in store to test your dream range, you could always take in your biggest dish to see if it fits.
The capacity of a typical oven suits a family of four, so don't sweat it!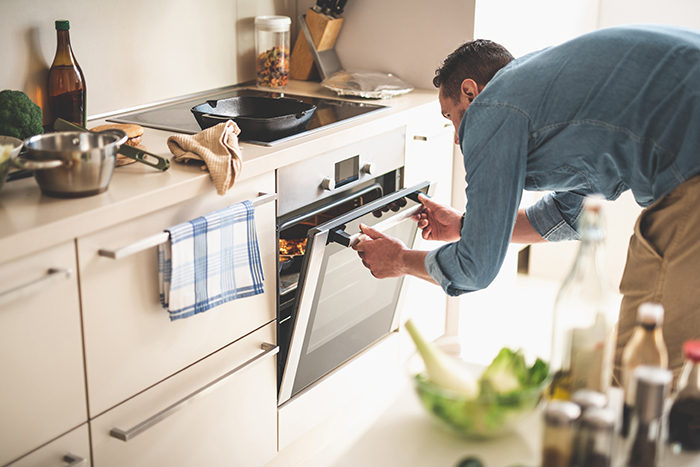 Cost
It's obvious that buying a coil or gas range require different budgets. The same is true depending on features you choose.
Energy Star certified
Always opt for an energy-efficient appliance. While it may cost more at checkout, you will win in the long run. Buy an Energy Star oven and your bank balance and the environment will thank you for it.
To help you make the right choice when buying your oven, read the article in Protégez-vous magazine (French only).
A smart range?
Why not! Smart appliances are becoming increasingly popular, including fridges, ranges, washers and dryers. All major appliances seem to be joining the trend! Before getting into smart appliances, ask yourself: do I really need a connected range?
You may not have all the information you need before making this decision. Read this article: Smart Home Devices to Simplify Everyday Life. It covers several smart appliances, offering tips to ensure you make an informed choice.
---
Are you passionate about real estate? Subscribe to the Centris.ca newsletter now.
See also:
Smart Home Devices to Simplify Everyday Life