September 21, 2017
10 Ideas for Creating a Tea and Coffee Nook
Tea and coffee nooks can be installed in any room of the house so that you are never far from enjoying your preferred cup of tea or coffee. Here are some examples to inspire you.
1. A dedicated kitchen space
Placed on a work surface, this nook is both functional and aesthetic. It is accentuated by a chalkboard wall that contrasts with the white furniture and on which you can write messages to your heart's content.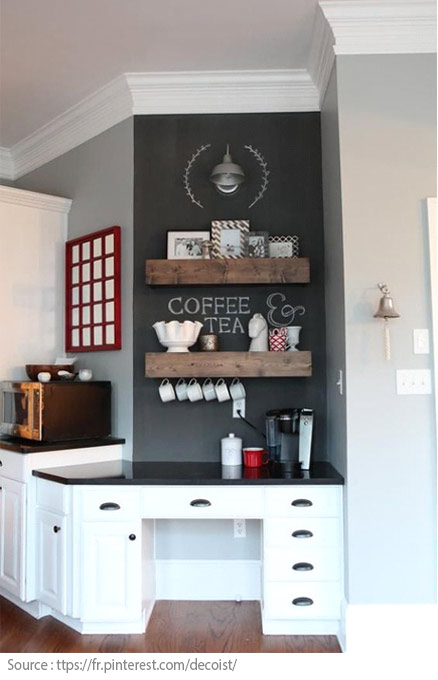 2. It's beautiful anywhere
As simple as it is practical, this shelving unit sits on a piece of furniture and provides a real corner devoted to your favourite drink. Place your sugar bowls, creamers, jam pots and cake stands in this chic and romantic setting. Note the successful harmony of the wood and the grey.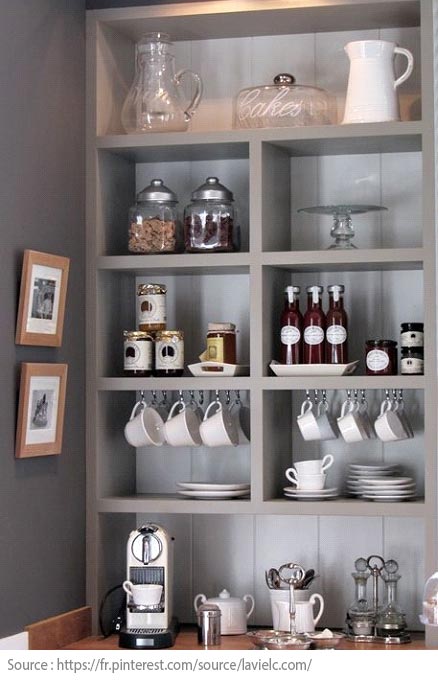 3. Coffee bar
Why not reinvent a piece of furniture as a coffee and tea bar? Here, the owners transformed a simple sideboard into a special tasting bar. The stools are a great addition that invites you to take a few relaxing minutes for yourself. It's one way to take a break at any time of the day!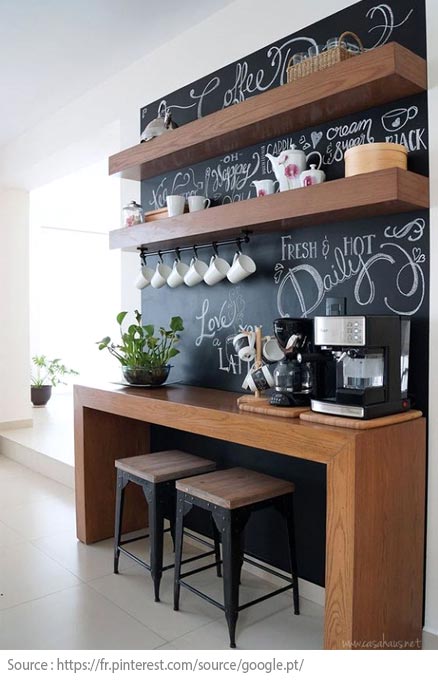 4. Made-to-order ambiance
Why not repurpose a piece of old furniture to give it a new life? In this picture, an old sideboard has been lovingly restored and transformed into a coffee / tea nook. To complete the look, some old wooden signs were hung on the walls and vintage objects were placed on shelves, not to mention a multifunction coffee machine.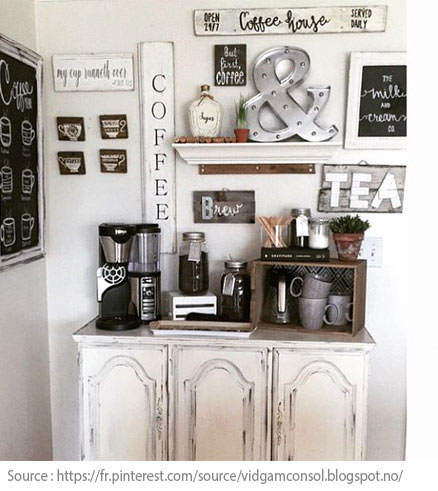 5. The perfect location in the dining room
Here in the dining room, the owners have created their own coffee bar. Nothing is missing: the machines, espresso and cappuccino cups and muffin stands.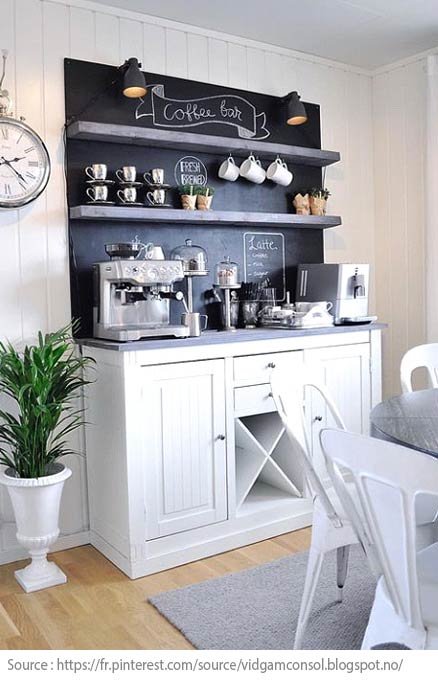 6. A unique corner space
This drawer chest placed in the hallway has created a distinctive nook for hot drinks. It's always a good idea to use some old items: a coffee mill, an alarm clock ... and to mix them with some new ones in a vintage spirit.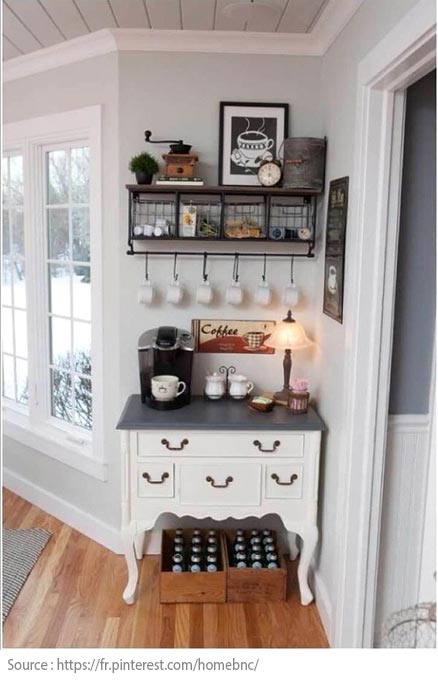 7. Show your true colours (coffee colour!)
Why not use a simple cabinet to place a multi-beverage machine? You can place the cabinet in any room of the house: bedroom, office or even in the entrance.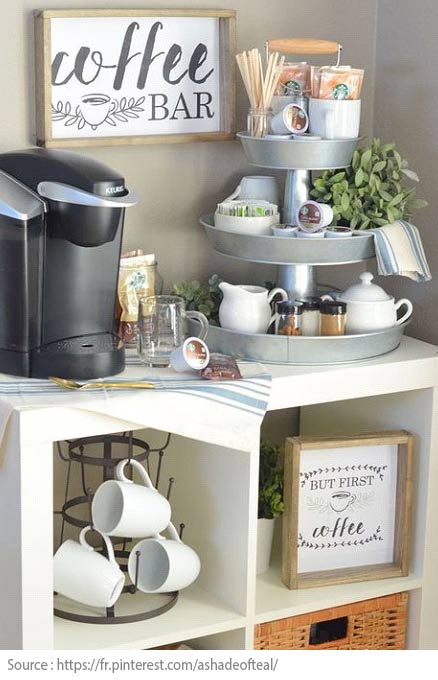 8. An attractive chest of drawers and shelf arrangement
Do you own a dresser that's a little worse for wear? Why not make it the focal point and give it a second life? In this picture, a piece of Chinese furniture has been transformed into a coffee bar. A beautiful geometric alignment with shelves and lamps gives a chic and festive air to this space.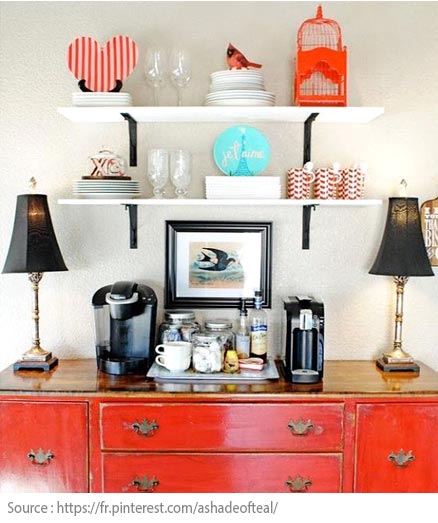 9. Use a serving trolley
A small tea or coffee corner on a service trolley is practical since it can be moved to any room of the house! Here in a hallway, the hot drink nook is anything but boring.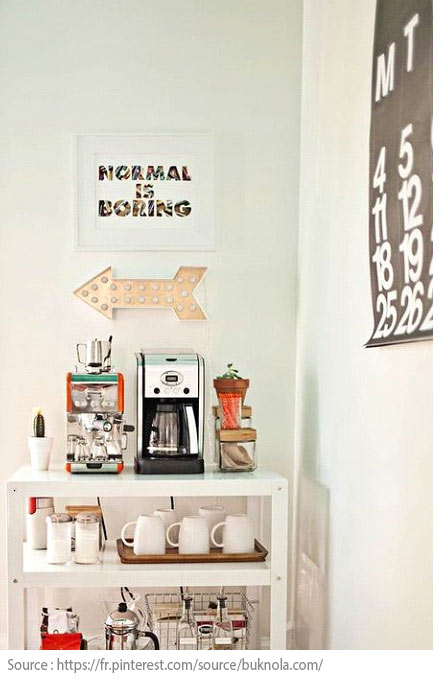 10. Maximum simplicity
With one board, any location can be made into a tea and coffee corner. Install a nice piece of wood on the wall and place the machines. Hang a few cups and add some stools to make it more inviting.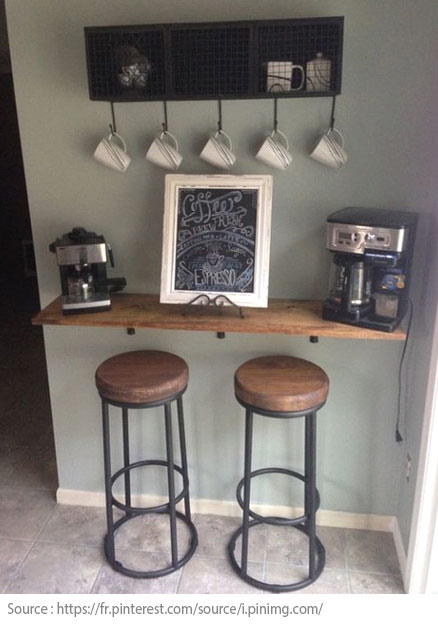 Tea and coffee lovers, indulge yourself and create your own tasting corner!
See also:
10 Storage Ideas to Maximize Your Kitchen