November 4, 2021
10 patio heaters to enjoy your backyard for longer
Missing those warm summer nights by the fire? Patio heaters are a great way to extend spring and fall outdoor fun and get the most out of your patio despite the cooler temperatures in the evenings.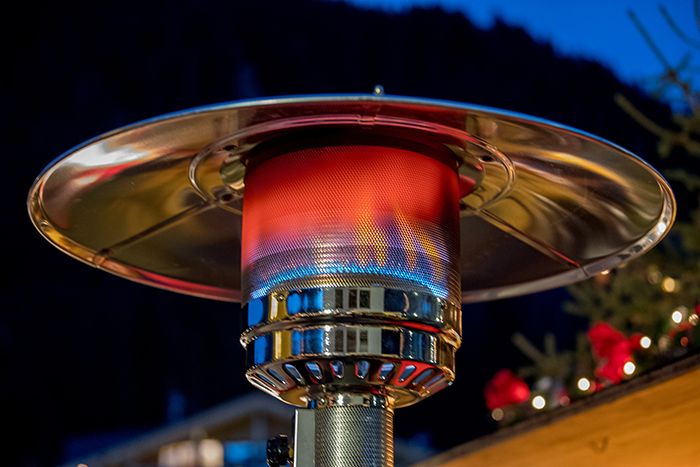 Last spring, Centris.ca posted an article on The ABCs of buying a patio heater, so you could learn about the different options available and choose the type that best suits your needs. To add to this, here are 10 great models to get you started.
Propane patio heater
Propane patio heaters are the most common type. It's easy to move despite its height, but there is a downside: it should not be installed under a gazebo, a porch or any other closed or partially closed space.
Costco patio heater
This model is perfect for extending your evenings until late in the season. Made entirely of 304 stainless steel (superior corrosion resistance), it can be used for years and withstands the elements.
You'll need to purchase a standard propane tank to enjoy its 46,000 BTU output, as the tank isn't included. It has a reliable electronic ignition system and strong wheels to make it easier to move, a safety feature that prevents it from tipping, and a waterbox for added stability.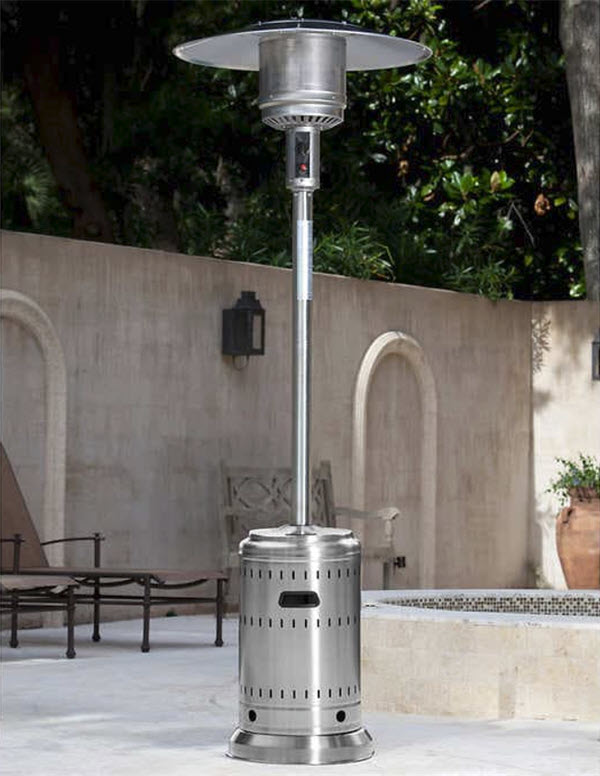 Walmart patio heater
This model will keep you warm outside. This stainless steel heater is one of the most powerful on the market with an output of 48,000 BTU. It's also made of commercial grade 304 stainless steel and has an electronic ignition system and wheels for ease of use.
With its gentle warmth, you can even host your very own Igloofest in the middle of January!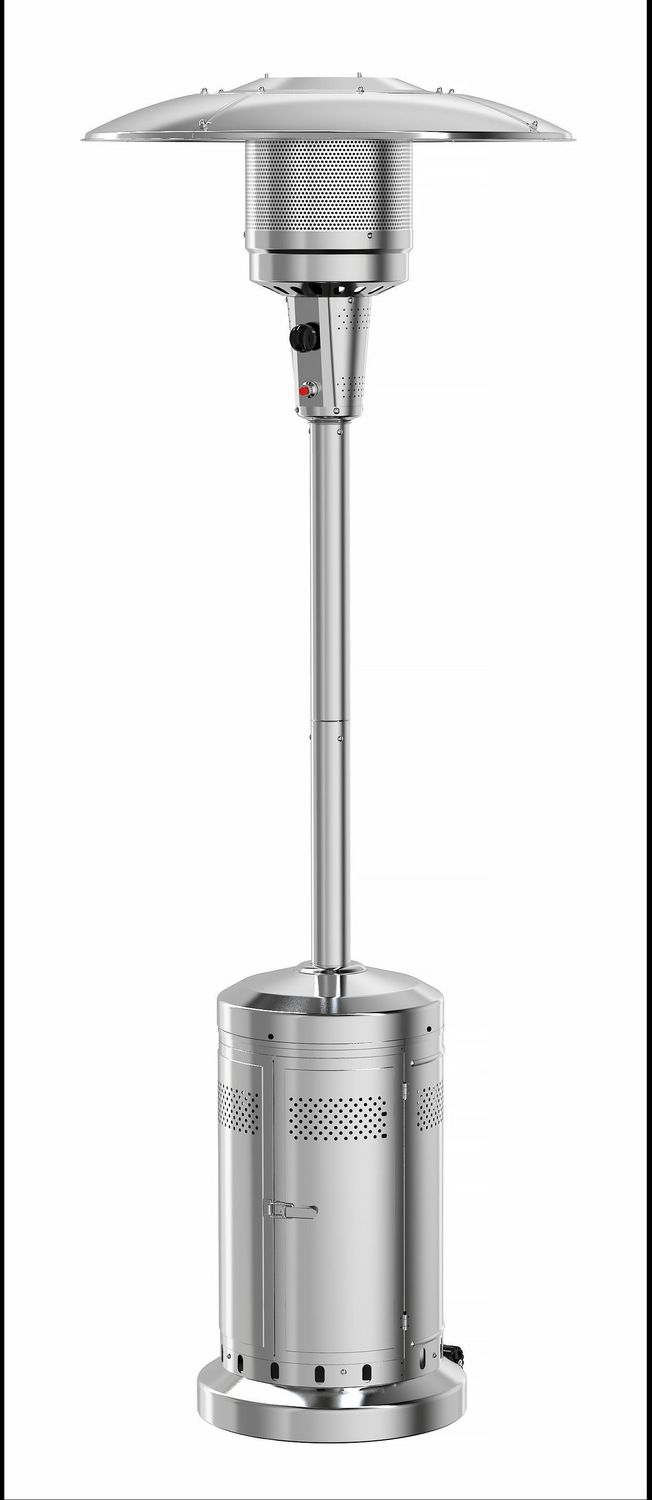 Electric patio heater
This product can be installed virtually anywhere, provided there is an electrical outlet.
Canadian Tire patio heater
Practically impervious to wind, this patio heater provides instant and constant heat, even at a distance. It's completely silent—ideal for an evening chatting with friends. It comes with a mounting bracket for wood and brick so you can install it almost anywhere.
Enjoy its heat for years to come at a low cost per hour, thanks to a bulb that lasts an average of 5,000 hours! Note that it only requires a standard electrical outlet, so there's no need to call an electrician.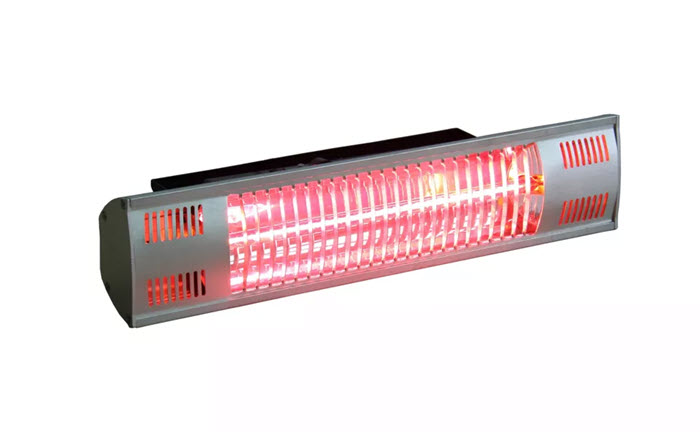 Costco patio heater
One of the many advantages of infrared heaters is their resistance to wind. This telescopic patio heater is made of stainless steel, and all you have to do to is plug it into a standard electrical outlet. It's convenient and more economical than propane, because there's no tank to refill. Cooler evenings are no sweat!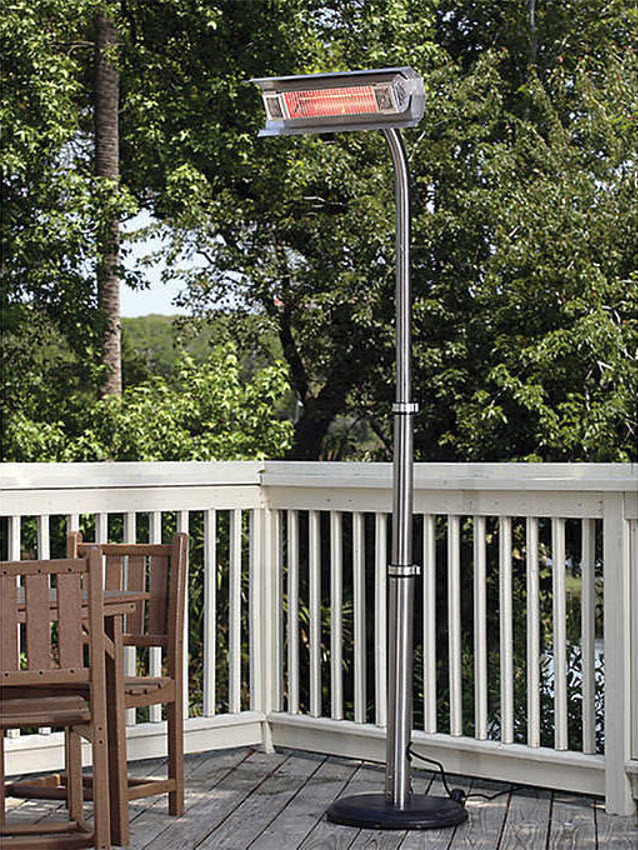 Hanging patio heater
Hanging electric patio heaters have a great look! Imagine an inviting warmth above you as you enjoy a meal with your guests outdoors.

Canadian Tire patio heater
Add warmth to your patio with this hanging electric heater. Enjoy 1,500 watts of radiant heat over an area of about 100 sq. ft. for your nights in. No need to call the electrician, it simply plugs into a standard electrical outlet.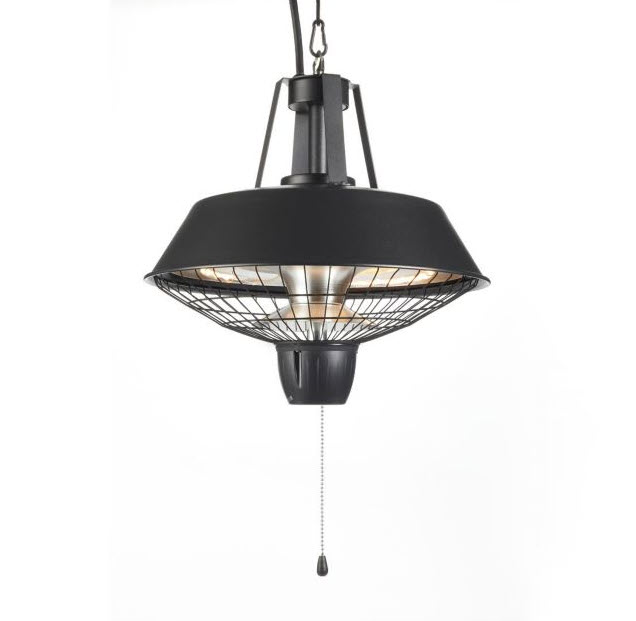 Rona patio heater
Enjoy a glass of wine in total comfort with this hanging patio and gazebo heater. It's perfect for gazebos, balconies and covered terraces, and you can even use it indoors.
It's lightweight, easy to install and uses clean, odourless infrared technology. You can install it in a closed location since it doesn't emit carbon monoxide. This product has two heat settings and plugs into a standard outlet.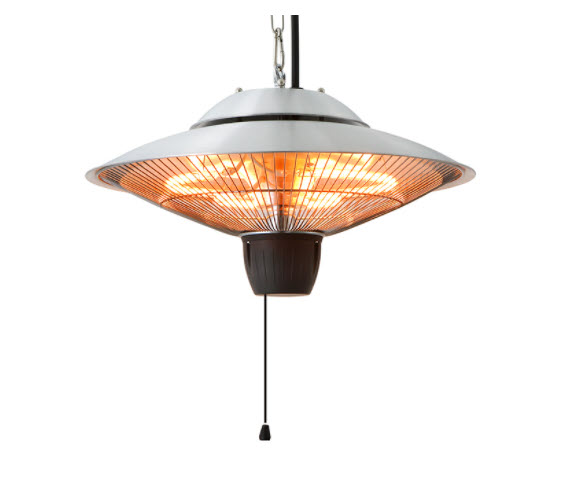 Portable patio heater
If you have a few different spots where you like to hang out, then a portable patio heater is perfect for you.
Canac patio heater
Ideal for decks and patios, wood or fabric gazebos, this product is great if you have multiple favourite spots—you can even use it indoors. This 1,200 W infrared patio heater is safe and turns off automatically if it tips over. Its aluminum and steel construction makes it rain resistant, and it plugs into a standard electrical outlet so there's no need to call an electrician. It comes in two colours to match your decor: silver and black.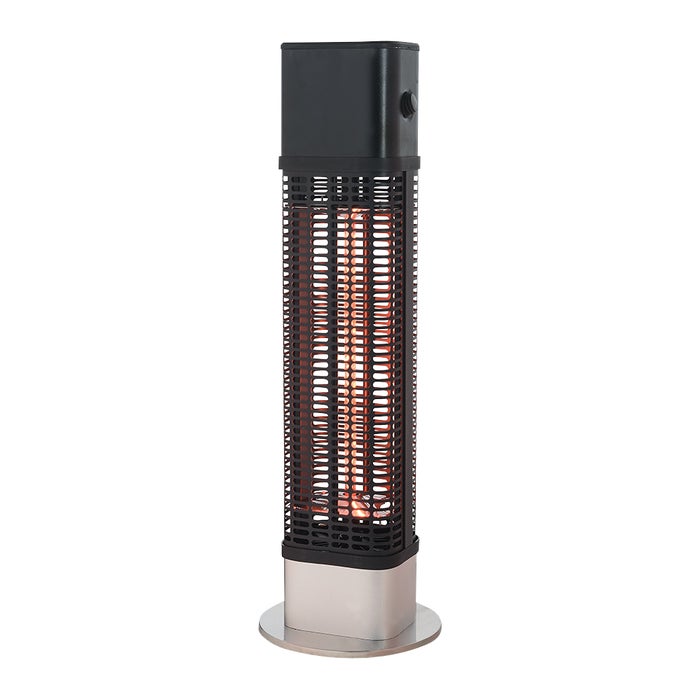 Canac infrared patio heater
This versatile 1,500 W infrared patio heater can be mounted on a wall or on a tripod. Ideal for terraces, patios and gazebos, it has a remote control and three heat settings: 500 W, 1,000 W and 1,500 W. It's aluminum, rain-resistant and plugs into a standard electrical outlet. Another interesting feature is that it can be adjusted from 43.38" to 80.75".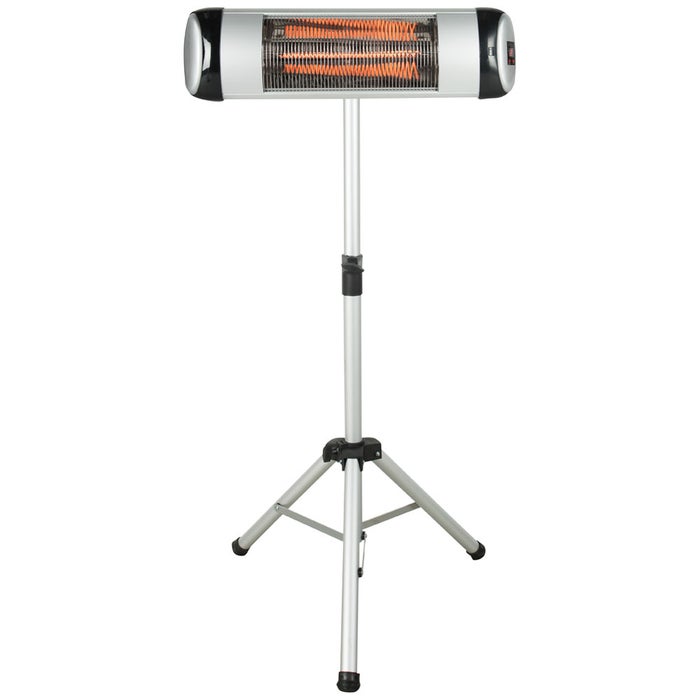 Wall-mounted patio heater
Infrared, mounted patio heaters are ideal for comfortable radiant heat and can be installed almost anywhere.
Canadian Tire patio heater
This infrared electric patio heater comes with a wall mount and post mount, with options for wood and brick included. You can use the hinged arm to adjust the direction of the heat.
Use the remote control to adjust the settings. You can choose between two heat settings (750 W and 1,500 W), and the bulb lasts for 5,000 hours. This weather-resistant heater can be used in wet or rainy environments. Its low operating cost is also an advantage—only a few cents per hour for gentle heat. It plugs into a standard electrical outlet.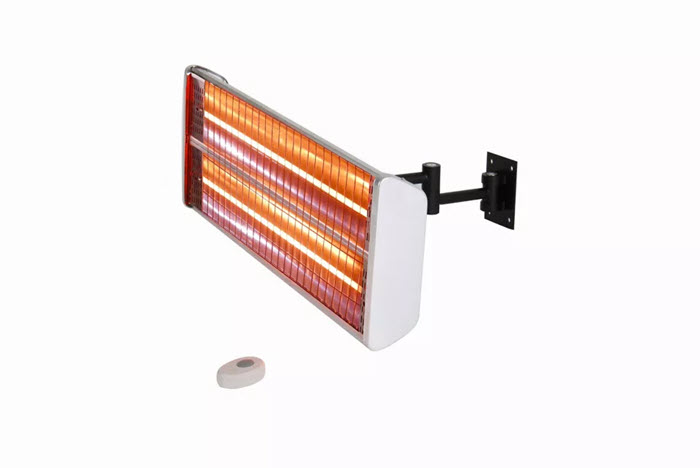 Costco patio heater
This 2,500 W carbon infrared heater provides instant, comfortable heat, inside and out. Enjoy four settings: 1,000 W, 1,500 W, 2,000 W and 2,500 W. It's quiet and emits heat that is similar to the sun. Perfect for cool nights because in just a few seconds, your skin, clothes and nearby objects will absorb the heat emitted.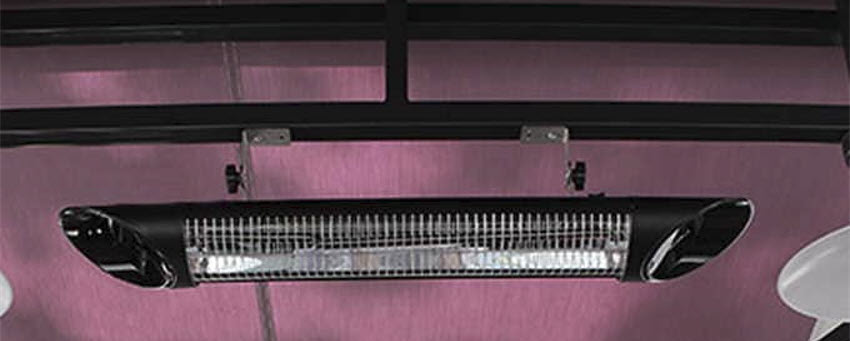 All the models mentioned should give you a better idea of the right product for you. Now you're ready to shop, but don't delay, patio heaters are selling like hot cakes!
Have a great cold season!
---
Are you passionate about real estate? Subscribe to the Centris.ca newsletter now.
See also:
The ABCs of buying a patio heater
Winterize your deck or balcony
Home Maintenance for the Fall Season