November 18, 2021
12 pros and cons of radiant floor heating you should know about
When the sun heats a concrete sidewalk or water inside a big barrel, they will then radiate that heat into the night. This is what is known as radiant heat.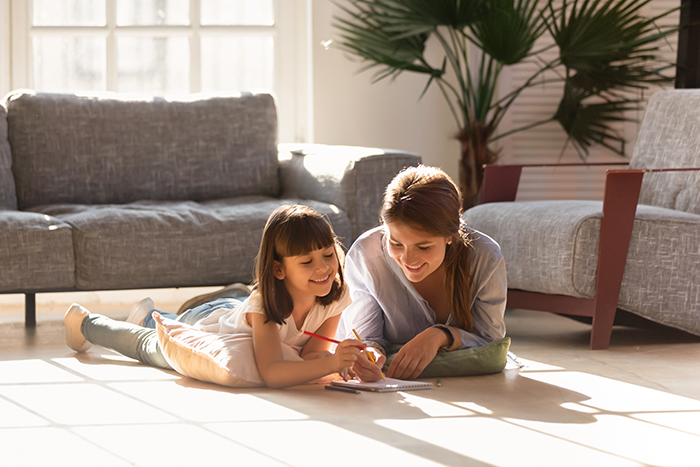 There are a number of reasons why radiant floor heating can be the right choice for a new home or remodel, especially in areas that can be harder to heat, such as bathrooms, basements and garages. However, the advantages and disadvantages compared to a forced-air heating system should be thoroughly weighed, as a new heated floor is not always the no-fail investment it is sometimes touted to be.
Take a look at these pros and cons, and check out our article all about heated floors, before decidingwhether a new radiant floor heating system is right for you.
Pros
First, let's go over some of the positive aspects of radiant floor heating systems:
1. Invisible
There are two types of radiant floor heating: electric and hydronic. Both systems work by heating underfloor pipes or cables.
Hydronic radiant floor heating circulates hot water from a boiler to generate heat through the pipes, whereas electric radiant floor heating uses thin cables powered by the main electricity supply.
One of the biggest advantages ofthese systems is that they are hidden underneath the floor and require no radiator or unsightly air vent. This not only provides more space and design freedom, but it is also safer for children and pets as there are no exposed hot surfaces.
2. Energy efficiency
On the whole, heated floors operate more efficiently because they use the natural inclination of heatwaves to travel from floor to ceiling. Additionally, radiant floor heating systems are not susceptible to the air leaks and energy loss that compromise forced-air systems, especially when they are also insulated from underneath during installation.
With hydronic heating, a low temperature infloor heat boiler is used, which heats the room with a much lower amount of energy than forced air. This low temperature also increases the life of the water boiler and offers the option to use solar-heated hot water.
Controlling exactly how much energy is used by your radiant flooring system is easy with the right thermostat. There are plenty of options, from something like the Schluter Ditra-Heat Non-programmable Digital Thermostat to the WarmlyYours nSpire Touch WiFi: WiFi and Touch Thermostat, which provides a fully-programmable heated floor thermostat complete with a floor sensor.
Installing a separate thermostat in each room allows you to closely regulate heat and can really improve heat efficiency.
3. Comfort and even heat
Traditional forced-air heating systems heat only the air in a room, often leading to drafts or cold spots. In areas with tiled or concrete floors, such as bathrooms or basements, youprobably end up wearing slippers despite the air being warm and cozy.
Radiant floor heating is designed to use the items in the room, such as the floor and furniture, to conduct heat evenly for long-lasting retention.
Best of all, a warm floor allows you to walk around barefoot in comfort.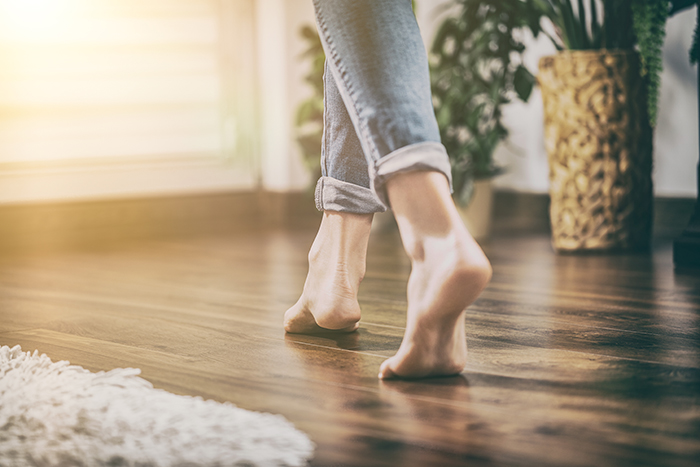 4. Maintenance-free and often comes with a guarantee
Once installed, a major advantage of a radiant floor heating system is that it requires virtually no maintenance. In addition, many systems come with a 20- to 30-year manufacturer's warranty for peace of mind.
5. Long-term savings
Installing a radiant floor heating system can present a significant cost at the beginning of the project, particularly if you need to buy a new water boiler or hire a trusted professional contractor. However, the increased efficiency of a new heated garage or basement floor can easily translate into considerable long-term savings on yearly heating costs.
6. Noise-free and good for allergies
Since radiant floor heating systems do not use air circulation, they generate far less noise than forced-air systems and do not dry the air. They can also be an excellent choice for people suffering from allergies as they do not collect or agitate dust.
Cons
Now that we have looked at some of the advantages, let's take some time to evaluate some of the disadvantages of radiant floor heating:
7. Time lag
Do you plan to keep your radiant heat flooring turned on at all times? If not, be aware that there is a time lag of heat movement through the flooring. This is much less prevalent with electric floor heating than with hydronic floor heating, as electric heats up and cools off much faster than water-based systems. While usually not an issue, the time lag can sometimes result in an overheating problem if there are other sources, such as passive solar, already delivering heat to a space throughout the day.
8. Replacement of existing floor
Radiant floor heating must be placed directly underneath the flooring material, either above or below the subfloor. Unless you are planning a new build, the existing floor material will need to be removed and replaced. Not only does this add an extra cost, but it is something to think about if you truly love your existing floor!
A heated floor mat can be a solution for smaller or more specific spaces where direct heat is needed, such as in front of a sink or shower. This option only requires the removal of flooring in the area needed to install the mat and can be an excellent solution for those who do not want to replace the entire floor.
Keep in mind that radiant floor heating can limit flooring choices, as some materials are better suited to these systems than others. Experts agree that the best choices are a heated tile floor or heated concrete floor, as ceramic and concrete are very good conduits of heat. Other efficient options are stone, vinyl or laminate. Wood can be used but carries the risk of expansion, which could lead to cracks or gaps between the floorboards over time.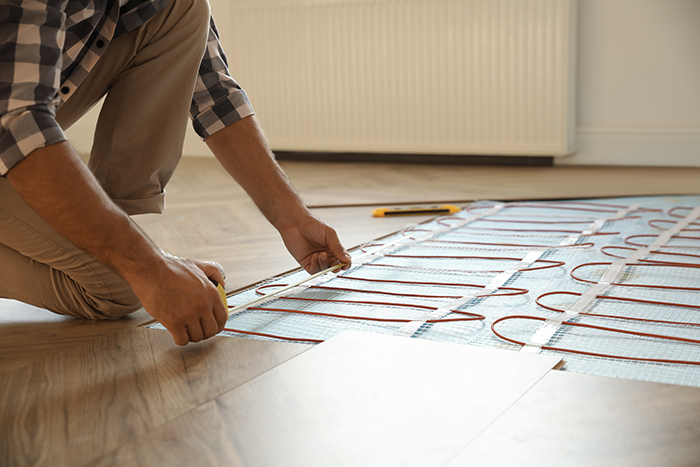 9. No rugs or carpet
You should not place carpet is on top of radiant floor heating, as it can act as a layer of insulation that blocks the natural flow of heat from the floor to the ceiling.
This includes area rugs or any other floor covering that may interfere with the even distribution of heat. If you are still intent on installing carpet, make sure it comes with the proper backing material and is rated appropriately for heated floors. Finally, consider insulating the underside of the floor with a thicker material than the carpet so you don't lose heat from underneath.
10. Installation cost
The cost of heated floor installation depends on the size and scope of the project, but it can be a significant investment of time and money. A big decision in how to install in floor heating is whether to use loose cable or a heated floor mat. This all depends on your space, budget and resources. The installation of electric floor heating in a small bathroom could be a weekend project for some, especially with kits like this: Schluter Ditra-Heat 120-Volt 43.1 sq. ft Electric Flooring Warming Kit, but installing hydronic radiant floor heating that requires PEX tube systems set into the floor may require the services of a trusted professional contractor. Unfortunately, that can really drive up the price of a project, however it can still be worth updating the system for the benefit of long-term savings and comfort.
If you are considering a hydronic system, you need to decide whether you will have to buy a new water boiler and factor that into the heated floor cost. The investment may not be worth it for some small rooms.
11. Raised floor height
Depending on what system you choose, there may be a slight increase in floor height after installation. For example, systems that require thinset to encase them may increase thickness up to ½" on top of the subfloor. Some systems, such as nVent NUHEAT Standard Mats, are advertised as ultra-thin and promise not to increase floor height.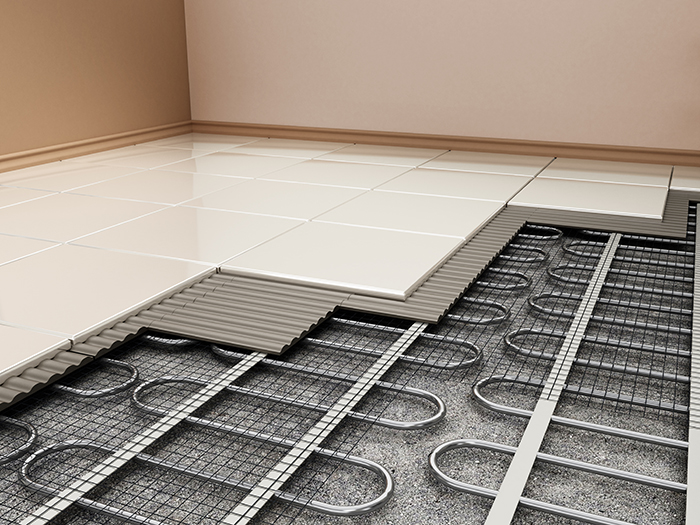 12. Unable to cool
Radiant heating systems cannot be used to cool a space. Therefore, depending on your local climate, you may still need to invest in a separate forced-air airconditioning system.
Where to start?
Bathrooms are a great place to start a radiant floor heating project because they are often difficult to heat. They are also usually smaller rooms, making the initial investment of a heated floor in the bathroom minimal compared to other rooms. Overall, installing a heated floor in a bathroom can give you a good idea of whether you want to try it in other areas of the house.
Ceramic tile is one of the best surfaces for heat conductivity, followed closely by stone, vinyl and laminate. This provides a lot of options for bathroom surfaces especially given their practical and aesthetic considerations.
While radiant heating is usually used for floors, it can also be installed in places like the bathtub molding, bathroom walls, towel bars, and other places that one might brush up against while in the bathroom! This can add an unparalleled level of luxury to your bathroom in the coldest of months.
As you can see, there are many advantages and disadvantages to radiant floor heating systems. While initially they may require a significant amount of time and investment to install, the long-term savings thanks to energy efficiency can be a benefit for many years to come.
The nature of the system location underneath the floor can be a benefit for design and safety, but it also requires the removal of existing flooring and consideration of the kind of heat conductivity that will best work in the space.
Even though a radiant heating system is noise-free and good for allergies, it can sometimes raise the floor level and cannot be used to cool a space.
We hope that this list gives you a much better idea of what works best for you!
---
Are you passionate about real estate? Subscribe to the Centris.ca newsletter now.
See also:
Interior design: Rethinking space
Choosing a Fireplace for an Environmentally Friendly Home