May 27, 2022
15 amazing ideas for your teen daughter's bedroom
Teenage girls love to change their bedroom decor. However, it's not always easy to make the shift from young girl decor to a teen room that suits your daughter's style. So, before you redecorate your teen daughter's room, check out our 15 amazing ideas!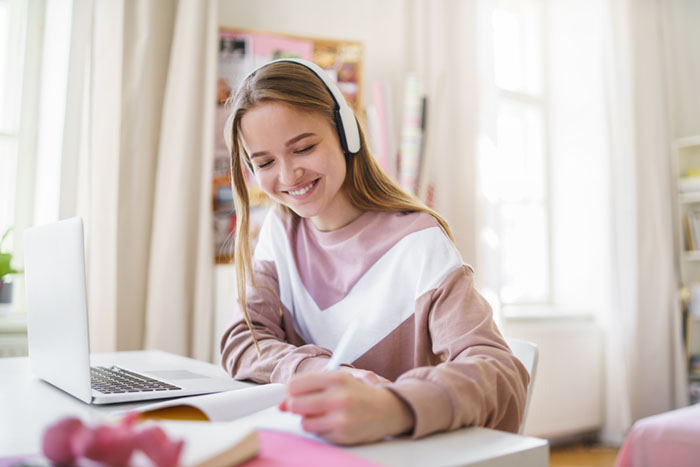 1. The Scandinavian look
A Scandinavian look for a teen room inevitably requires a trip to Ikea. Choose light shades and woods. If you're going for the Scandinavian look, the decor must be sleek but still inspiring. A wooden bed, white duvet and simple furniture with clean lines will complete the new look.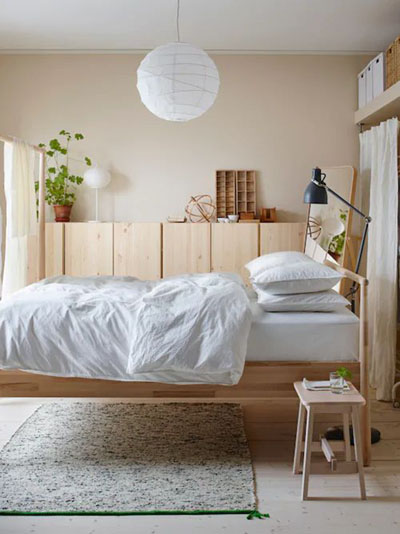 Read the article How to choose the right winter bedding.
2. The romantic room
If your teenager prefers a romantic look for her bedroom, build your decor around white-painted detailed wood furniture. Add soft, tufted cushions, flower bouquets and a white rug. Decorate to your heart's content!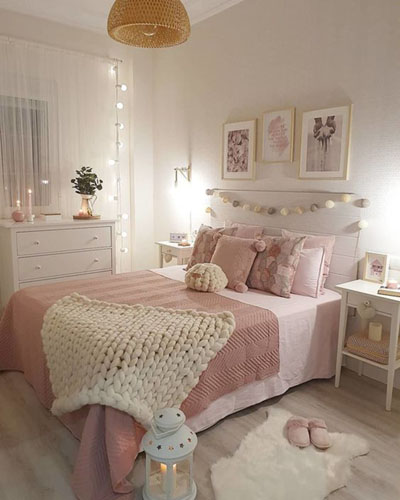 3. The star bedroom
Does your special girl want a room fit for a star? Put up posters of her favourite stars on the walls and add accessories such as a microphone or a vanity mirror with lights. If she has been to several concerts and kept her tickets, frame them. Give her room a real personalized touch.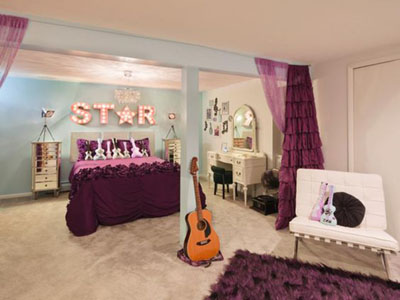 4. The boho look
This look is all about blending styles and textures. Add photos to of her trips or friends to the walls and enhance the atmosphere with plants, vinyl records, rugs and floor cushions. A shelf above the headboard with a mirror, picture frames and a candle will complete the boho look. Don't forget to add flowers to the wall and fairy lights to complete the vibe.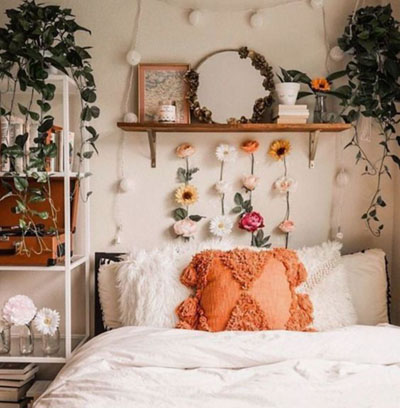 5. The bedroom for chilling with friends
A bedroom for chilling out with friends needs to have a sofa or comfortable floor cushions. If your teen likes karaoke, set it up in her room so she can sing and have fun and memorable evenings with her friends.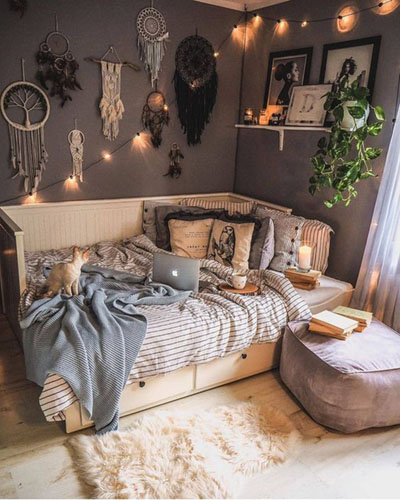 6. The girly bedroom
A girly teen room doesn't have to be pink from floor to ceiling. It can simply have a soft look with silky textures and pastel colours. Add a dressing table so your teen can enhance her natural beauty in a space she will love.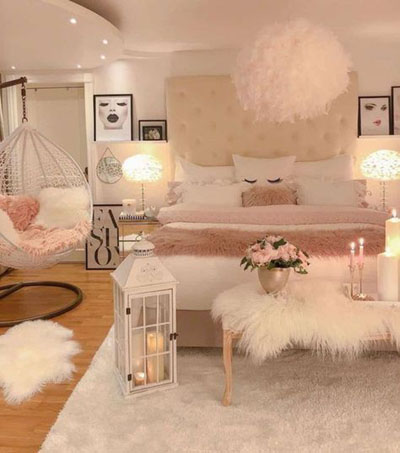 7. The big-city bedroom
New York, Los Angeles, Paris, London are ideal theme cities for a teen room. For the headboard, find an extra-large image of the desired city. Change the bedroom door to look like the door of a red London phone booth. A fantastic project for you and your teen!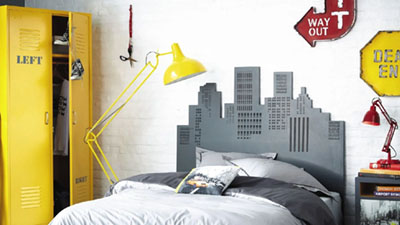 8. Well-divided bedroom
Wanting to redecorate your teenager's room to her style is a fabulous idea, but remember to consider the layout. An ideal bedroom should have three spaces: the rest area with the bed, the work area with the desk and the leisure area where your teen can do what she enjoys.
Read this article for Tips for decorating a child's room.
9. The graphic black and white look
For a black and white bedroom with graphic designs, grab some paint and tape to make patterns on the wall. Does your teen love triangles? Repeat this pattern with a touch of gold on a black wall. But remember not to get carried away.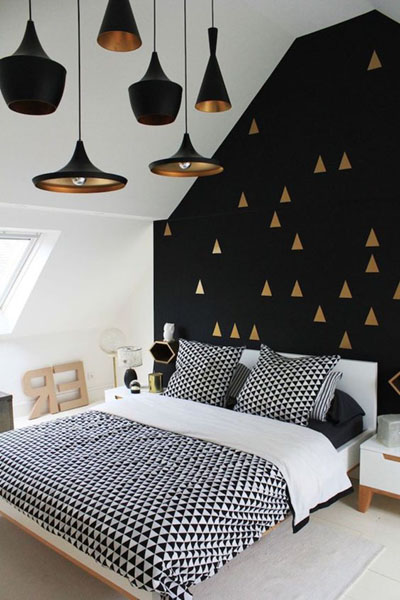 10. The bookworm's bedroom
Is your teen an avid reader? Create a bedroom to suit her favourite hobby where books will be at the heart of the decor. Why not have a bookcase headboard to make sure a book is always within reach?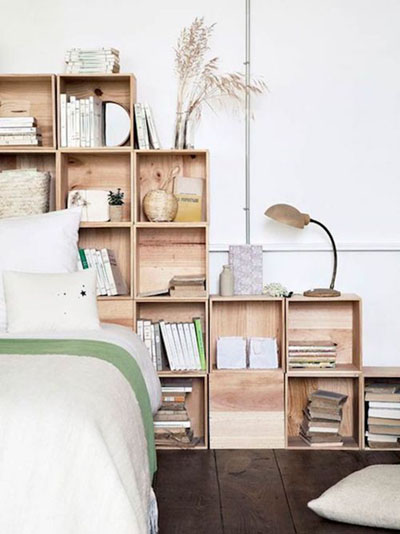 11. An Insta-bedroom
For your teenager who loves Instagram or TikTok, you could include decorations on the walls that make for the perfect video background. Her content will be next level!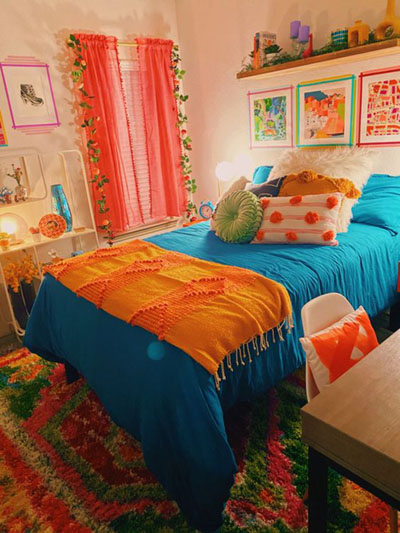 12. Industrial chic look
Does your teenager love industrial chic? A wooden wall that serves as a headboard and an old leather chest as a bedside table will round out the industrial chic look. Want a project with your teenager? Why not build a bookshelf using metal pipes, or maybe even a bed?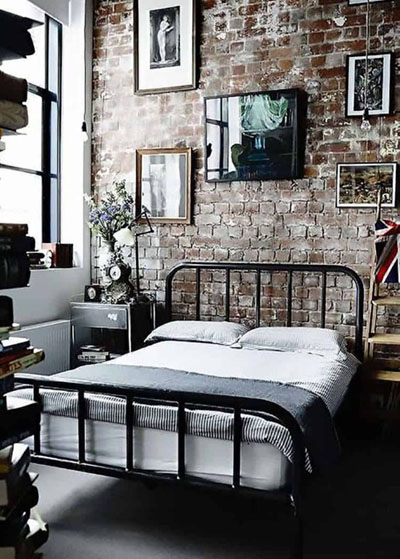 13. The series-inspired bedroom
Is your daughter crazy about a particular Netflix series? You could use the series as inspiration to transform her room. Watch a couple of episodes together to spot some accessories that might be just the look you're after.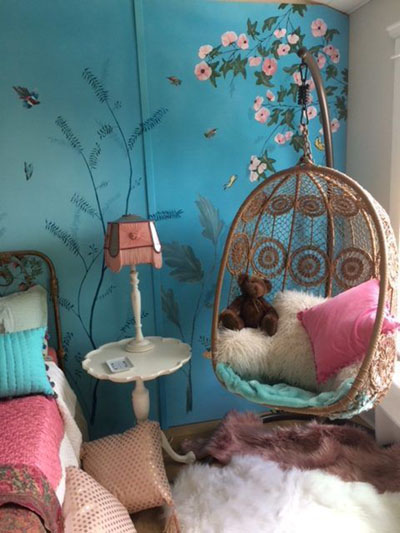 14. The beach bedroom
There a number of ways to bring a beach vibe to a bedroom: the bohemian/surfer look, the classic navy and white or something bolder featuring driftwood and old fishing nets.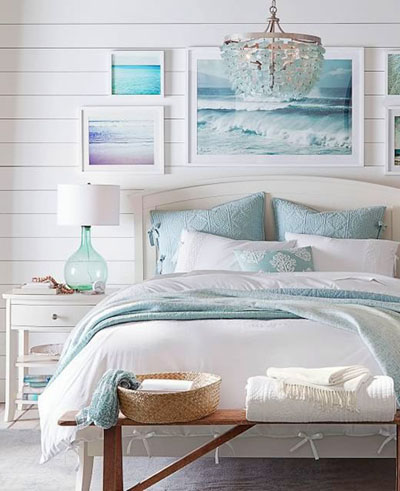 15. The retro bedroom
Is your daughter a fan of the retro look? Hit the garage sales, pick up some old furniture and paint it to your liking. Add plants and a 1950s chair for a killer retro look!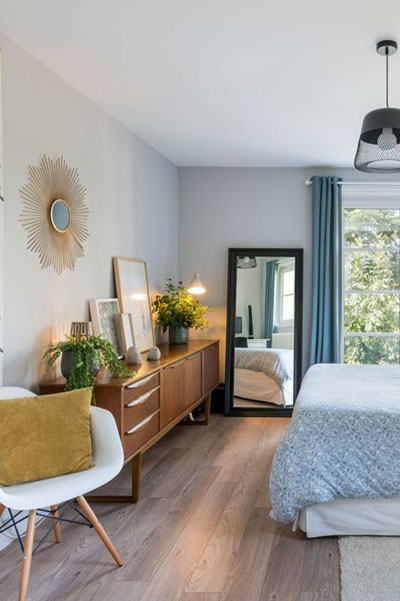 Before you start decorating your daughter's teen room, remember your teenage years. Your room was your world, where you felt most comfortable. Listen to her and work together to create a space that reflects who she is.
Do you have a teenager AND a baby? Check out these Decor tips for a nursery.