December 23, 2021
19 modern bathroom ideas
Is your bathroom stuck in the 80s? It might be time to consider a renovation. Whether the space is small or large, here are 19 modern bathroom ideas to completely rethink this room and make it a place you can relax.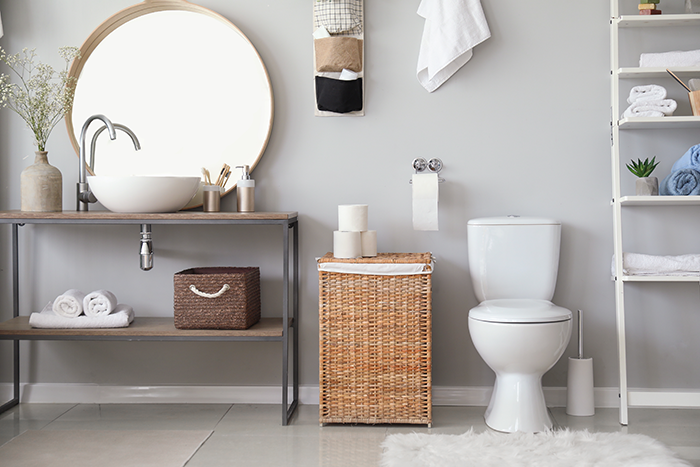 1. Use glass
To make your bathroom appear larger, install a glass shower. Transparent walls give the illusion of more space.
2. Give it some life, with plants
Add some plants to your bathroom; a touch of green can go a long way to make you feel good.
You can make big changes in a small space. Anything is possible!
A shower AND bath area? This concept is making its way into small and large bathrooms alike.
The tiles in a modern bathroom are the perfect material to let your imagination run wild. Dare to try different colours of ceramic tiles to design a pattern.
In a small (or large) bathroom, storage space is a necessity. Cabinets, shelves or drawers—choose what works best for you.
If you have a small bathroom, use white for flooring, shower tiles, walls and furniture. You'll get a bright area that feels more spacious.
There's nothing stopping you from adding a little colour to your modern bathroom. Be bold and add a colourful bathroom vanity.
Renovate this space to create the luxury you want: marble floors, premium taps, gold accents.
An accent wall in a small bathroom or a large one is the best way to have a unique look at a low cost. Colour or patterns, wallpaper or paint—it's up to you!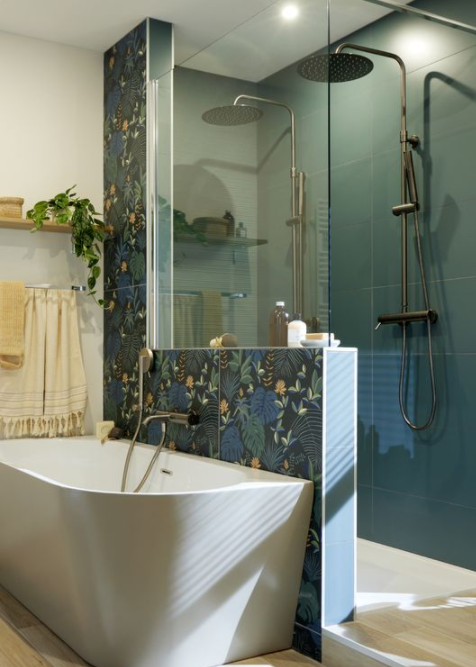 11. Let there be light
Lighting is an integral part of designing a modern bathroom. Choose your light fixtures not only for their look but also for their practicality. Make it easier to do your makeup or shave with the right lighting.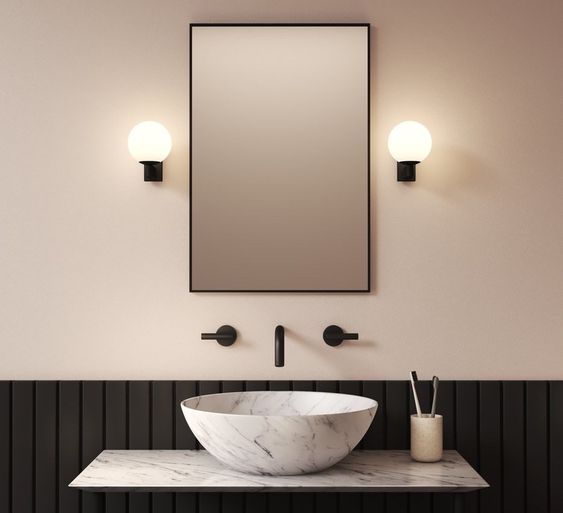 12. Combine modern with rustic
Combine these styles to create a unique look. Find an old wooden table and transform it into a vanity.
Whether you choose round or square, a nice mirror can make all the difference!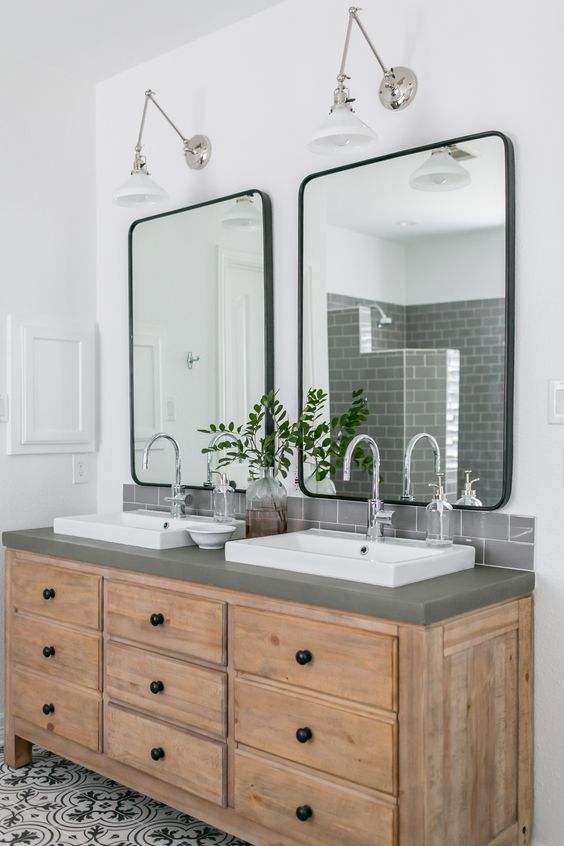 14. Eclectic vibe
Eclectic decor can reflect your personality like nothing else! Don't be afraid to combine styles, textures and colours!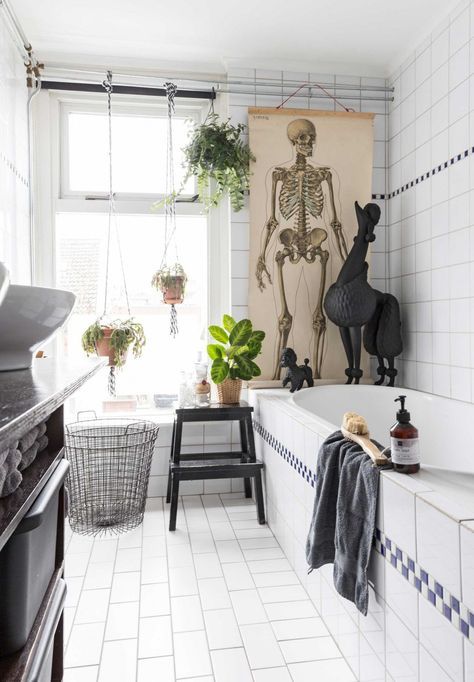 15. A hair and makeup area?
If you want to, why not?!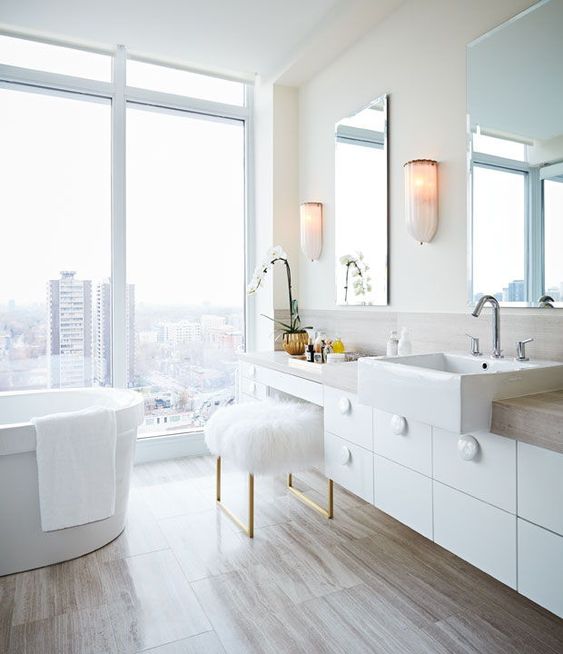 16. The importance of hardware
Choosing hardware is an important step: brass, bronze, brushed nickel, chrome, matte black and even white are available to you. Have fun with it!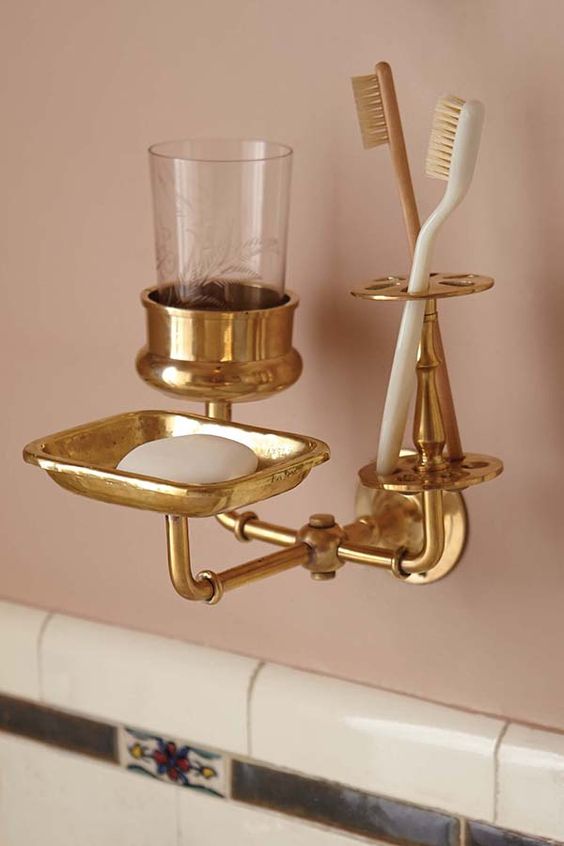 17. Wood
Although wood does not have a good reputation in the bathroom, give it a try!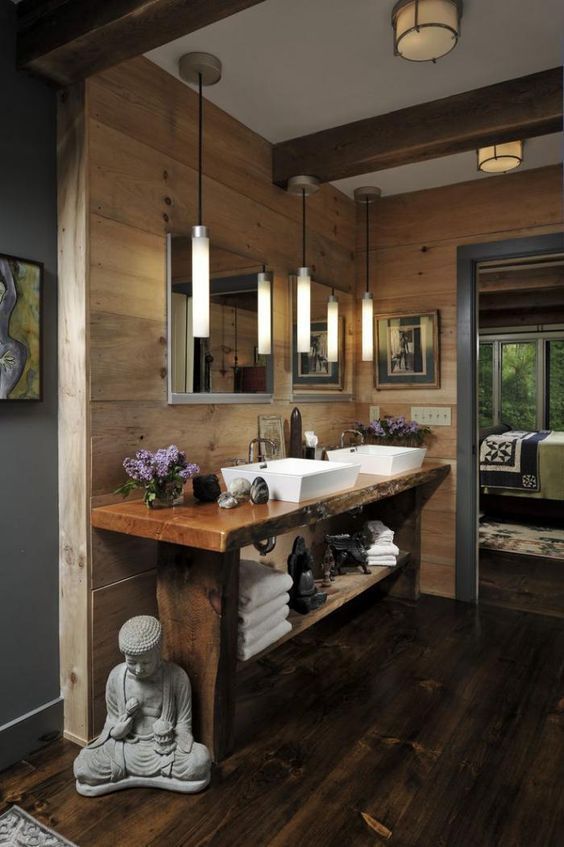 18. Visit specialty stores
Ask the in-store specialists for advice when you're renovating your bathroom.
19. Trust your instincts!
Only you know best what style you would like in your modern bathroom. Trust yourself and renovate!
---
Are you passionate about real estate? Subscribe to the Centris.ca newsletter now.
See also:
17 best low-maintenance indoor plants
Choosing an accent chair to suit your home
Inspirational Ideas for a Home Office