August 2, 2022
5 small patio ideas that will make you want to spend all day outside
If your outdoor space is limited to a small patio or balcony, you might struggle to figure out exactly how to decorate it to fit your tastes. That's why we have compiled our best small patio ideas to help give your little nook the style and utility it needs to keep you comfortable all summer long!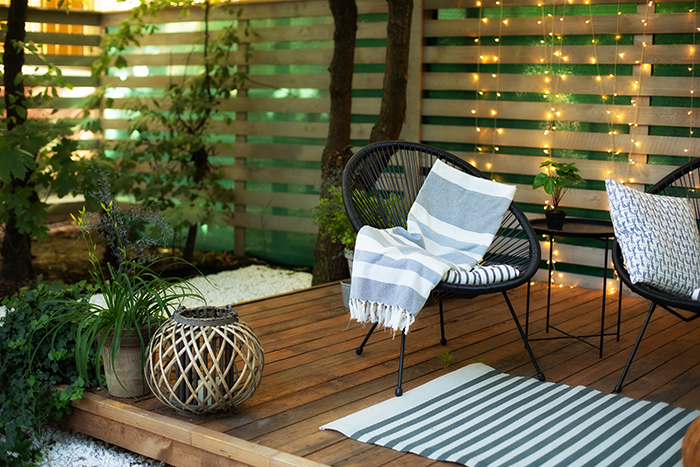 1.) Layered lighting
One of the best ways to add character and ambiance when space is limited is with lighting. Layered lighting solutions can be inexpensive and quickly transform a small patio from cramped to cozy. If space allows, consider an outdoor fire pit or fireplace. Otherwise, consider using a combination of candles, string lights, and lanterns interspersed between furniture and plants to create an elegant and intimate outdoor space.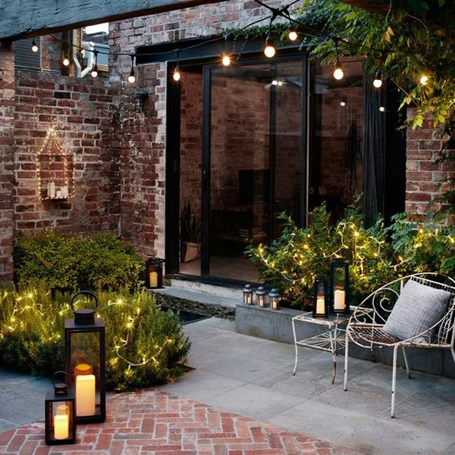 2.) Use unconventional furniture
With less space to work with on a small patio, furniture choices become all the more important. A bistro set is the classic choice, but a small backyard patio or balcony is also a great space to experiment with furniture ideas like multifunctional benches or collapsible tables and chairs. These items can even be constructed as DIY decorations, if you're handy, using recycled wood planks or unused materials that are left over from previous renovation projects. This is not only environmentally friendly but can save precious pennies when working on a budget. Other furniture items such as pillows made with outdoor fabrics or weather-proofed mirrors can add character, contrast and give the illusion of more space to your small patio.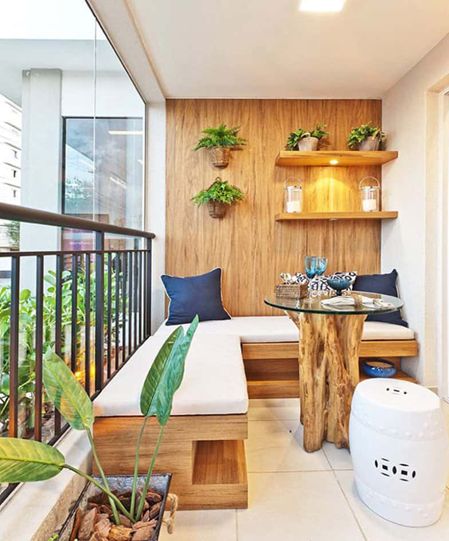 3.) Utilize vertical space
If floor space is limited, look up! Utilizing vertical space can open up many design possibilities for your small patio. A vertical garden could be just the right thing to provide greenery and tasty fruit or vegetables all summer long. Trellis with clematis or virginia creeper can provide seasonal colour (but watch for the bugs!). Consider using hanging baskets, bamboo, trellis or building a plant wall. If the area is not ideal for growing plants, consider an umbrella or pergola to take shelter from the heat of the sun. Familiarize yourself with what plants are best for a small space and choose the types with the most reasonable amount of care for your lifestyle.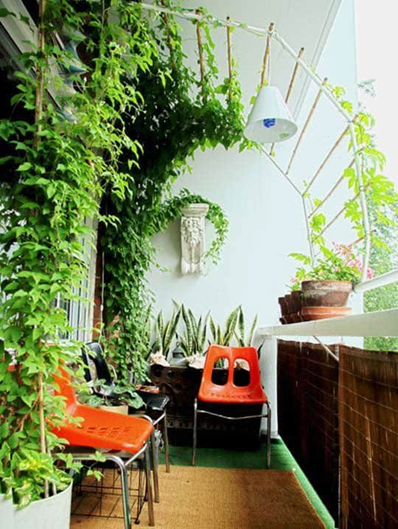 4.) Create a focal point

One of the best small patio ideas on a budget is to create a focal point for your outdoor space. This can be anything from a table, seating arrangement, fireplace, barbeque, sculpture or water feature. Choose something you love that aligns with your budget, then design around that central item. Pay attention to colour, texture, and scale and try to include as many complementary styles as possible.

5.) Choose a new rug or flooring
In a small space, every square foot counts. That's why it is important not to overlook the choice of flooring you choose to use on your small backyard patio or balcony. Changing it or adding a new rug can really add new life into a space. Pavers, tile, or wood can add a revived sense of style and personality to the space for little cost.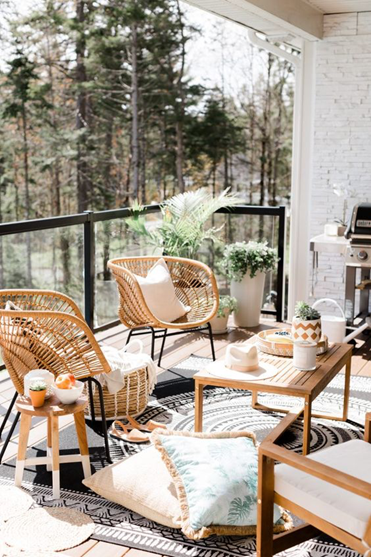 ---
Are you passionate about real estate? Subscribe to the Centris.ca newsletter now.
See also:
6 fresh decor ideas for the garden