February 13, 2017
5 Tips for Decorating a Kid's Bedroom
Are you thinking of decorating or redecorating your child's bedroom to give them a space of their own that they'll love? Here are five tips to help get you started.
1. Consider your child's age
It all starts with your child's age and gender. Are you designing a room for a three-year-old or an eight-year-old? A boy or a girl? Evaluate the size of the room and determine if you can easily create separate areas or zones in the room, or perhaps add a chair, a bookcase or a vanity.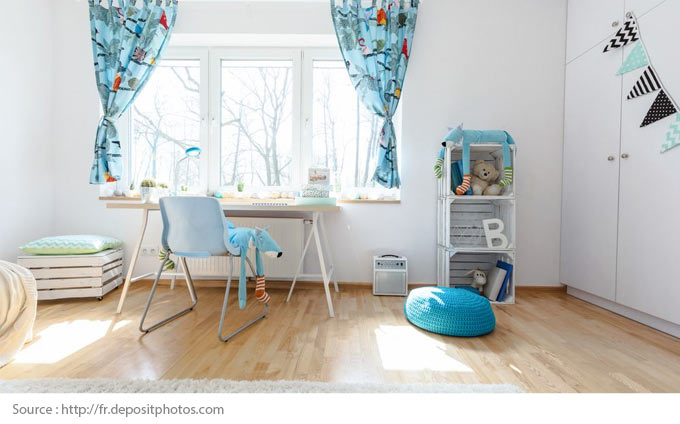 2. Creating zones
Your child sleeps, plays, works and relaxes in their bedroom. The ideal is therefore to create distinct zones for these activities. Use a piece of furniture, a partition or even a carpet to separate the different areas of the room. Different sources of light can also help separate a room into zones.
3. Storage solutions
Decorate your child's bedroom with a chest of drawers or an armoire. Use a bookcase and shelves to store school notebooks, collections and other valuable items. Consider getting a trunk for stuffed animals, toys or other gifts. For a girl, you can also get a vanity; they're trendy and very practical for storing brushes, combs, elastics, barrettes and makeup.
4. Setting the mood
The idea is to light each area individually. Choose a bedside lamp for near the bed, a lamp with a movable lampshade for the desk, and why not use another lamp for the play and relaxation area. In any case, allow daylight to also stream through the window during the day. To darken the room, choose blinds that can be adjusted according to your needs.
5. Have fun with colours
It's best to use soft colours on the walls, such as a blue, green, soft pink or even pearl gray. Use bold colours for the little touches, such as a door, a window frame or other accessories. Don't overload the room with decorations; the messy look is sure to occur naturally… And finally, hang some picture frames or posters, or have fun with wall stickers. For the floor, choose a soft rug and on the bed, toss on a variety of different cushions.
To create a room that reflects your child's personality and tastes, invest in the decor and let them express themselves!
Read more:
Is Your Home Safe for Your Children?
Choosing the right colour for your walls