June 11, 2018
5 Ways to Transform Your Ceiling
From dramatic colours to patterned tiles and wallpaper, ceilings have become the focus of many designers in recent years. Long gone are the popcorn ceilings of the past. In their place, we are seeing everything from embossed tin tiles to ceiling medallions. If you want inspiration for upgrading your home's ceilings, check out these innovative ideas.
Painted ceiling
Adding paint to your ceiling is an excellent way to enhance its appearance. Opt for solid stripes for a classic look or double-down on a pattern that is already present in your decor. The key with a painted ceiling is to make sure that your colour or pattern is timeless.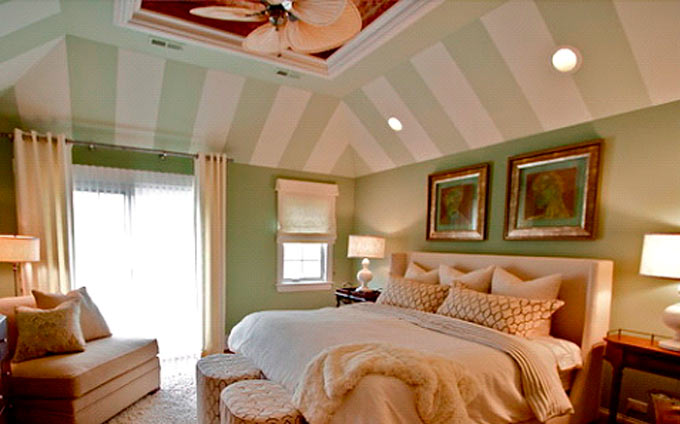 Source: https://www.houzz.com
Sculptural ceiling
Another way to liven up your ceiling is with sculptural elements. Add an embossed pattern over your entire ceiling or just around the light fixture. Paint the sculptural elements to match your existing ceiling or opt for a contrasting colour for some extra pizzazz.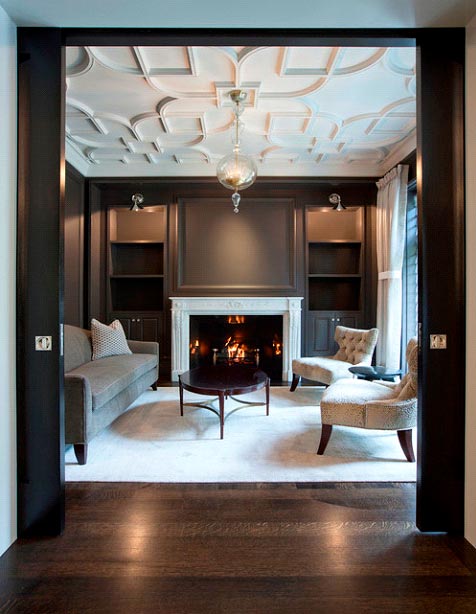 Source: https://www.houzz.com
Mimic patterns
For a real show-stopping ceiling, consider mimicking the pattern of your light fixture throughout your ceiling. Circles, stars or whatever piques your interest can make for a dramatic ceiling upgrade.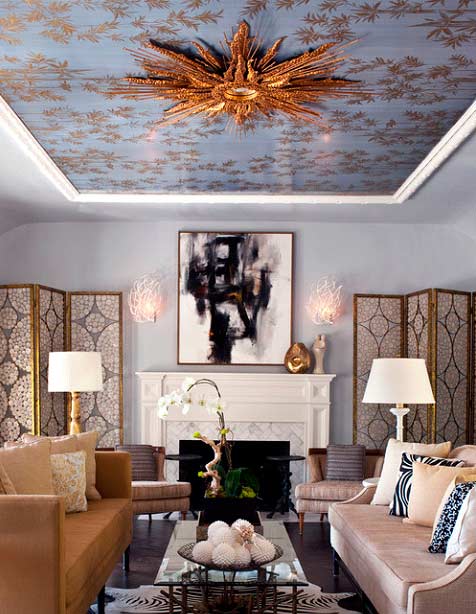 Source: https://www.houzz.com
Black is back
Although it takes a bold personality to commit to this dramatic design, black (or dark) ceilings are a fabulous option to try. Make sure there is plenty of light in the room to offset the dark ceiling and add some matching darker toned accessories.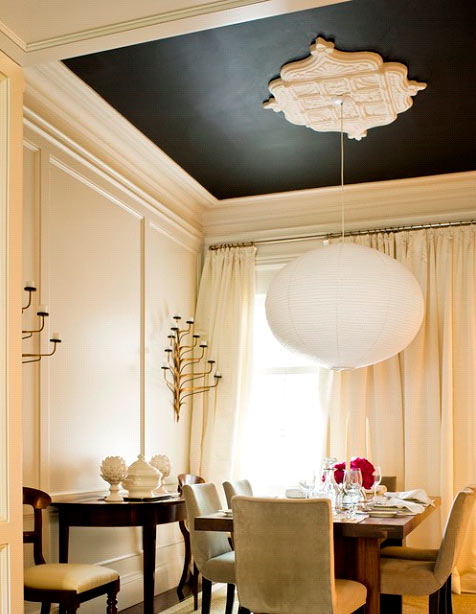 Source: https://www.houzz.com
Embossed tin ceilings
If you want to combine three popular decorating trends, add large-size metal tiles to your ceiling. This combines the large tile, metal and upgraded ceiling trends for a look that is sure to impress.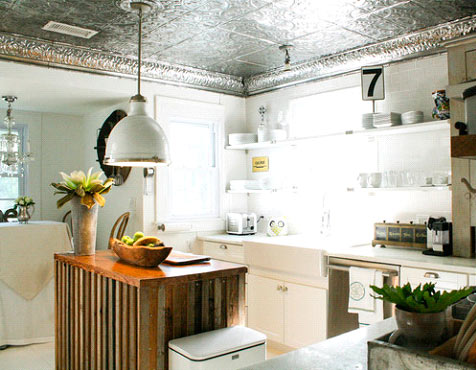 Source: https://www.houzz.com
Changing the look of your ceiling is a terrific way to give a room a lift without knocking down walls or completely redoing an entire room. Something as simple as a pop of colour on a ceiling can breathe new life into your space. Why not upgrade the ceilings in your home this year?
See also:
Interior Design Trends for 2018
Changing Your Space: 5 Magical Tips!