February 22, 2019
6 Creative Ideas for Organizing Toys in a Small Bedroom
Children need to easily see what toys they have and they must be able to easily return them to their proper place. Using vacant wall space and corner areas for storage containers can provide an efficient way to arrange toys and display them in an attractive manner.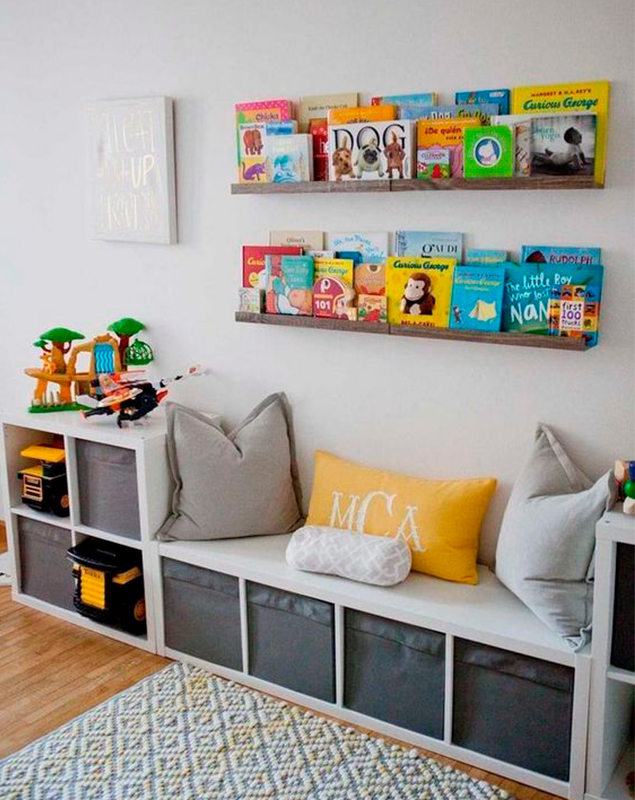 Source: https://www.pinterest.fr/pin/299207968992017750/
1. Ledged shelves
Attach various lengths and widths of ledge shelves to the wall. Put some at the child's level and some higher up. Children love to line up their small cars, dolls and other small toys on these shelves. With ledge shelves, these items will stay in place. The shelves higher up can be used to display toys that are not played with very often.
2. Front facing bookshelf in a corner
Books displayed in a library type bookshelf work well. Children can easily flip through their books that are facing the front. Books that are shelved side by side vertically are difficult for a child to retrieve and replace. Place a cozy rug or pillow to create a reading area.
3. A bench to sit on with storage bins underneath
Purchase a long, narrow vertical shelf. Place it on its side on the floor and attach a colourful padded cushion on top. Then put storage containers in between the shelf compartments for small toys.
4. Avoid using a toy box
They usually end up holding a jumble of toys, clothing and... cracker crumbs. Instead, use the available wall space to attach cubby-hole type containers. Then insert smaller containers inside with large labels that identify, either in text or large picture, what goes inside.
5. Rotate some of your children's toys
Make it a routine to let your child choose some toys that they are tired of playing with or don't play with often. Put them in a container and store it someplace other than their bedroom. Bring them out again in a couple of months and your child will be delighted to play with the toys they might have forgotten about.
6. Other items can be attached to walls or doors
Sturdy hooks are great for storing purses, jewelry or bags of items. Small toys and accessories can be attached to pegboards. A whiteboard with pens and erasers is great for creative play.
Children need a place to play with their toys in a creative way. It's therefore important that you make the most of your available space, including walls, doors and corners. Having toys visible, labeling containers, and making them easily accessible will eventually teach kids to participate in keeping their room neater too.
See also:
Mixing Neutral Colours in Home Decor
5 Dramatic Front Door Trends
Choosing Tiles for the Bathroom Wall