August 17, 2021
7 tips for a successful study space at home
The pandemic has highlighted the challenges of studying or doing homework at home. Creating a space where it is easy to concentrate and get work done is essential for getting the desired grades.

Whether you want to create a quiet space for a student in elementary school, high school, or for your own CEGEP or university work, the aspects to consider are basically the same.
Here are seven things to think about when creating a pleasant and productive study space.
The room
When you have several children, the bedroom is often the best place as it is easy to find some peace by closing the door. If the room is too small or if your children share a room, choose a quiet area away from distractions and passageways.
If your child is young, you will need somewhere not too far away as you'll probably be back and forth helping out. (Homework waits for no one!)
The office
If you have the space and resources, opt for an office dedicated to studying and schoolwork. It will be easier to open those books if the office is not cluttered with toys. You can also focus much better when sitting at a study table or desk.
Lighting
If you have a limited budget, make sure it goes on lighting. Proper lighting facilitates work and reading while reducing eye strain. Good lighting also boosts morale! Have you ever tried working in a dark or poorly lit area?
Pay attention to exterior light: you'll want to avoid sunlight in the eyes and glare on the computer screen.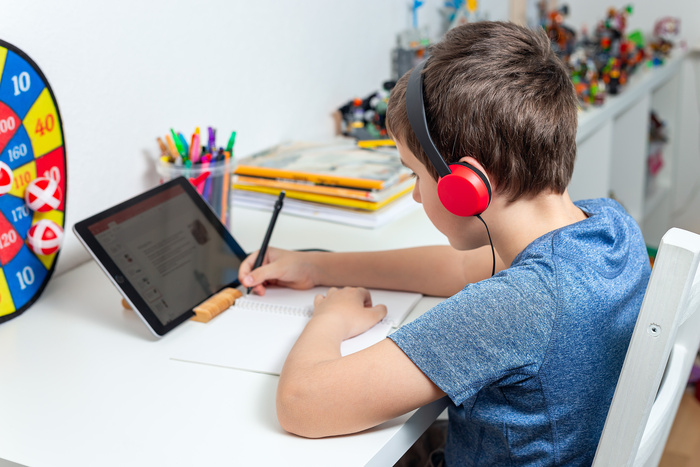 The chair
Sitting on an uncomfortable chair affects concentration. While your young child may not experience muscle pain due to poor posture, those of us who are older certainly will.
Storage
For most people, a tidy space encourages work and improves concentration. Help your child by creating an effective storage space for their books and stationery. If you don't have a filing cabinet, a shelf, wall-mounted shelving or bins will do fine.
A dedicated study space
If you have the space, create a proper study area. If the office is also used for crafts, video games or Lego, the risk of distractions will be too great.
Don't have room for a study area dedicated solely to homework? Make sure you have enough storage space. Use your imagination by changing the decor to transform the play area into a study area. For example, install a school-style board on the wall in front of your child when it's homework time. Or invent a ritual that gets the mind ready to work, like when you go to work yourself. (Perhaps putting on a necktie or exiting the house and coming back in to start work?)
Decor
Just because you're studying doesn't mean the office has to be drab! Decorate the office with your child to make their study area fun and motivating. Incorporate everything your child needs (pencils, rulers, etc.) into the decor to avoid distractions.
And if the home office is for you, do the same!
---
Are you passionate about real estate? Subscribe to the Centris.ca newsletter now.
See also:
Ideas for Setting Up a Home Office
7 Tips for Setting Up a Home Office Nook