February 19, 2019
7 Tips for Staging a Bedroom
If you're serious about selling your home, you should carefully stage every room that potential buyers will visit. So, however disruptive it may be to your daily routine, it's important to stage the bedrooms.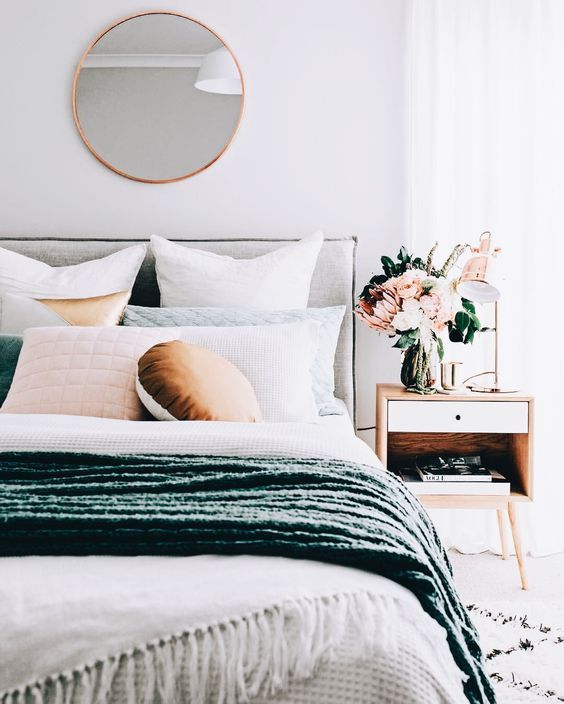 Source: https://www.pinterest.fr/pin/48202658497571290/
Here are seven tips for effectively staging a bedroom.
1. Remove all but the essential furniture. Keep the bed, bedside tables and a dresser. Unless it's a huge bedroom that accommodates a sitting area (table and chairs), any other furniture should be removed. Take away any entertainment devices and utilitarian items – the television, computer, desk and exercise bicycle are not needed.
2. If necessary, paint the walls. If the wall colour is dark or bright, or if the paint job is deteriorating, you must repaint the room. Neutral colours like beige or grey are best.
3. Make the bed pretty. The bed is the centerpiece of the room, so focus on creating the perfect look. Choose high quality, pastel linens and a patterned duvet. Add a stylish bedskirt to complete the picture. The colours of the bedding should complement the wall colour.
4. Clear and clean the windows. The windows should be accessible to foot traffic and should be free of coverings when the house is being shown. So raise the blinds and open the curtains. In addition, ensure that the windows are cleaned – inside and out.
5. Install a mirror. A full-length mirror does wonders for any bedroom. It enhances the natural light and creates the impression of spaciousness. If possible, position the mirror on the other side of the room from a window.
6. Remove all your personal decorations and knick-knacks. Any photos and other personal items on walls or surfaces should be removed. Likewise, any framed art works that reflect your unique taste should be taken down. In their place, hang one or two unobjectionable pieces – such as the art work found in corporate offices – that match your colour scheme.
7. Install flowers. Fresh cut flowers in a pretty vase are always a nice touch. Place the vase on the dresser or a bedside table. After all this work is done, anyone viewing your bedroom will discover a space that is warm and inviting, but uncluttered. It will appear roomy and full of light. While staging your bedroom may involve considerable time and expense, it will impress potential buyers. They will admire your taste and imagine the possibilities of this important room.
See also:
Mixing Neutral Colours in Home Decor
Choosing Tiles for the Bathroom Wall