May 12, 2022
Above-ground pool: DIY installation
The vote was unanimous! The family wants an above-ground pool in the yard. You've settled on a model and size, and purchased your pool. Time to set it up! The easiest route is to have a specialist install your above-ground pool, a service often offered at point of purchase. Prefer to install the pool yourself? Here's what you need to know.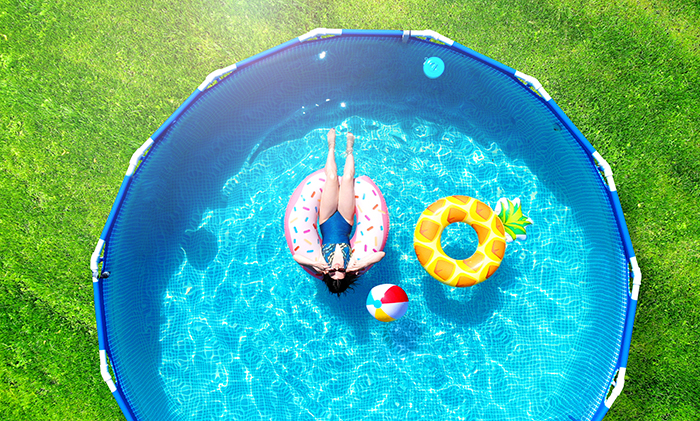 Before you start
First things first: where do you want to install your above-ground pool? Take special note of the following:
Pool measurements: leave enough space around the pool walls to be able to move freely. Children will want to run around it, and you will need 360° access to clean it properly.

Thinking of adding a deck to your above-ground pool? Consider overall measurements and access points.

Safety first: always be mindful of

drowning prevention

.

Regulations

: there are rules to follow in terms of how and where to install a pool. Be sure to comply with all municipal and provincial

safety regulations

. For example,

Montreal

requires a minimum distance between

the fence

and the pool.

Power supply: the pump and water heater require electricity, as do the

pool lights

.
Choose a sunny location, preferably away from leafy trees. Autumn leaves can make clean-up difficult.

Preparation

It's crucial to level the ground before installing an above-ground pool. The ground must be cleared of all stumps and roots.

Identify the location of the pool's exact centre and mark it by planting a stake. Outline the pool's circumference on the ground, perhaps with the help of a rope or tape measure.

Remove grass with a sod cutter, if needed. Use the appropriate equipment to level the soil. If required, form a slight central slope.

Install the central drain pipes, if applicable.
Add sand and tamp it down until the ground is level. Loose soil must be sufficiently packed down to protect the pool from water pressure damage.

Check out this video demonstrating this and subsequent steps for installing round above-ground pools.

Assembly

Read all instructions before you begin. The first step usually involves positioning the rail that holds the pool walls. Installation procedures vary, so be sure to refer to your pool's specific instructions.
Handle the liner with caution to avoid tearing it. Smooth out any wrinkles or creases on the bottom. A smooth liner helps prevent both stumbles and embedded dirt.

The final step before filling the pool with water is to connect the hoses and pump. Some municipalities prohibit filling swimming pools with tap water. A tanker truck can do the job in this case.

What next?
Take care of your pool year-round and be sure to follow winter preparation instructions. Enjoy!
---
Are you passionate about real estate? Subscribe to the Centris.ca newsletter now.
See also:
New swimming pool regulations: What you need to know
Rebuilding your wooden deck in five steps
How to close your pool for winter