June 10, 2021
All about paint
Looking to freshen up your home decor? Nothing perks up a home better than a fresh coat of paint on walls and ceilings. To choose the paint that's right for you, it's best to know the characteristics of the various options available.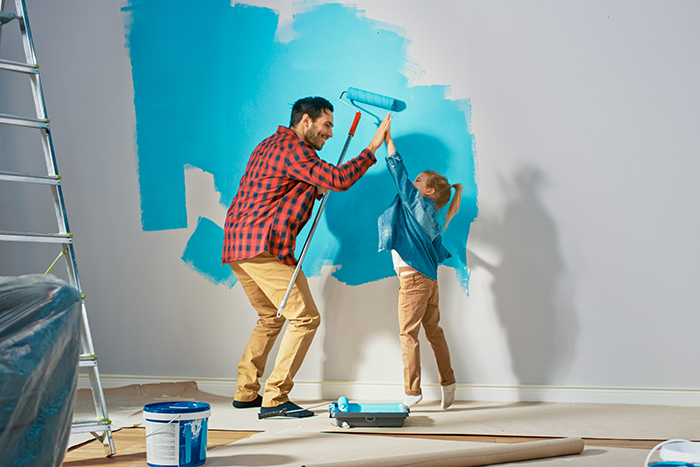 What types of paint are there?
There are three main types of paint on the market that are suitable for interiors, i.e. acrylic, oil-based and organic paints.
Acrylic paints have become increasingly popular with professionals and homeowners, due to some major advantages:
They are water-based, soluble and fast drying

They contain very few solvents

They are almost completely odourless

They can be applied to a range of surfaces

They are affordable and easy to clean
Nowadays, oil-based paints use alkyd resin instead of traditional linseed oil. They resist moisture and cleaning with mild household products. Quality oil-based paints contain stable colour pigments that provide optimal results. However, they have a strong smell, contain solvents and take longer to dry than acrylic paints.
Organic paints are the most eco-friendly choice, of course. They contain only naturally-sourced pigments and oils, and never contain lead. Volatile organic compounds in their formula must not exceed 5 g/L. These paints can be diluted with water and provide similar coverage to that of conventional paints. Like other types of paints, they are available in a wide range of colours.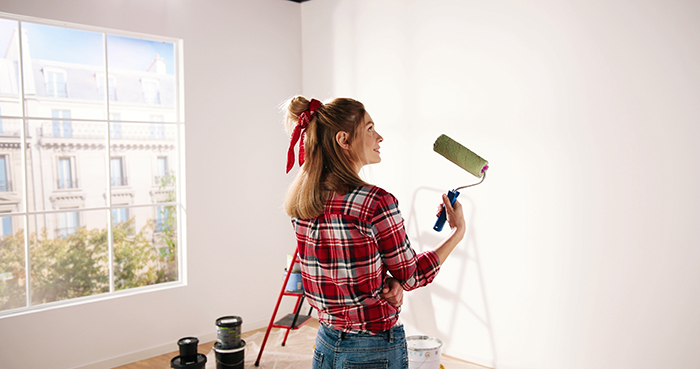 Which finish do you prefer?
Paints usually come in three finishes: matte, satin and glossy. Let's look at the characteristics of each:
Matte paints have a soft, smooth appearance. They also make it easier to hide imperfections in walls. They're ideal for non-fragile wall surfaces in family rooms, bedrooms and living rooms, but they get dirty more easily and don't hide fingerprints, so they need to be cleaned more often.
Satin paints are especially suitable for hallways, entrances and living rooms. They help brighten the space and create a warm effect. They are easy to clean, and can even be used on wood, doors and window frames.
Glossy paints are perfect for making rooms feel larger than they are, since they reflect light. They stay clean longer, repel water, are more resistant than matte and satin finishes, and are highly recommended for bathrooms, powder rooms and kitchens.
These paints should be stored in tightly sealed containers, away from direct light, heat and cold.
Be sure to choose colours that match your interior style and tastes. If in doubt, seek expert advice. Stores that sell indoor paints often offer this service free of charge.
See also:
Creating a Welcoming Vestibule
How to make your rooms brighter