January 21, 2022
Best decor ideas for a stunning bedroom
A space for rest and privacy, your bedroom deserves all the time and effort necessary to carefully select each element of its decor. Here are some great ideas for making this room an oasis of harmony, comfort and relaxation.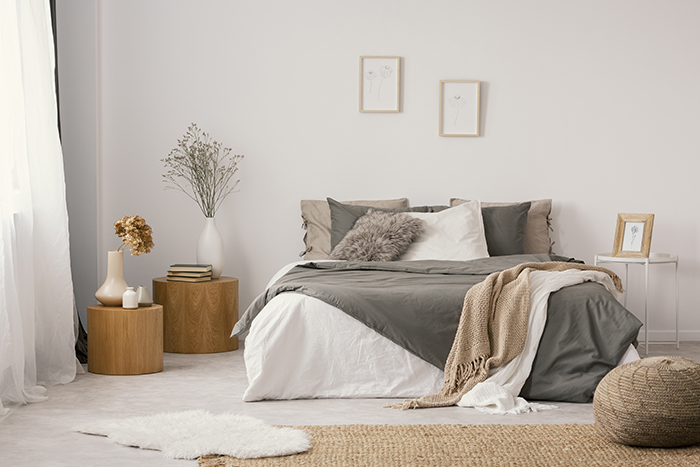 Centre stage: your bed frame
Whatever decor style you prefer, investing in a top-quality, very comfortable bed and pillows is essential. To make your bed feel like it's in a royal suite, add a high headboard. A wood, studded or upholstered headboard will give the room a chic and elegant quality. If you love Scandinavian or contemporary decor, opt for a headboard that is linen-covered, raw wood or painted white. In recent years, headboards have often been integrated into the bed base. Woven wicker (rattan) is perfect for a bohemian or rustic bedroom decor; if you want to create an atmosphere with a tropical, Zen, nautical or upcycled theme, wood remains the best option. You can also hang an oversized painting above the bed to create a more contemporary feel or create a brick or stone wall.
Furniture to fit the room
In a small room, it's essential to optimize the available space by using all the storage possibilities.Some bed base models have built-in drawers under the unit to provide more discreet storage, making them ideal for storing bedding and blankets and reducing clutter. Minimalist furniture will allow you to move around the room more freely. On the other hand, if you're lucky enough to have a large bedroom space, you can add larger pieces of furniture, such as a wardrobe, a chest at the foot of the bed, and even a desk.
For a cozier vibe, place a unique armchair in one corner of the room. You can use it to read or meditate, or simply to lay out your clothes for the next day. Whether it's made from leather; solid, patterned or textured fabric; has a vintage look or sports a bold flashy colour, this piece of furniture has to reflect your taste and personality. If space permits, pair your armchair with a footstool or small bench to maximize style and comfort. You can also place a natural fibre knit throw on one of the chair's armrests for a comfy effect.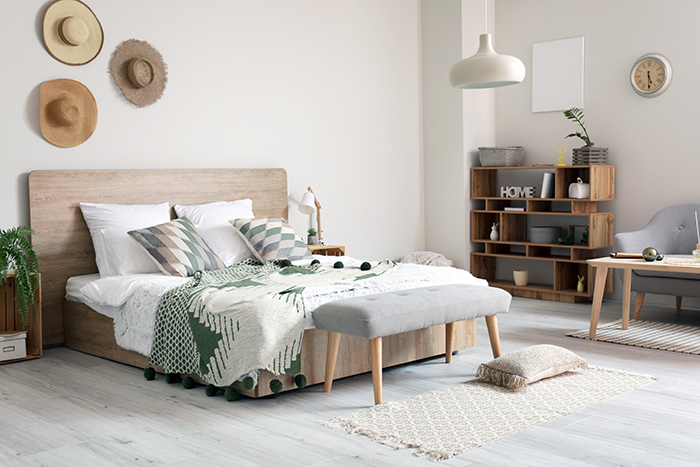 Play with light
Light is an integral element of your decor. To create different atmospheres, install bedside lamps for reading and one or more sources of dimmed light for a more intimate, muted effect. You can use dimmers to adjust the light intensity according to the time of day.
Experiment with wall colours
To complement minimalist and refined decor, opt for shades of white (eggshell, ivory, off-white, etc.), light grey, light blue-grey or light mint green. For a more vibrant effect, consider painting the walls in varying shades of the same colour (3 shades in your choice of colour).
Personal touches
There's nothing better than placing a few self-designed decorative objects in a room. Hop on the DIY train! It could be a painting, photos you took, a cozy cover or handmade cushions. A macramé hanging in front of a window, as a decorative element or to hold a plant, has become trendy again. Just don't overdo it!
---
Are you passionate about real estate? Subscribe to the Centris.ca newsletter now.
See also:
How to choose a living room rug
Tips for decorating a child's room