July 1, 2020
Best Lighting for a Kitchen
The kitchen is certainly one of the most important rooms in a home. This is where we prepare meals, eat and gather, so good lighting is essential.
For a kitchen to be warm, inviting and functional, it's important to minimize shadows by having too many light sources. Here's some information to guide you in your choice of lighting.
Remember to match the style of lighting fixtures with the furniture for a harmonious decor, and to favour materials that are easy to clean.
Types of lighting and fixtures
There are three main types of lighting, for which certain fixtures are more suitable.
General
This is the main source of light, which should project throughout the room. For this, a ceiling light, a pendant light or a chandelier is ideal as they diffuse their brightness evenly, while being very versatile. Recessed fixtures are more minimalist and often require insulating wool. Finally, rail-mounted or suspended spotlights can be directed wherever you want, which is very practical.
Use a dimmer switch to adjust the intensity of the light at different times of the day.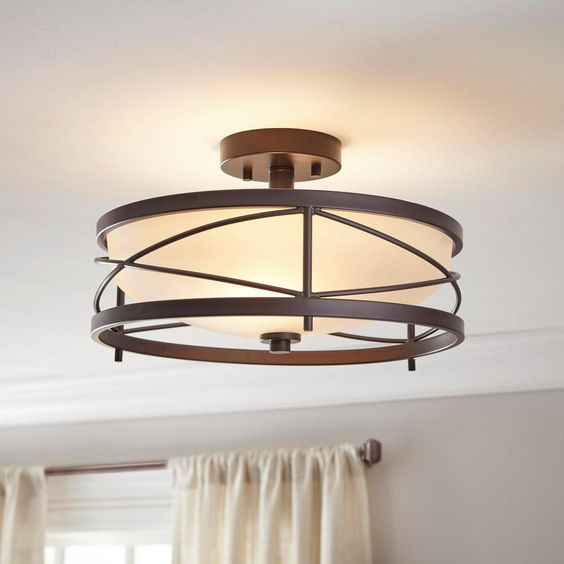 Source : https://www.pinterest.ca/pin/264305071868890199/
Task lights
This is a localized light, focused on a specific point. It ensures brighter light for specific areas, such as the kitchen island, the sink or the counter top.
Hanging lights are popular because they adapt to all decor styles. It's best to place them 30 to 36 inches above the island so that they don't interfere with visibility. Choose a width that is less than a quarter of the counter and a length that is shorter than half the counter.
Linear displays provide good light distribution. As for LED puck lights and string lights, they are decorative and useful in cabinets.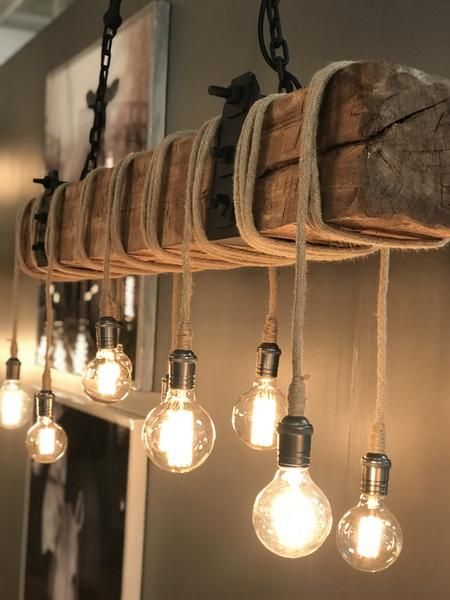 Source : https://www.pinterest.ca/pin/478366791672631206/
Accent lights
These are used to enhance decorative elements, such as a porcelain collection, often with wall lights. You can also install string lighting under the furniture to project beams of light onto floors with a glossy finish.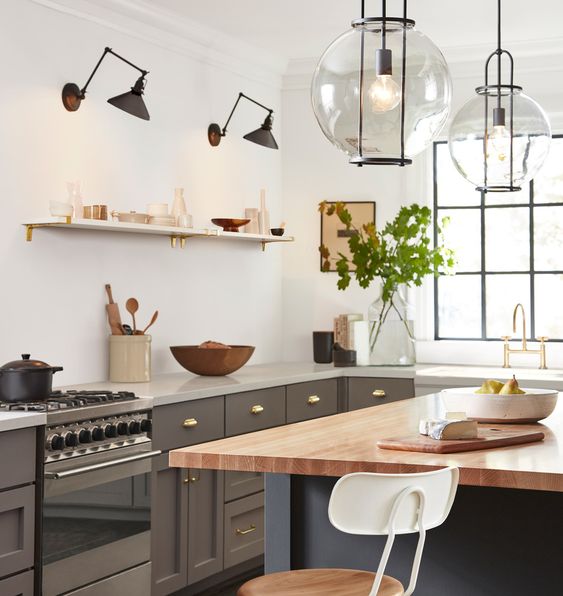 Source : https://www.pinterest.ca/pin/534098837061143747/
Types of light bulbs
Several types of bulbs exist, with various shapes, glows and sizes. The following terminology may help you find your way around. The kelvin provides information about the colour of a lit bulb, from yellow (warm) to blue (cold). The lumen measures its intensity, from weak to bright. The watt indicates the amount of electricity consumed. Energy efficiency is therefore measured by the number of lumens per watt.
It is recommended to use CFL and LED bulbs, which are efficient and environmentally friendly, rather than incandescent bulbs, which are less energy efficient. Ambient lighting should be strong enough, but not dazzling, between 1,000 and 1,600 lumens.
Also prioritize bulbs with a colour rendering index (CRI) of close to 100 to avoid tiring your eyes. The CRI measures, from 0 to 100, the way light reflects colour.
Finally, don't hesitate to buy smart bulbs, which turn on and off when you want, or small automatic drawer lights.
In summary, the importance of brightness should not be underestimated in a kitchen, since we spend so much time there. Combine different light sources and choose the bulbs that are right for you.
See also:
5 Mistakes to Avoid When Renovating Your Kitchen
Turn a Regular Home Into a Smart Home
Tips for Reducing Your Energy Consumption