August 14, 2017
Cement Tiles: It's Easy to Fall for Their Charm!
Cement tiles are extremely popular in the interior design world. They can be used in any room of the house, from floor to ceiling, if you are looking to create a retro style, delineate space, create illusions or add a touch of originality. They are easy to install, they can be painted and they are maintained in the same way as standard tiles. Here are some ideas to inspire you.
Mediterranean style
In this example, the homeowners chose tiles with a Berber motif to give the room character and a sense of warmth. They used light brown tones to maintain a neutral colour.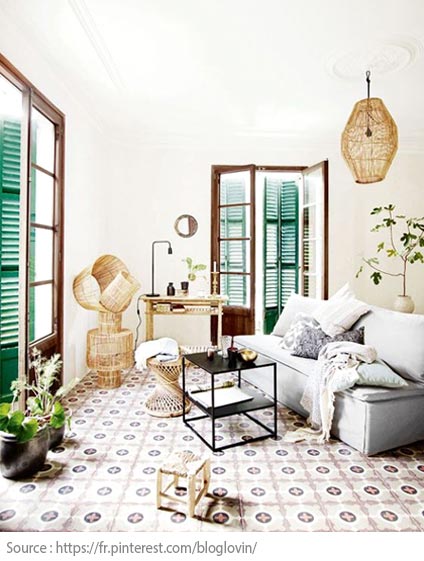 An original idea
Are you planning to change your flooring? As we can see in this home, cement tiles coexist perfectly with all styles, including an industrial look. Use graphic shapes to add a beautiful accent to the room, and don't be afraid to use a variety of different colours.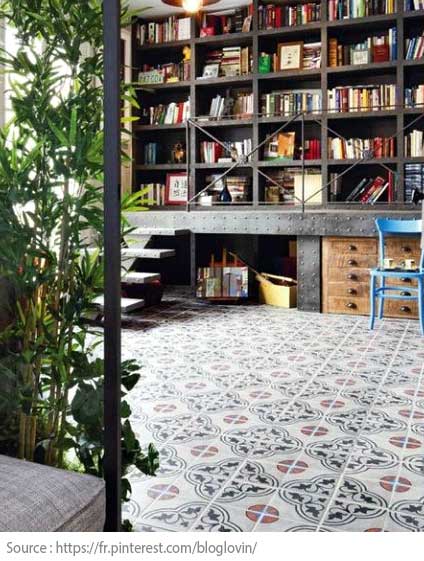 Trompe-l'œil effect
Why not welcome your guests with a floor mat effect? Here, the owners create an optical illusion with the impression of having used a real rug. This space combines cement tiles and wood for a classic yet modern entryway.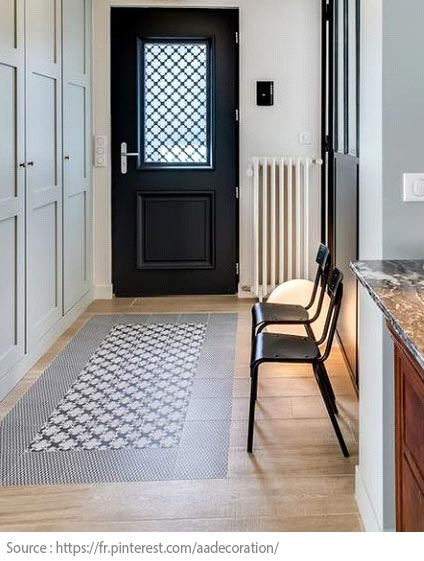 Fantastic fantasy
Are you looking for an idea that's both pretty and original? Here, cement tiles are used as the kitchen backsplash to both protect and decorate the room. The combination of colours and patterns is the perfect way to add a burst of brightness in this white kitchen.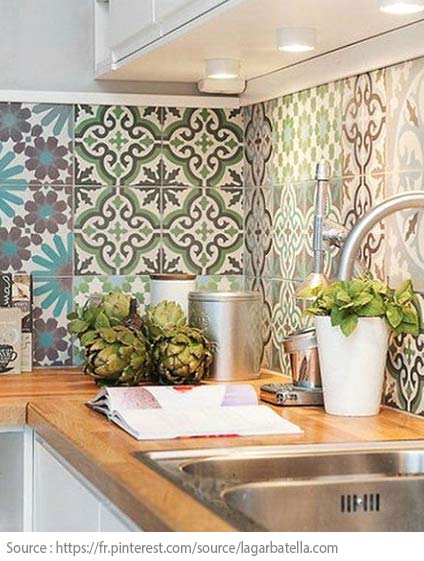 A touch of old-school charm
This bathroom marries modern touches and older elements. The tiles are laid across an entire wall, which showcases the bathtub and its geometric patterns. Placed in the foreground, the bathtub has a look that is both current and retro at the same time.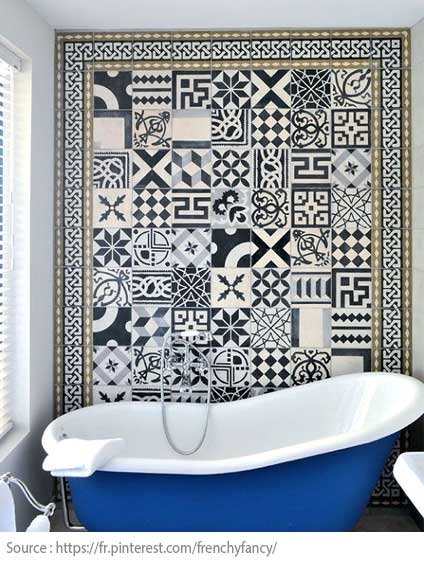 Step up in colour
This staircase sets the tone in bright, summery colours! The cement tiles are warm and inviting as they brighten the passageway and add a touch of originality. In shades of green and red, the multiple patterns of these risers tie in nicely with the yellow ochre wall.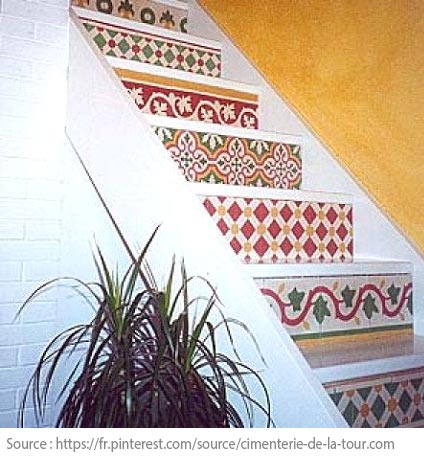 A piece of art
In this bathroom, cement tiles are assembled as a decorative panel on the wall. Placed near the bathtub, they provide a creative burst of colour. The way the tiles are arranged and their different patterns make this white bathroom pop.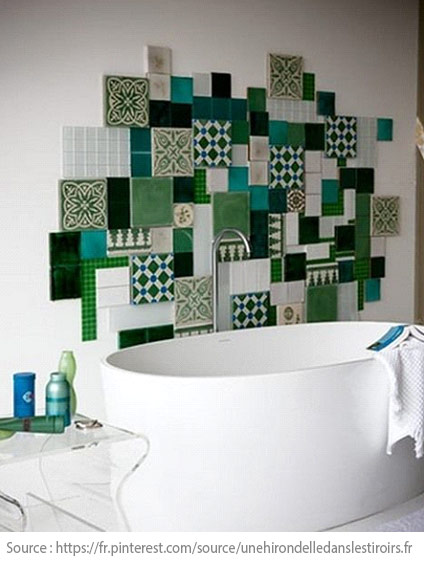 Sky blue
If you enjoy looking at blue skies and blue seas, this is the room for you! The cement tiles on the floor and wall create a warm and refreshing style. By placing them on the far wall, they become a decorative element in their own right, while the tiles on the floor give the appearance of a carpet. The end result is a beautiful, modern and elegant room.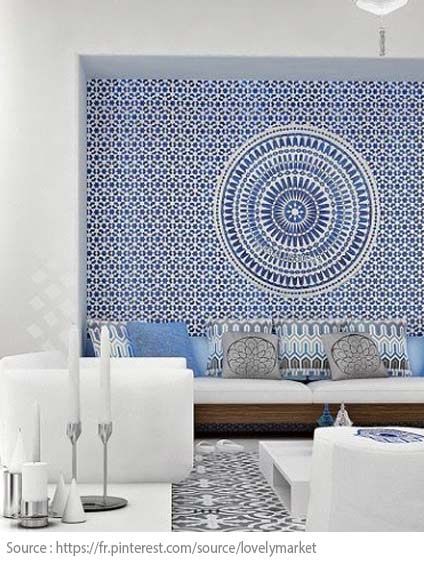 Around a fireplace
Here, cement tiles take their place under a wood stove to form a carpet. They also serve the purpose of delineating the space. Thus, the fireplace stands out and is protected in a retro but trendy style.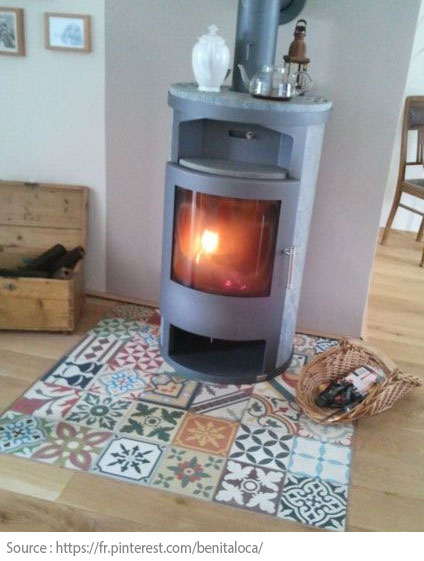 Interesting combinations
This striking dining room has been beautifully restored. The owners chose to install reddish-brown tiles that add energy to the space. The chairs and hanging lamps tie in to the colour scheme, giving the room character and an innovative style.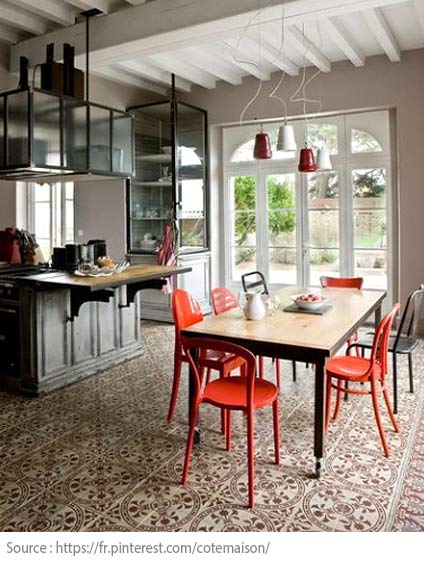 To create a home that is cheerful, colourful and creative, do not hesitate to install cement tiles. They are a great way to bring change to a room. Give it a try!
See also:
The Infinite Possibilities of Ceramic