August 1, 2016
Choosing a Double Vanity
Vanities are the focal point of the bathroom and, nowadays, there are many styles of double vanities to choose from.
Adding to a bathroom's comfort and esthetics, double vanities come in a variety of shapes, styles and materials. Here are a few examples.
An original and stylish double vanity for this bathroom. The natural materials – wood and terracotta – bring a feeling of warmth and serenity to the room. We love the round shape of the sinks, the counters and the mirrors. We also like the small and large plants that have been added.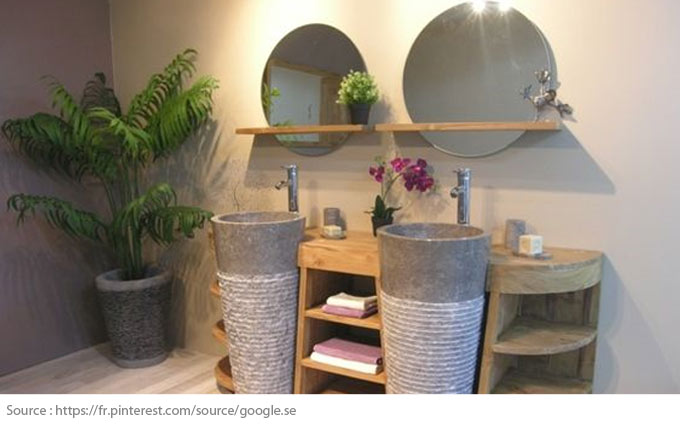 The rectangular shape of this double vanity gives the room a contemporary look. The backsplash is done completely in mirror, giving the illusion of a larger space. This vanity combines wood, glass and white for clean, smooth lines, and the faucets are a perfect fit.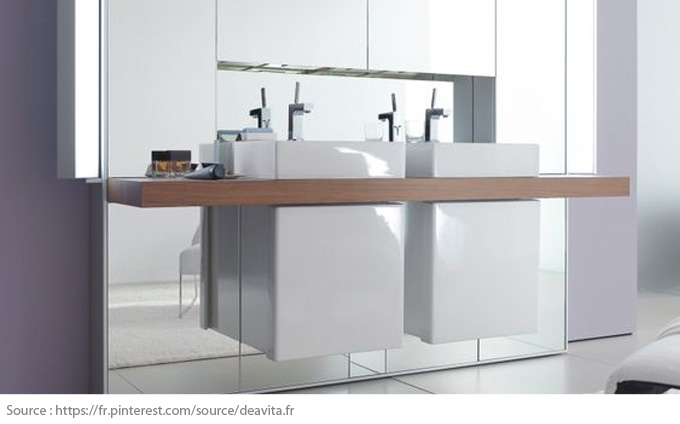 This double vanity in black granite is stylish and contemporary. We like the sleek, sloped sinks that allow for the smooth flow of water, as well as the brushed metal faucets. A great look that provides a sense of well-being.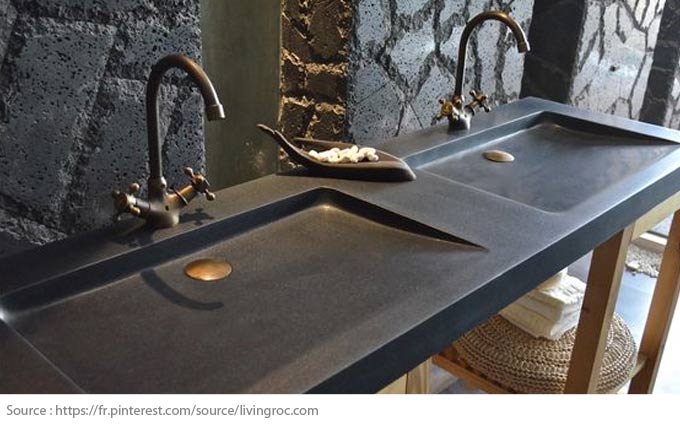 This bathroom vanity combines various shapes and shades of brown. The stainless steel parts are exposed, giving the unit a modern look. Its geometric lines are emphasized, creating a warm and inviting atmosphere.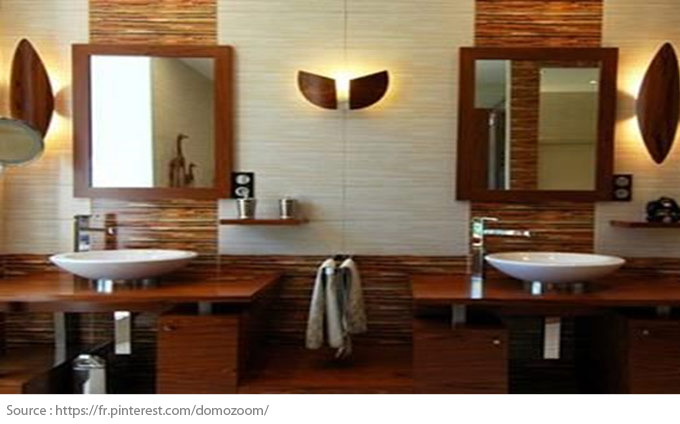 An elegant, zen-like vanity that has two sinks and a view of large pebbles under a glass surface. This model also has multiple storage compartments that add to the room's comfort and well-being. We particularly love the faucets and the large mirror.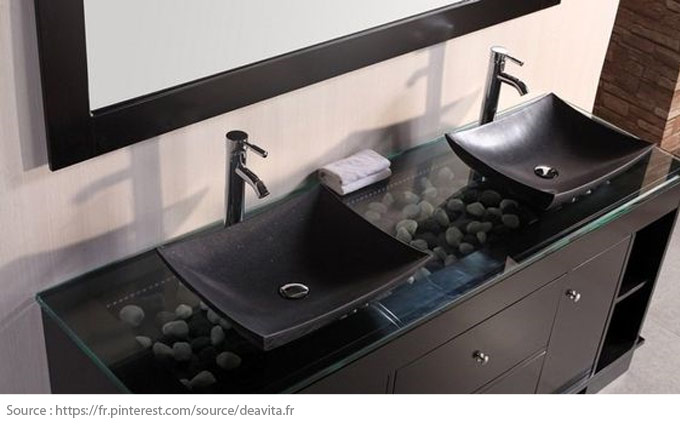 A large, one-piece vanity for this modern bathroom. The innovative sink allows for the smooth flow of water thanks to its sloped design. We love the green color that sets the tone for this vast room. A plus: the innovative storage space for towels.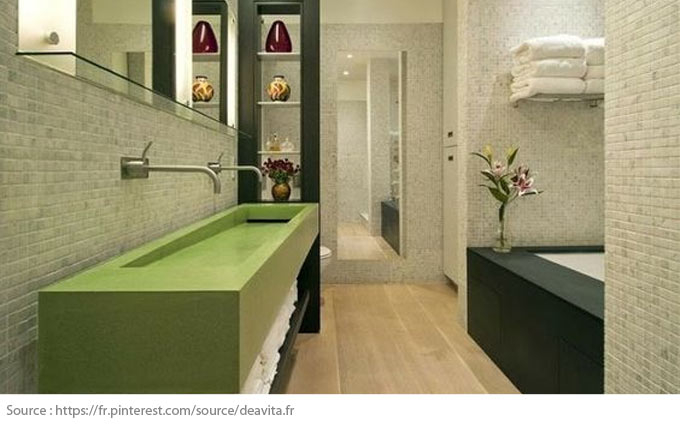 An industrial style for this bathroom with white sinks, a brick backsplash and a concrete floor. The sleek design highlights the room's originality and its materials.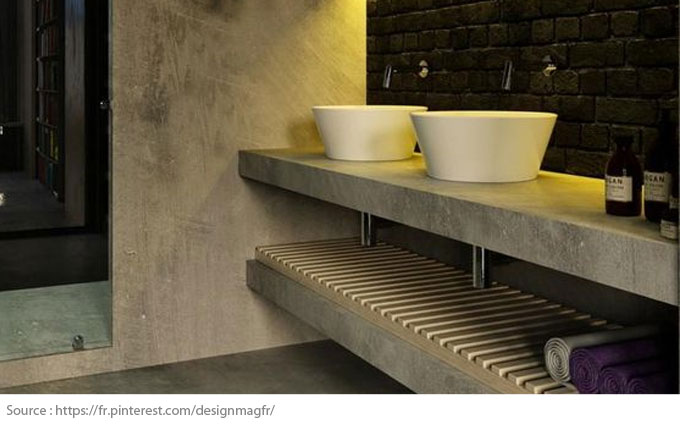 A basketball look for these two metal sinks. Decorated in black and white, this bathroom has a beautiful, clean style that is enhanced by the two floor-mounted faucets. We like the bold geometric shapes of the mirrors, light fixtures, carpet and towel holders.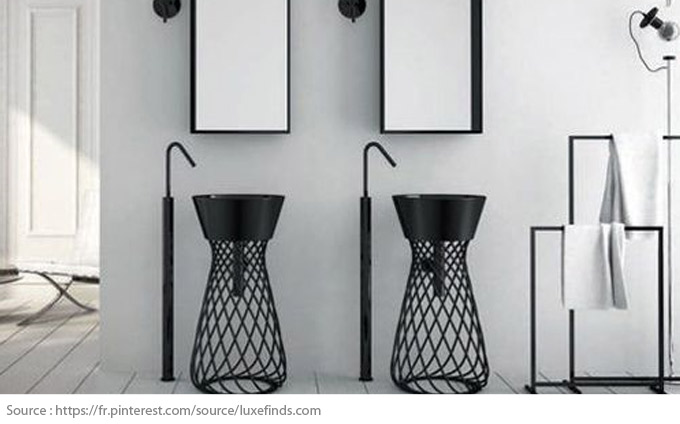 A very warm effect for this bathroom that is made primarily of wood. The double vanity is an inviting and original element, with valves that look like miniature steering wheels. A nice touch is the huge mirror that optimizes the space.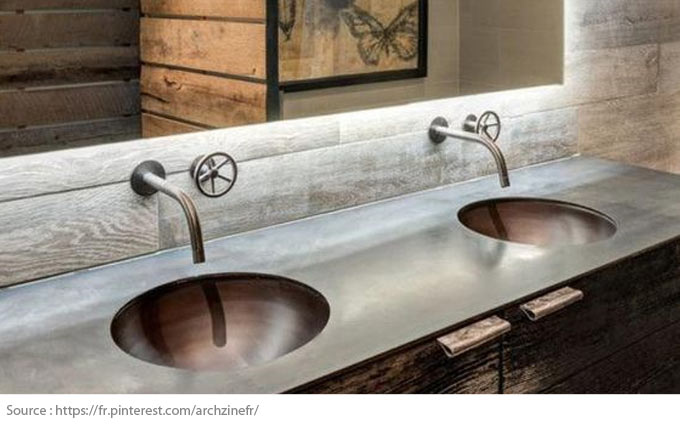 This contemporary bathroom uses a beautiful blend of materials. We love the authentic look of the vanity carved in stone. It's a simple, peaceful room that is enhanced by the warm colours of the towels.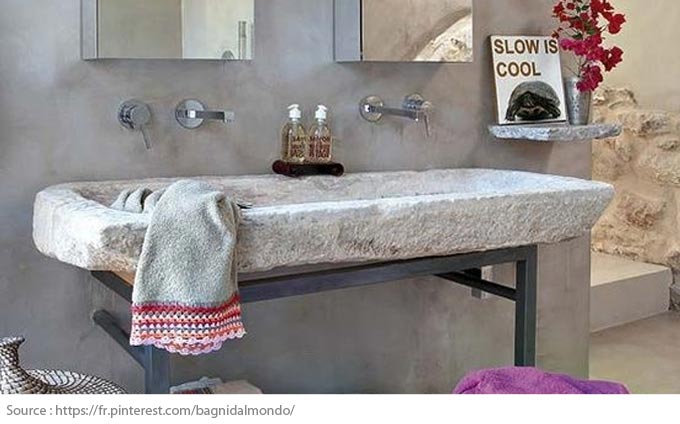 These are just some of the different styles of double vanities, which provide ample space for two people!