April 26, 2021
Choosing basement flooring—vinyl or floating?
Thinking about installing new flooring in your basement but can't decide between vinyl or floating floors? To help you decide, here's a rundown of their features.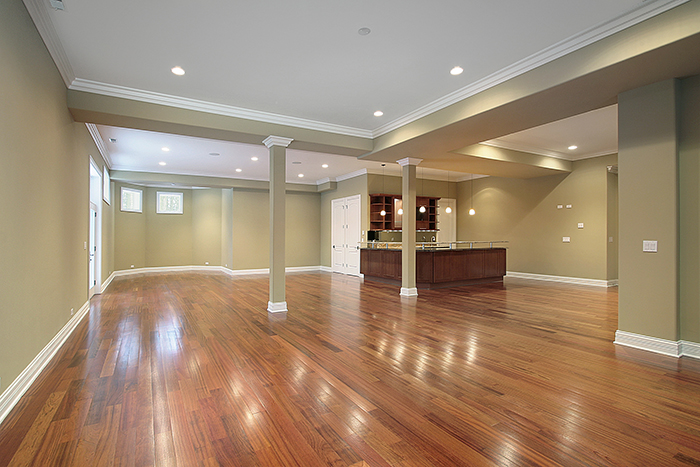 Floating floors
Also called laminate or laminated flooring, a floating floor is more durable than hardwood. It can be installed* directly on concrete provided the surface is uniform, otherwise, it will need levelling with a concrete grinder. Another option is to first place an underlayment (waterproof membrane) to even out any imperfections. This type of flooring effectively prevents moisture infiltration and provides a solid base when properly installed. Floating floors are available in various materials (vinyl, ceramic, MDF and HDF) and colours; it can be made to resemble a range of textures, including wood, and is sold at varying prices. All laminate flooring must have a standard of durability and resistance. Each type of flooring has an AC rating—the higher it is, the greater the resistance. Avoid choosing a rating below AC3. Typically, this type of flooring will last about 15 years.
*Planks or boards can be attached by interlocking them on the subfloor.
Vinyl flooring
Vinyl flooring is very versatile and comes in planks (boards), rolls and adhesive tiles. For installation, simply follow the manufacturer's instructions depending on your chosen product. Made from synthetic fibres, vinyl flooring can almost perfectly mimic textures such as wood, cork and ceramic. It comes in a wide range of colours and finishes. Vinyl is water-resistant, durable (though not as durable as a floating floor) and very affordable. This flexible flooring system ensures that the floor is not cold and is quieter than hardwood. It lasts about seven years, sometimes longer depending on the quality of its material. It cannot be restored in case of buckling or scratches.
What about maintenance?
To properly maintain a floating floor, simply vacuum or sweep it regularly and wash as needed using a wet mop (not soaked) with warm water, a little bit of Marseille soap and a splash of white vinegar. Remember, never leave water on a floating floor.
Vinyl flooring can be maintained in the same way. Using a microfibre mop will make the job easier. Just don't forget to give it a good rinse!
See also:
Choosing a Renovation Professional
Preventing Water Damage With a Sump Pump
The importance of waterproofing your foundation