November 8, 2021
Choosing the right dishwasher
The sink is filled with dishes, pots and pans from your last dinner. Do you want to wash them by hand? No thank you! If dishwashers weren't around yet, they'd need to be invented right away. Here are a few things to consider before choosing your dishwasher so you don't have to get your hands wet.

Built-in or portable?
There are several types of dishwashers (freestanding, countertop or drawer), but the most common are built-in and portable.
A built-in dishwasher has its own spot in the kitchen and fits under the counter; only the door is visible. This is the most common type in our properties. Another option is the fully integrated flush mount. It blends completely into your kitchen, as it can be covered by a cabinet door.
No room for a built-in dishwasher? We've got the solution: a portable dishwasher can be installed almost anywhere. It has wheels, so you just fill it with dirty dishes and plug it into the kitchen faucet.
Capacity
Capacity is everything! When shopping for appliances, you need to know your habits: a single person and a large family will not have the same needs. For a dishwasher, capacity comes down to how many place settings it can hold.
For a family, a capacity of 12 place settings will suffice. If you entertain regularly, a high-capacity model, i.e., 14 or more place settings, would be ideal. If you're single or a couple without children, 8 to 10 place settings may be enough. It's all about needs and habits.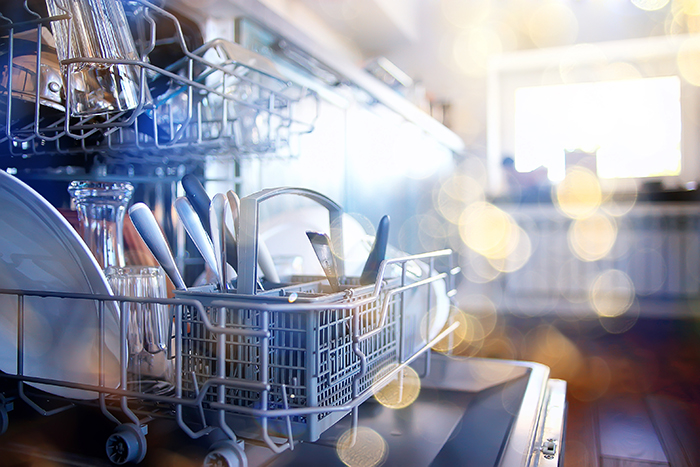 The cycle
Regular, efficient, express, china, rinse only—you have many choices when it comes to washing cycles. All models have basic cycles (regular, efficient). The more expensive the dishwasher, the more specialized cycle options. Think about which ones you'll actually use. The efficient cycle is greener because it uses less energy and less water.
The time and water temperature can vary. Cycle length can range from 30 minutes to 4 hours, with water temperature ranging from 50°C to over 70°C depending on the model and cycle selected.
Practical options
Several options are available, such as an upper rack that can be adjusted in different ways to fit wine glasses or pots and pans. The tines (upright protrusions that hold the dishes up) can also be folded down or moved to wash various types of dishes. Some dishwashers even have a third rack. It's up to you to decide what you need!
Quiet please!
Who wants to hear the dishwasher going while watching TV? No one! Choose a quiet dishwasher. Unfortunately, few manufacturers indicate the decibel level of their models. However, standard models produce approximately 50 dB(a).
The blog Protégez-vous (French only) tested the features of several dishwasher models, including decibel count. This will help you make a more informed choice!
---
Are you passionate about real estate? Subscribe to the Centris.ca newsletter now.
See also: