April 29, 2021
Cleaning the Ducts and Pipes in Your Home
When your sink pipe is clogged, you have no choice but to fix it. But when everything is working properly, it's easy to forget about cleaning the pipes and ducts in your home, right?
Regular cleaning of your home's pipes and ducts can save you a lot of inconvenience:
A clogged or blocked dryer hose can reduce drying efficiency or even cause a fire;

Dirty ventilation ducts can prevent good air circulation and increase the concentration of allergens or irritants in the air;

A clogged range hood can limit its efficiency and even damage the motor because it has to work harder to draw in air and direct it to the exhaust duct;

Clogged heating ducts can increase your energy use while also increasing the flow of allergens, dust and other irritants

.
In many cases, calling in an expert is necessary such as when you want to clean pipes that are inaccessible or that run greater distances inside the wall.
Fortunately, you can do a good job of cleaning many ducts, pipes and filters yourself. Here's how to do it.
The pipes in the kitchen sink
Did you know that you should avoid pouring grease down the kitchen drain? When it comes into contact with cold water, the fat becomes solid inside the pipe, which can clog it.
To clean your sink pipe, you can use commercial chemicals or you can use a traditional, more environmentally friendly method: baking soda, salt, and vinegar.
Simply pour baking soda and an equal amount of salt into the opening of the pipe, then add vinegar (double the amount of baking soda). Let the mixture foam for 15 to 20 minutes, then rinse thoroughly with hot or boiling water. Repeat as needed.
If this technique doesn't work and you don't want to use chemicals, a pressure washer may be successful in conquering built-up dirt and clogs.
The range hood
There's nothing more frustrating than a range hood that doesn't draw in cooking fumes. If your hood isn't broken, a good cleaning is often all it takes to get it back in shape.
Remove the metal filters and wash them in soapy water or put them in the dishwasher. If they are activated carbon filters, be sure to replace them regularly.
Then clean all visible surfaces with a sponge or a soapy cloth.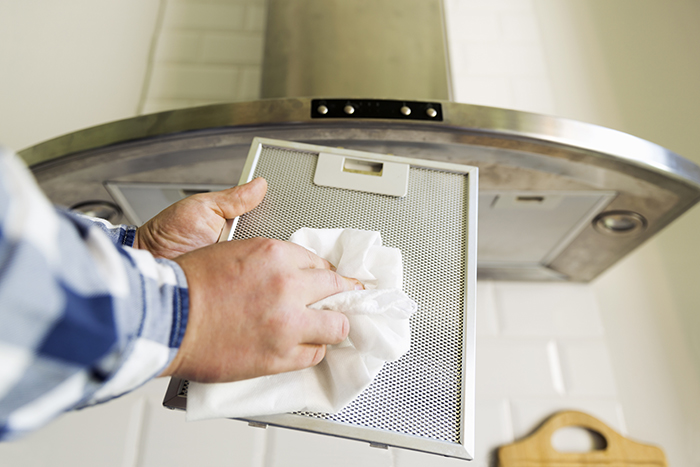 The bathroom fan
Have you noticed how easily dust collects in the bathroom fan grille? If you haven't seen it, you haven't looked!
To ensure optimal ventilation, remove the grille and clean it with soapy water or a household cleaner. Then clean the fan blades. A vacuum hose can work wonders in removing dust that has accumulated behind the blades.

The dryer vent
If your clothes won't fully dry, the dryer vent may be clogged. Detach the hose from the back of the dryer and remove any visible residue. With a brush, remove anything that has accumulated further down the pipe and on the outside.
If you're unsure of the effectiveness of your work, do not hesitate to call in a specialist: a clogged dryer vent can cause a fire.
Heating and ventilation ducts
While it's not necessary to have your heating and ventilation ducts and air exchangers cleaned every year, this task should not be neglected. And it's best to leave this task to a specialist who will be able to ensure a thorough cleaning.
Consult an expert to find out how often you should have your pipes and ducts cleaned, depending on the systems in your home. If you notice a decrease in efficiency or a build-up of residue or dust, talk to your specialist!
See also:
Preventing Water Damage With a Sump Pump