March 18, 2019
Coordinating Your Drapery with Your Decor
Of the many window treatment options available today, drapery remains a perennial favourite. It's easy to change out when you want, and you have almost unlimited design options. You can select from a variety of styles, lengths, colours, patterns and materials. However, you need to know how to coordinate your drapery with your room's decor for the best outcome.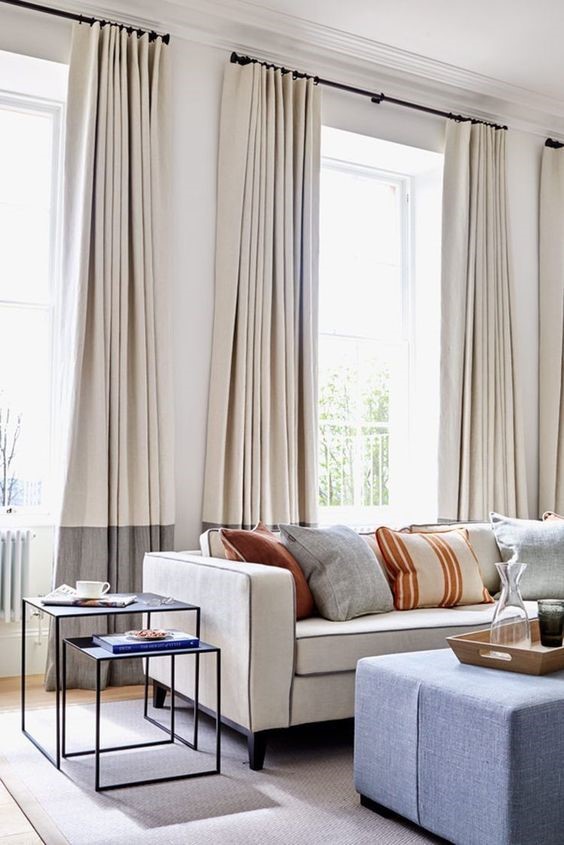 Source : https://www.pinterest.fr/pin/279223245633340961/
Design - When choosing drapes, you'll want something that complements the style of your home. For example, pleated panels look fabulous in traditionally-designed houses. Straight drapery, with rings built into the fabric, look great in contemporary-styled homes. For rustic or country interiors, try tab-top drapes for a stylish appearance.
Colours - Regardless of the room in which you're hang drapes, you'll want to choose a design that picks up one or more colours in the room. If your furnishings are solid colours, select drapery with a pattern that incorporates the colours of the room. If your furnishings are patterned, then opt for a solid-coloured drape. But your drapes don't necessarily need to be in the room's primary colour. Try using one of the secondary colours, so you're not overwhelmed by the same hue.
Fabric - The fabric that you select is also important. If you have heavy, dark furnishings, you'll want your drapes made from a more substantial material. For homes with lighter-weight furniture, choose a less bulky fabric or even a semi-sheer fabric for an elegant look.
Drapery Rod - You'll want to carefully consider the rod that you're using. Don't settle for a drab metal rod. Opt for a decorator rod in wood or metal. You can select a stain that matches your wood flooring or furnishings. Or you can choose a black, gold, chrome or bronze metal rod that coordinates best with the rest of your decor.
Choosing the proper drapes for your home can enhance the look of each room substantially. You merely need to consider your drapery choices carefully.
See also:
Unparalleled Visibility With a Real Estate Broker
Home Buying: 6 Things That Are Often Overlooked