March 22, 2018
Creating a Welcoming and Functional Kitchen
There are many ways to set up a kitchen but if it's going to be a main gathering place for your family, it's important to carefully consider its design. Here are eight tips to help optimize your family's kitchen.
1. XXL table
An extra-large table is an important element for a typical family kitchen. It allows you to bring the entire family together to enjoy meals, play games, do homework or receive friends and family. Choose a rustic style in wood, a more contemporary style in travertine or something trendy made of glass and metal.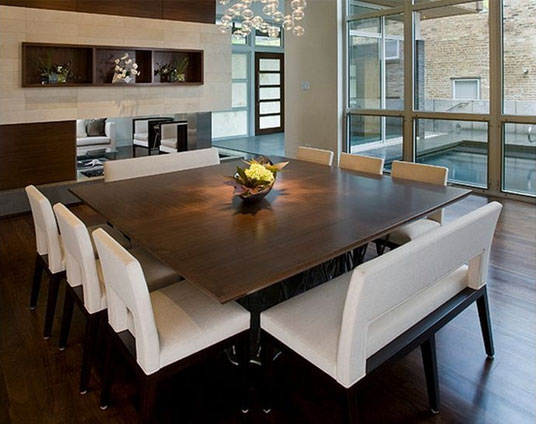 Source: https://fr.pinterest.com/source/reno-urbaine.com/
2. A blackboard
Blackboards are very popular and can serve many purposes in a family kitchen. Not only do they look sharp, but they enable you to note down your meals for the week, the errands you need to run, or help your kids master their spelling terms. You can choose to use a slate board or hang chalkboard wallpaper.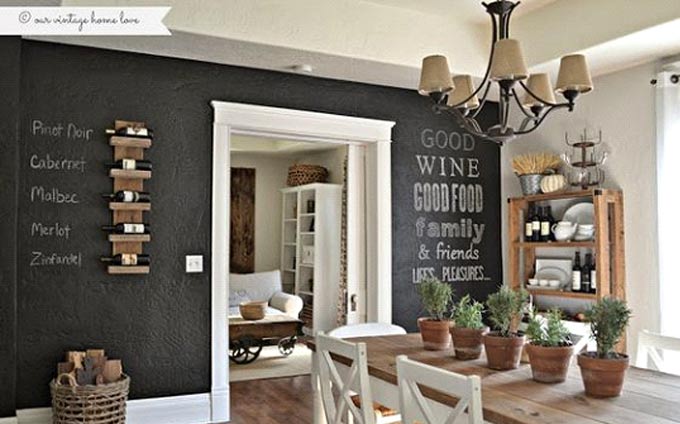 Source: https://fr.pinterest.com/source/ourvintagehomelove.blogspot.com/
3. A bench
Try placing a bench or two around the large table. In addition to being practical, benches add a friendly touch. Opt for a wooden country model, a more industrial metal style or go for added comfort with something in faux leather.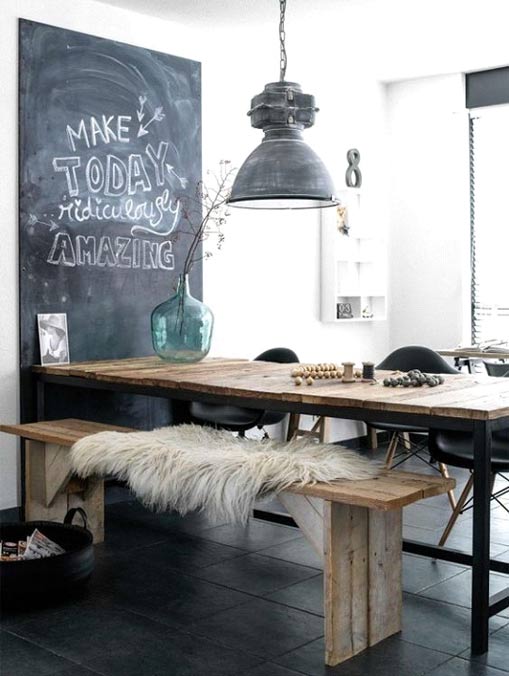 Source: https://fr.pinterest.com/source/turbulences-deco.fr/
4. Furniture on wheels
Multifunctional and trendy, furniture on wheels can be used as a sideboard, a work table, a central island, a stool, etc. These pieces can be moved around easily, which helps to optimize space, and they can be used according to your needs at the time. They bring a touch of fun to your kitchen and come in a variety of styles: retro, rustic, modern, etc.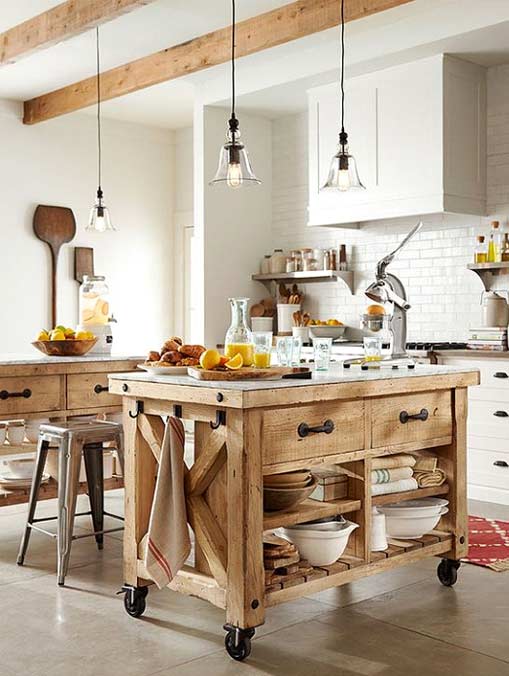 Source: https://fr.pinterest.com/potterybarn/
5. The work surface
A key decorative element of your kitchen, the work surface is used for preparing meals, holding dishes, etc. You can choose to have your work surface in wood, granite, marble, stone, stainless steel, etc. – whatever meets your kitchen's needs.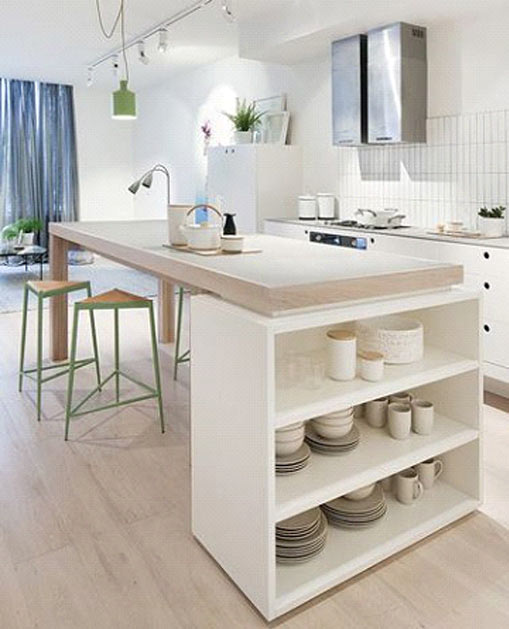 Source: https://fr.pinterest.com/lesitedecocool/
6. Storage for everything and everyone
To feel fully comfortable in your kitchen, it's important to have many storage solutions: cupboards, shelves, bars and hooks. Also, feel free to hang them from the walls, as this can save you a few square inches. And finally, try to use deep drawers that pull out as much as possible.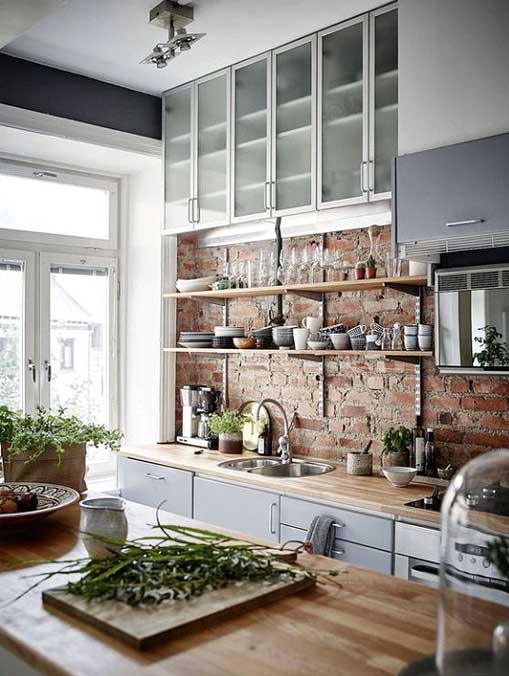 Source: https://fr.pinterest.com/cotemaison/
7. A wall herb garden
An indoor herb garden looks great and facilitates your cooking by having a variety of aromatic herbs at your fingertips. You can hang them in wood boxes, in pots that are attached to the wall, as well as in pots that hang from the ceiling. Be creative and find a solution that works well in your kitchen.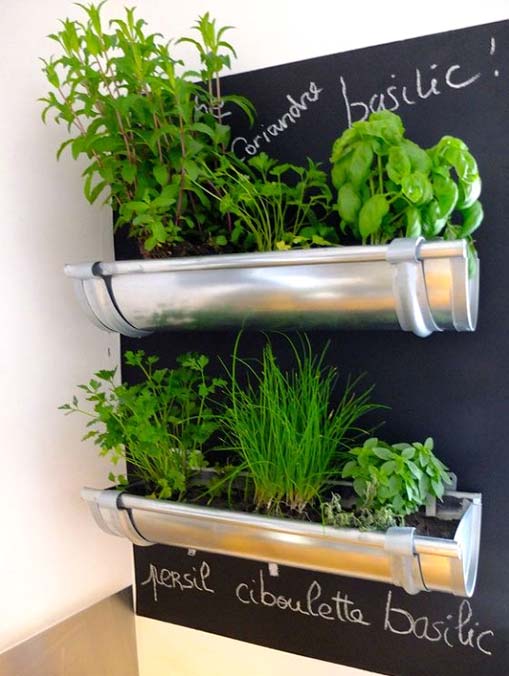 Source: https://fr.pinterest.com/source/lecahier.com/
8. Lighting
For a family kitchen, it is very important to have many sources of lighting. The ideal is to have a functional light source in each activity zone: cooking, cutting, washing and eating. Lighting can also be used to highlight decorative elements, for mood lighting, or can be placed on a hutch or credenza.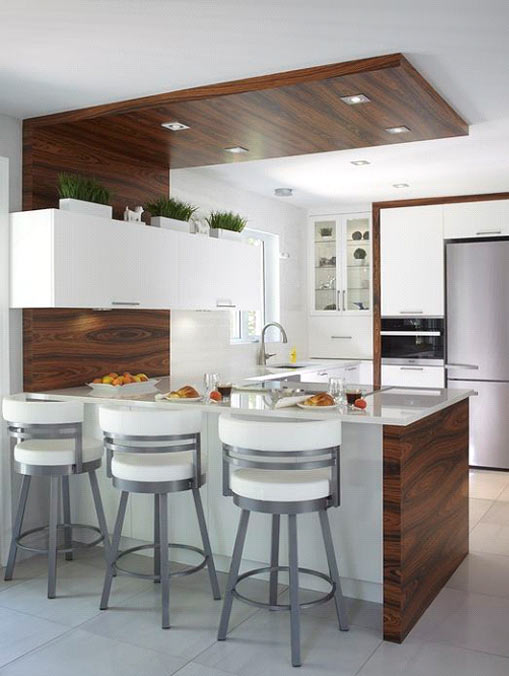 Source: https://fr.pinterest.com/source/armoiressimard.com/
To live well and cook great meals in your family kitchen, simply put these handy tips into practice!
See also:
What Material for my Backsplash?