March 10, 2021
Creating a Welcoming Vestibule
The vestibule is the first room that family members and visitors see when entering your home. It sets the tone of your home's decor and is a great opportunity to create a warm and welcoming environment. Here are some tips that will help you make a great first impression!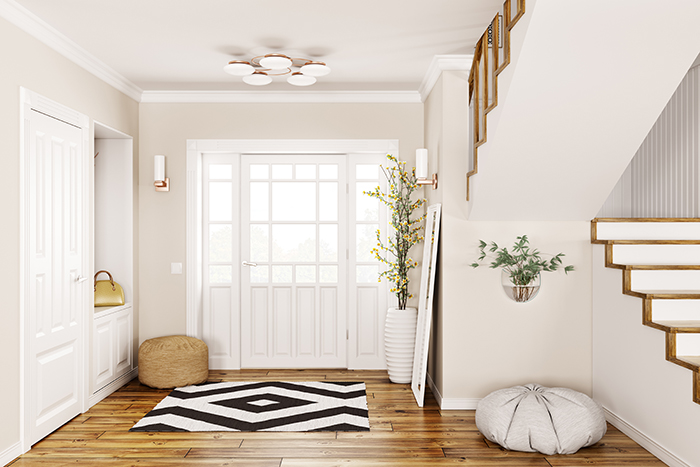 First off, proper lighting is essential. It must be warm and well balanced. The possibilities for a vestibule are almost endless. For a wire outlet on the ceiling, a stylish pendant light will provide ample lighting. LED accent lights are easy to install and can be an added complement.
A nice mirror always catches the eye. If you have a coat closet with a mirrored door, there are two options that will make it stand out: frame the door with a decorative moulding to create a "wow" effect, or transform it into a modern frame by covering the mirror with a carefully chosen wallpaper.
Adding an easy-to-wash rug will add a touch of softness to the room. If you have the space, a modern armchair will also contribute to the notion of comfort and well-being.
If your vestibule has a lot of young people coming and going, the use of a storage bench is obvious. It will enable to hide away hats, mitts and other small accessories so that you're not tripping over them. The style you choose will depend on the style of your home. There are many options available, with different materials. Shop around before making your choice.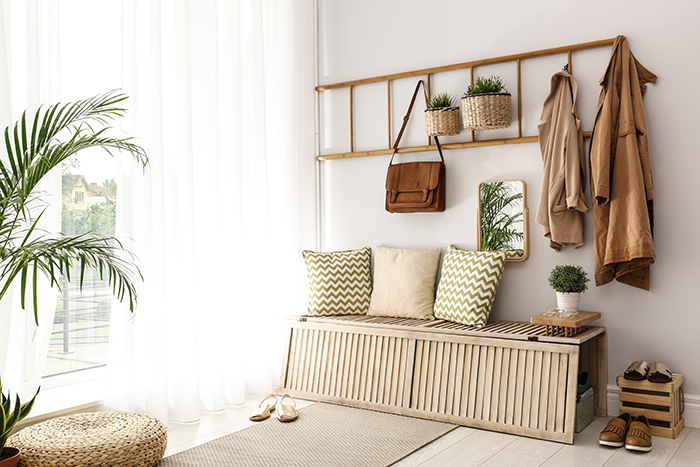 But most importantly, a vestibule needs to be functional. Stylish coat racks, fancy umbrella stands and cute hooks for keys, caps and school bags can easily coexist harmoniously. Decorative baskets for storing gloves and bicycle helmets will also spice up this area while keeping it looking tidy.
If you choose to have a shoe rack, opt for one that is both functional and as aesthetic as possible.

As for the flooring, large-size ceramic tiles are ideal for a small, closed entrance. It visually enlarges the space and gives it a clean and uncluttered appearance. It's also easy to clean!
Finally, what's good about a vestibule is that it can evolve according to the age of the family. A storage bench can be replaced with decorative baskets or a more comfortable bench to accommodate grandparents. Feel free to transform it in a way that will best suit your guests and family members.
See also:
Creating Privacy in an Open Living Space
Partitions: Useful and Beautiful!